Is a corner kitchen sink right for you? Find out why more homeowners are opting for this style of sink design.
A common issue that remodelers face when redesigning their kitchen is deciding where to put the sink. Especially in small kitchens, the sink takes up a hefty portion of counter space, reducing room for meal prep and other kitchen work. The sink can also be an eyesore when installed in the center of the kitchen (hello, dirty dishes!)
Today, we're solving your sink design dilemma by offering up another solution: the corner kitchen sink. Often disregarded as inconvenient or unsightly, corner kitchen sinks have gotten a bad rap in the past. But it's important to acknowledge their potential as a major space-saver and legitimate design solution.
Nowadays, kitchen sinks are manufactured in a vast variety of shapes, materials, and styles, so don't fear getting stuck with an outdated traditional style. From matte black to copper, it's easy to find modern corner sinks that will suit your style and refresh your kitchen design.
Read on to explore 9 of our favorite corner kitchen sink ideas to showcase the many design possibilities for your kitchen!
1. Double Basin Sink
If you're worried about losing dishwashing space with a corner sink, consider a double basin (or double bowl) style. This stainless steel, double basin sink is perfectly designed to fit the corner of the kitchen counter space. With a large extendable faucet, there's plenty of room for washing dishes. Another benefit of a double basin corner sink is the ability to separate dirty and clean dishes, or multi-task between cooking and washing.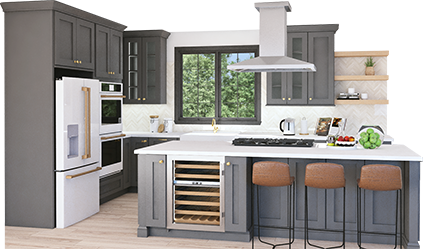 Get your FREE 3D kitchen design today!
Start Now
2. Efficient Kitchen Workspace
Placing the sink in the corner of the kitchen saves more floor space for others to move around whoever is standing at the sink. For example, it's much easier for one person to do dishes while another move around between the stove and fridge to cook. With the sink tucked in the corner, movement in the kitchen is more easy and more organic. No more bumping into each other while cooking dinner or putting away groceries.
RELATED: 12 Gorgeous Farmhouse Kitchen Cabinets Design Ideas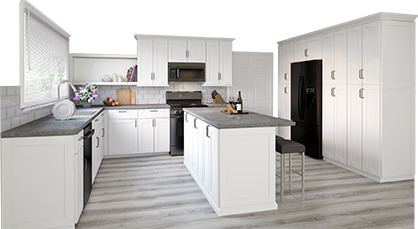 3D Kitchen Visualizer Tool
Bring your dream kitchen to life with our free kitchen visualizer!
Design Now
3. Customized Convenience
One way to ensure your corner kitchen sink fits perfectly is to order it custom-made. Corner sinks can be built to your exact specifications, helping you maximize every inch of counter space. A custom sink will also allow you to choose the perfect style for you—whether it's a double basin, overmount, under mount, apron front, or traditional.
You'll also have more flexibility in the material, where the most common options are copper, stainless steel, fireclay, and cast iron. This convenient drainboard sink is nestled perfectly in the corner of a modern black kitchen. How will you design your custom corner sink?
4. Out Of Sight, Out Of Mind
In this rustic kitchen design, the kitchen sink is cleverly hidden in the corner. It was intentionally placed out of plain sight so the focus is instead placed on the gorgeous wood kitchen cabinets, granite countertops, and custom island. The sink can be unsightly at times—full of random stains and stray dishes—so it's smart to place it in the far corner of the kitchen, where it's least likely to be seen by guests.
5. Emphasize Natural Lighting
In many homes, positioning the kitchen sink in the corner means more access to natural light. Since cabinets typically take up the bulk of the wall space in the kitchen, the windows are often pushed to the outer corners of the room. This makes the corner of the kitchen the perfect nook for a sink. Natural light is helpful for spotting stains on dishes, making your wash job easier.
To illuminate the sink at night, this kitchen designer also installed pendant lights and recessed lighting directly above. There's no such thing as too much light in the kitchen!
6. Make It Modern
Corner kitchen sinks aren't reserved for traditional kitchen styles. You can easily modernize the look by thinking outside of the box. This unique corner sink features two separate circular basins, with a large extendable black faucet to reach down into both of the bowls. Especially in tiny kitchens with little to no counter space, utilizing a sink in this style can drastically increase the amount of workable counter area.
7. Handy Island Workspace
This large black granite island features a small undermount corner sink. This is a convenient design idea for those who love to cook—one person can rinse, cut and cook food on the island while the other uses the larger apron front sink to wash dishes and clean. As an added bonus, the island is fitted with custom shaker cabinets for storage of pots, pans, and utensils. This design functions as two kitchens in one to save time and space.
8. Elegant Touches
While some want to keep their corner kitchen sinks tucked away and out of sight, others choose to turn it into a focal point of the room. This elegant white kitchen design draws your attention toward the white farmhouse sink with a unique pendant light, fresh flowers, and a sleek chrome faucet. The two windows above shed natural light onto the space and give the sink area an inviting feel. There's no reason you can't make standing at the sink an enjoyable and appealing experience!
9. U-Shaped Island Sink
This grand contemporary kitchen was designed for two professional chefs. But you don't have to be a cooking connoisseur to appreciate the convenience of a U-shaped island sink. Not only is this sink within two steps of the stove and right next to the dishwasher (concealed by a clever cabinet door), it allows the two to work together to create gorgeous meals without constantly bumping into each other. If you have a U-shaped island or plan on building one, consider adding a sink to the middle for ultimate convenience.
Related Blogs:
Get Your Kitchen Remodel On Track
Corner kitchen sink design can be tricky. If you need help designing the layout of your new kitchen, visit our FREE 3D design tool. Lily Ann Cabinets' professional team of designers will work with you every step of the way to ensure your kitchen remodel goes smoothly. For the best home building materials for less, shop our extensive selection of kitchen faucets, sinks and quartz countertops today!
This is a curated post designed to showcase the work of a number of talented designers. If you would like to have an image removed, please let us know!