Bathrooms are one of the most essential parts of any home, which makes it all the more important to get them right. Because bathrooms have so many different uses, they also have many different requirements as well, including functionality and aesthetic value.
This can be a challenge when your style doesn't align with your initial vision of your bathroom; however, here are 8 grey bathroom vanity design ideas to resolve this clash and make sure you end up with the bathroom you want without compromising your home decor or sense of style along the way.


1) Adding Dark Colored Pulls or Knobs to Your Grey Cabinets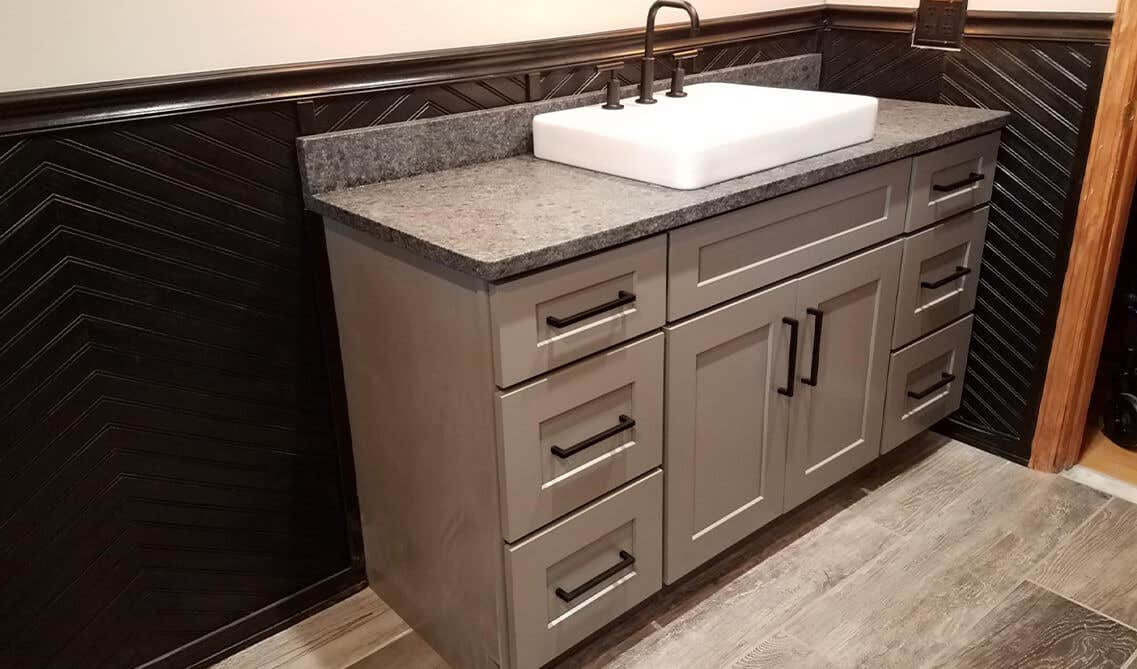 Lily Ann Cabinets' black pulls on their Grey Shaker Elite cabinets is a stunning design. The darkness of the pulls makes the grey of the cabinets pop and creates a beautiful contrast. This is an easy way to add some pizzazz to your bathroom without having to do a complete makeover.
If you're looking for something a little more subtle, try adding light grey bathroom cabinets. The lightness of the cabinets will brighten up your space and make it feel more open. You can use brighter colored pulls or knobs from Lily Ann Cabinets with light gray bathroom cabinets or dark gray bathroom cabinets. 
2) Opt for a Different Style Faucet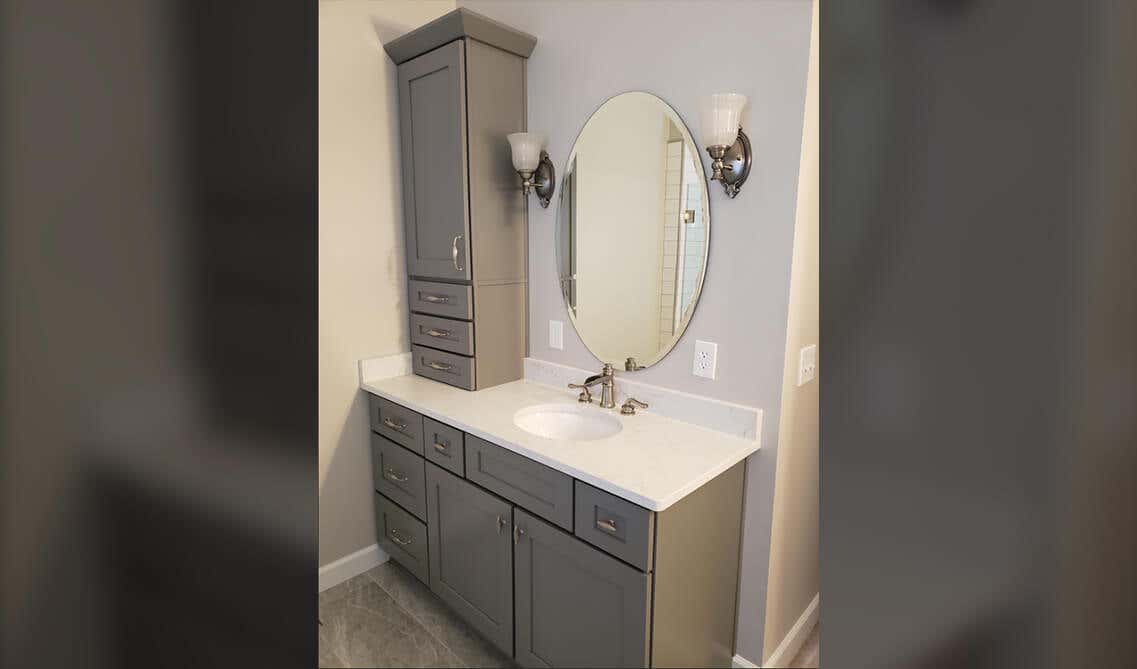 A lot of people think that they need to match their faucet style to the style of their cabinets. However, this doesn't always have to be the case. If you have grey bathroom cabinets, you can get away with a different style of faucet.
For example, a more modern faucet would look great with light grey bathroom cabinets. With dark grey cabinets, you can try a darker-colored faucet with a lighter countertop on your vanity! 
3) Paint the Walls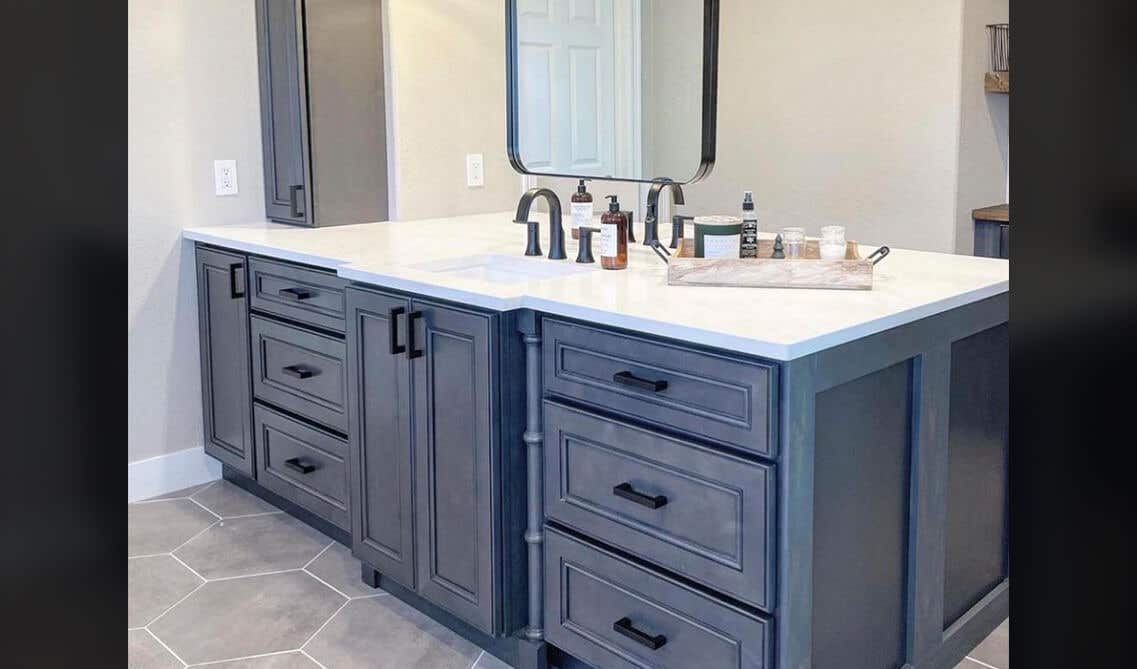 A grey bathroom vanity cabinet can be a stunning focal point in your bathroom design. To make the most of this look, consider painting the walls to match your grey bathroom cabinets. This will create a cohesive and stylish space that is sure to impress.
Bathrooms with grey cabinets are already dark-featured so opt for white paint for your walls! If you are looking for a more wild color to brighten up your bathroom, try doing an accent wall! 
4) Add Vibrant Decor Items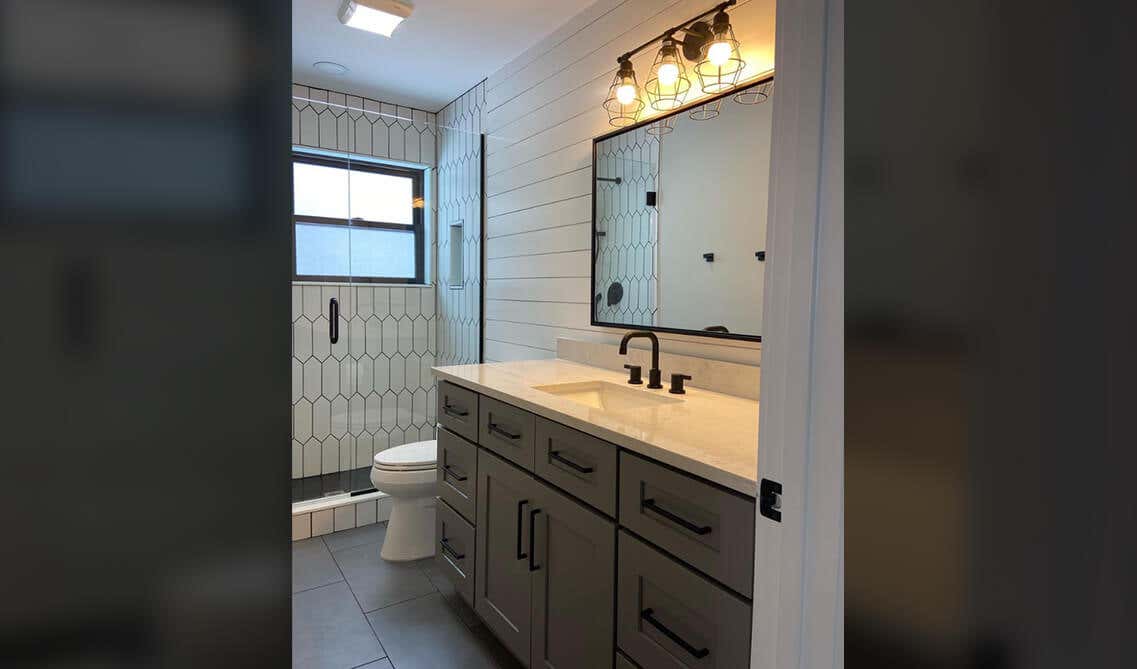 SEANBALLARDCONSTRUCTION
A grey bathroom vanity cabinet can be a beautiful addition to any bathroom. To add a pop of color, try adding vibrant decor items to your grey bathroom cabinets. Here are a few ways to do so: 
Add a colorful rug. 

Hang a colorful shower curtain. 

Add towels in colors that compliment your grey cabinets. 

Paint the walls a color that compliments your grey cabinets. 

Add a plant or flowers in a vase on the countertop. 

Display colorful soaps or lotions on the countertop. 
5) Go Big on Mirrors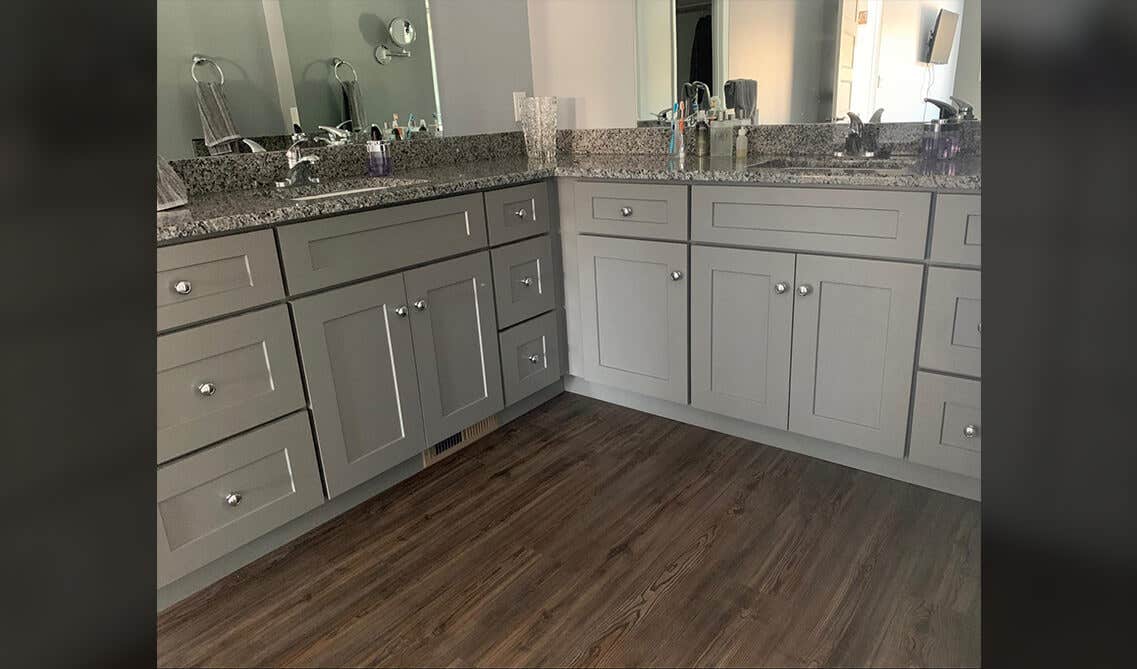 A big, beautiful mirror is always a showstopper in any room. But when you add a grey bathroom vanity cabinet to the mix, it can really take your design to the next level. Hanging a large mirror above your grey bathroom vanity cabinet will make the space feel bigger and brighter.
Add some sconces on either side of the mirror for a more polished look. Choose a grey bathroom vanity cabinet with interesting details, like carved wood or metal hardware. 
6) Play With Lighting Colors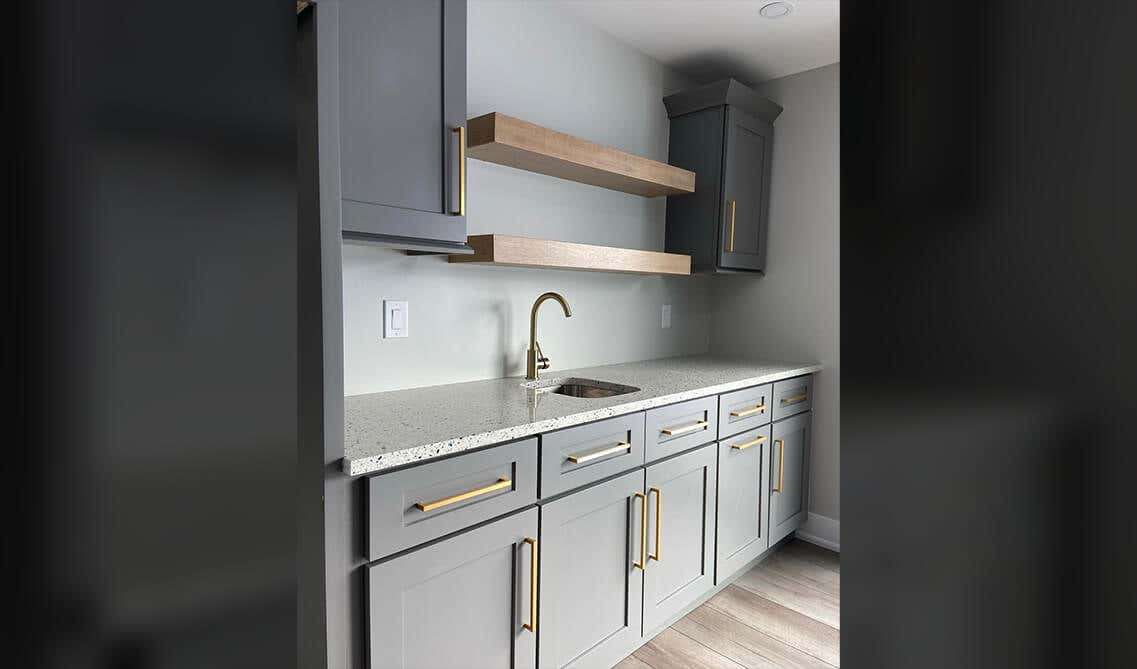 One of the best grey bathroom cabinet ideas is to play with lighting colors. Dark grey bathroom cabinets can be complemented with soft lighting for a more relaxing ambiance while brighter lights can add a touch of sophistication. You can also use different light fixtures to create a focal point in your bathroom. Brightening up a dark bathroom with lighting can be all the decoration you need on your grey bathroom vanity! 
7) Hang Wall Art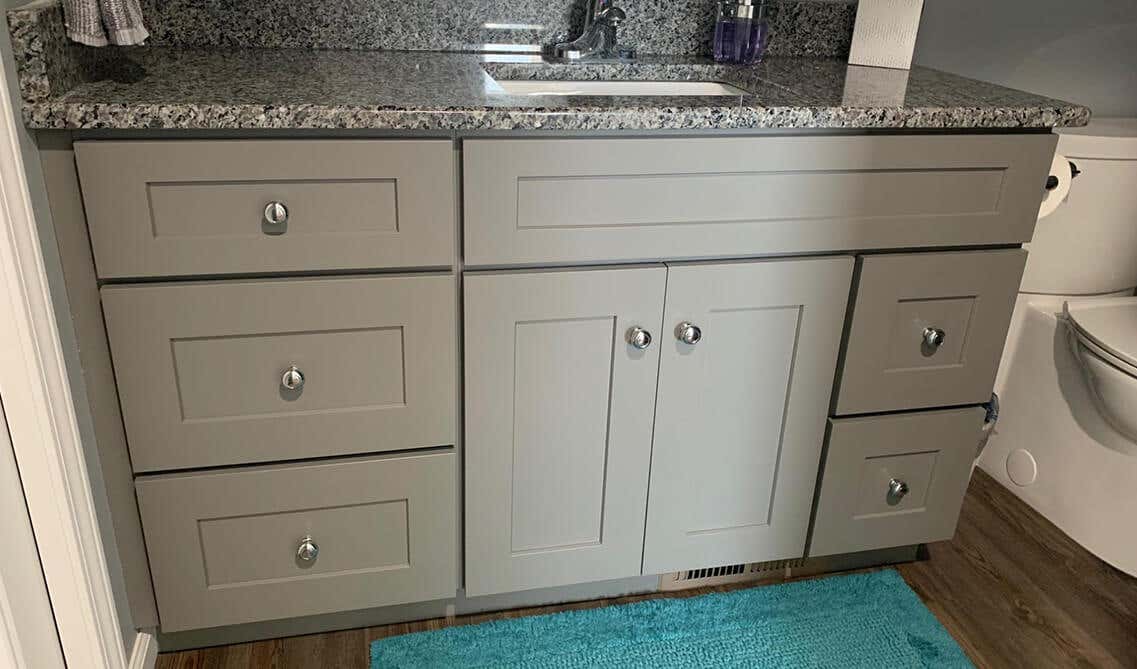 If you're going for a grey bathroom cabinet, why not also add some wall art? It can help tie the whole room together and make it feel more complete. Plus, it can add pops of color so the room doesn't feel too dark. Depending on the exact color of your grey cabinets, you can always add color-coordinated items such as vases, flowers, and decorations to match your wall art! 
8) Install White Shaker Cabinetry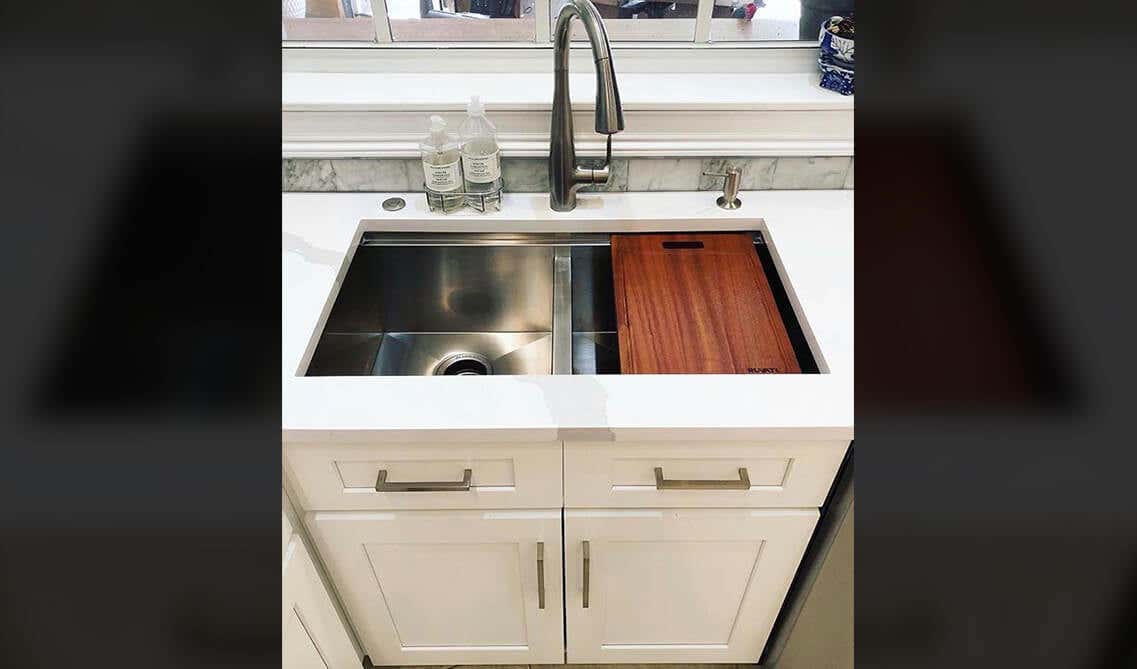 Even if you're looking for grey bathroom cabinet ideas, white cabinets may be better. Lily Ann Cabinets White Shaker Elite cabinetry is a great way to achieve the same overall look of grey cabinets without going too dark. Plus, white shaker cabinetry can help brighten up your bathroom and make it feel more spacious. Painting the walls grey or having grey towels and decorations can be the perfect way to still have a grey bathroom with white cabinets. 
Frequently Asked Questions(FAQ)
What color do walls go with grey bathroom cabinets?
The best wall color for grey bathroom cabinets would be Black, beige, white, green, navy blue, and taupe.
How to paint bathroom cabinets grey?
Use acrylic enamel paint for bathroom cabinets because they are water-based and low-fume. These cabinets clean up easily with water and are the most popular option when painting your bathroom cabinets.
How to paint white bathroom cabinets grey?
Remove doors and drawers as well as the hardware and begin to scuff the surface of your cabinets with sandpaper. Then you can begin painting your bathroom cabinets grey with enamel paint.
What cabinet color with fossil grey quartz in the bathroom?
The cabinet colors that would go best with fossil grey quartz would be white, black, darker grey, green, and navy blue.