Are you looking for kitchen cabinet remodel ideas that don't require a complete replacement? If so, you're in luck! There are many ways to give your kitchen cabinets a makeover without replacing them. From a simple paint job to adding new hardware and accessories, there are plenty of options to transform the look of your kitchen cabinets. Here are 8 creative kitchen cabinets makeover ideas that won't break the bank.
1) Repaint your kitchen cabinets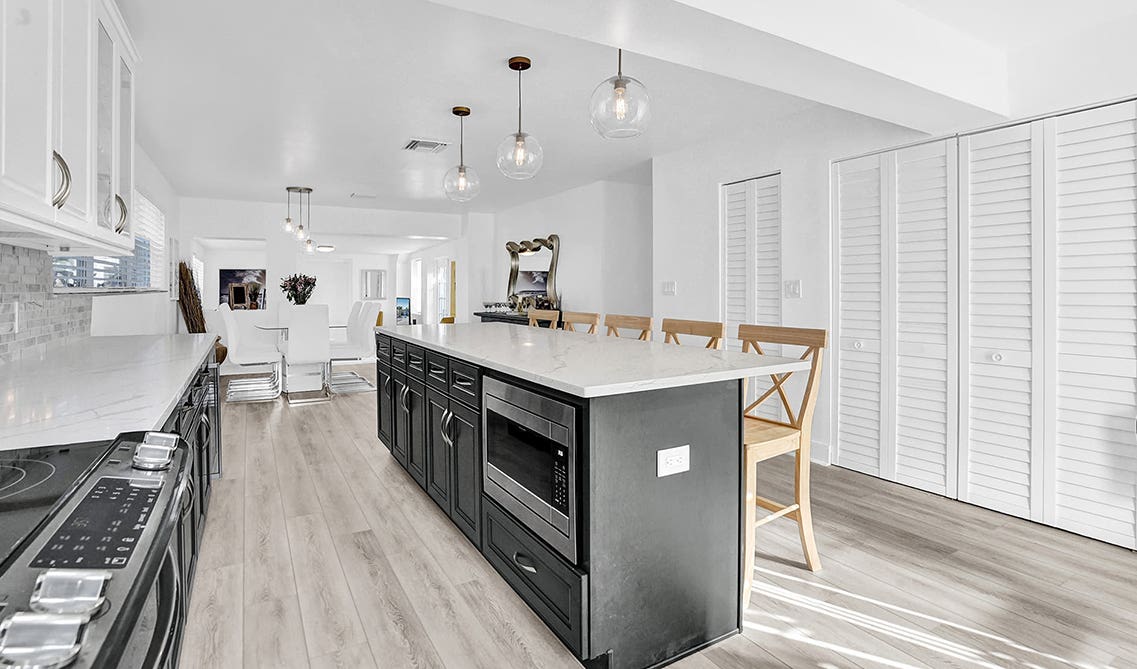 Updating old kitchen cabinets is a great way to give your kitchen a new look without spending a fortune. With some paint, sandpaper, and elbow grease, you can transform the look of your kitchen with a fresh coat of paint on your cabinets. Start by sanding the cabinets to smooth out any imperfections, then clean them with a cloth and mild detergent. Once they are dry, prime the cabinets with an oil-based primer, then use a brush or roller to apply the top coat. For the best results, choose a semi-gloss paint in a light color, such as white or cream, which will help reflect light and brighten up your kitchen. You can also use a stencil or decal to add a fun pattern to the fronts of your cabinets for a more creative touch.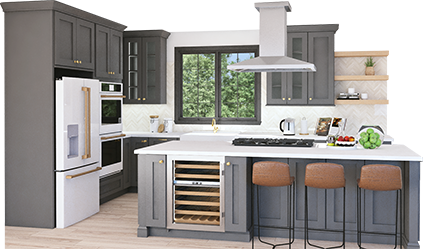 Get your FREE 3D kitchen design today!
Start Now
2) Add new hardware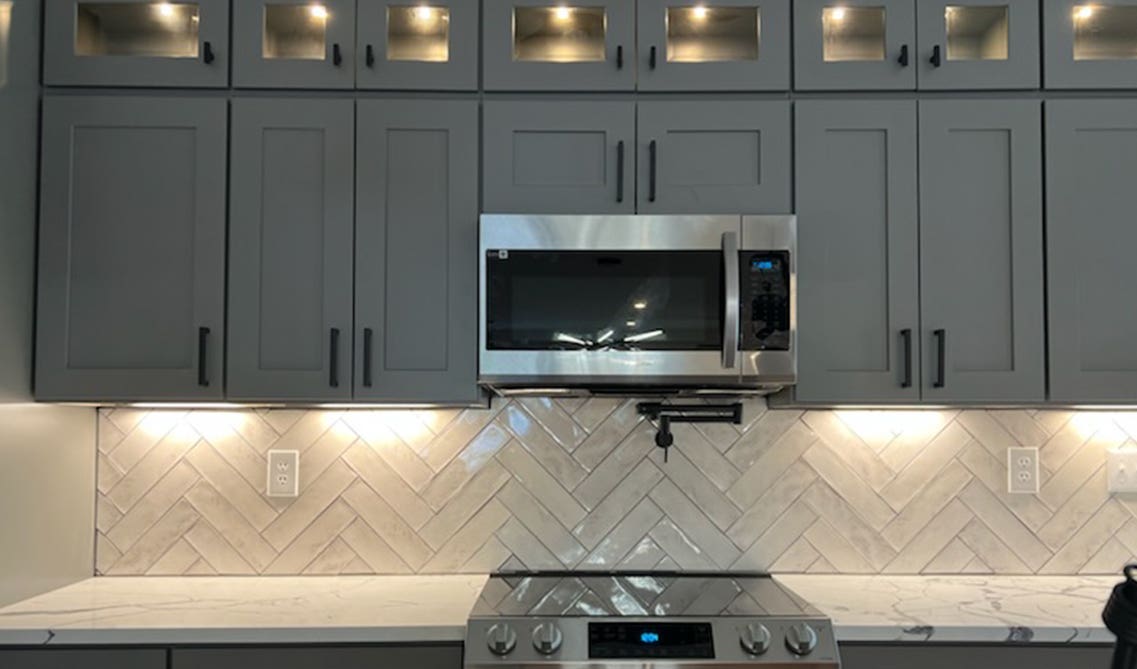 To give your kitchen cabinets a makeover, change out the hardware. Switching out knobs and handles for something new can completely transform the look of your kitchen cabinets. Plus, modern hardware can improve the function of your cabinet doors and drawers. Whether you go for classic, traditional, or modern hardware styles, adding new KItchen hardware is an easy cabinet door makeover that will add value to your home.
Also Read: Premium Shaker Cabinets Hardware Designs

3) Replace cabinet doors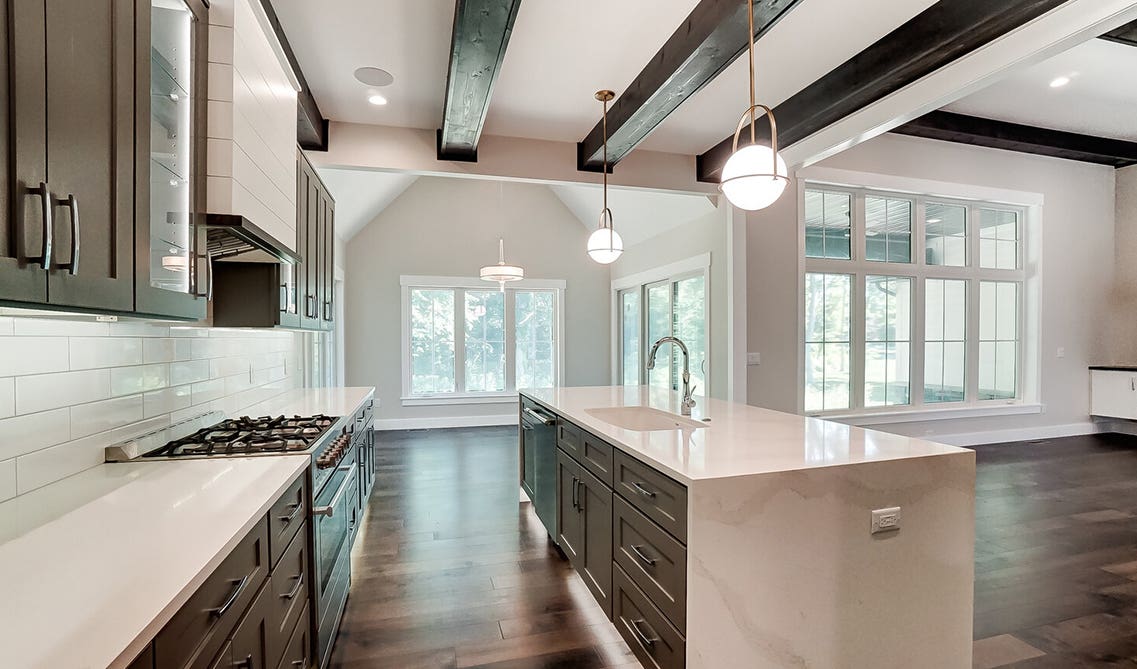 Replacing your cabinet doors will give your kitchen an instant facelift and make it look much more modern. You can find many different styles of cabinet doors available in hardware stores or online, so you can find something that matches the rest of your decor. Replacing the cabinet doors can be a relatively easy process depending on the type of cabinet you have and the type of door you choose. If you're looking for a quick and easy cabinet door makeover, this is an excellent option to consider.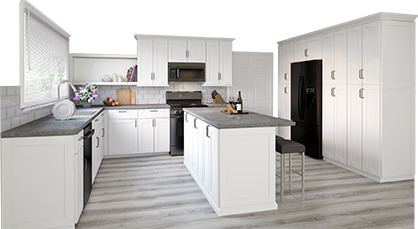 3D Kitchen Visualizer Tool
Bring your dream kitchen to life with our free kitchen visualizer!
Design Now
4) Add crown molding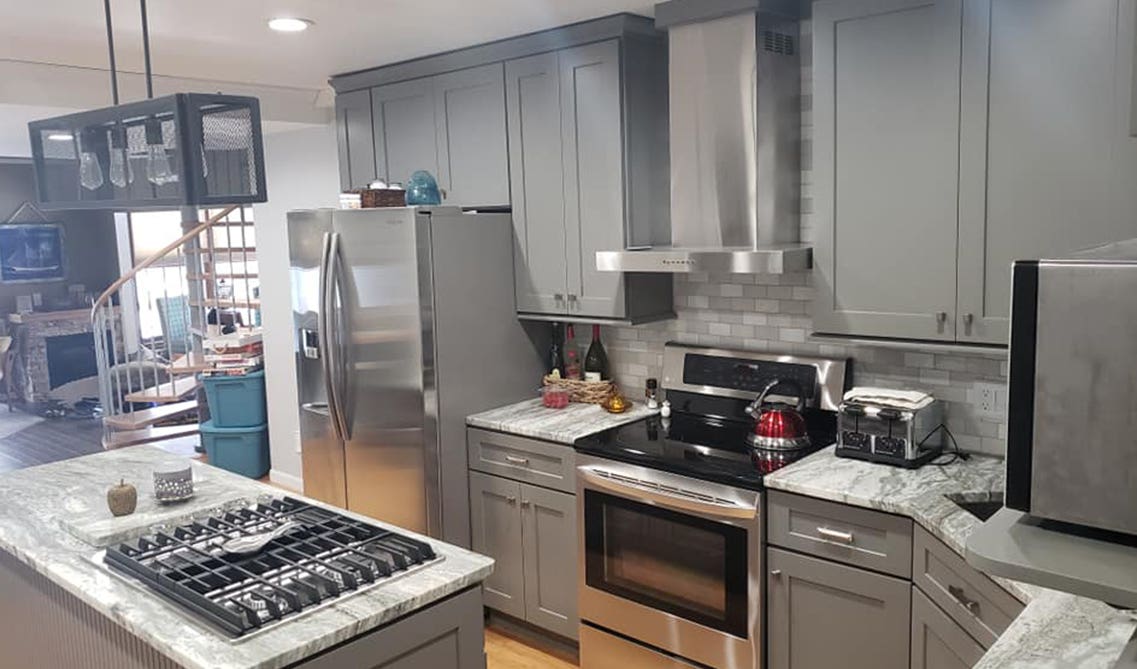 One of the best kitchen cabinets makeover ideas is to add crown molding. This simple addition can instantly elevate your kitchen cabinets to the next level. Crown molding is a decorative molding that adds an elegant touch to any space. To install crown molding, measure your cabinet height and purchase pre-made pieces that fit in that space. Cut and attach them around the top of the cabinet using a miter saw and a nail gun. Once you've attached the molding, you can paint it in a color that complements the rest of your kitchen. This is an easy, inexpensive way to give your cabinets an instant facelift.
5) Install under-cabinet lighting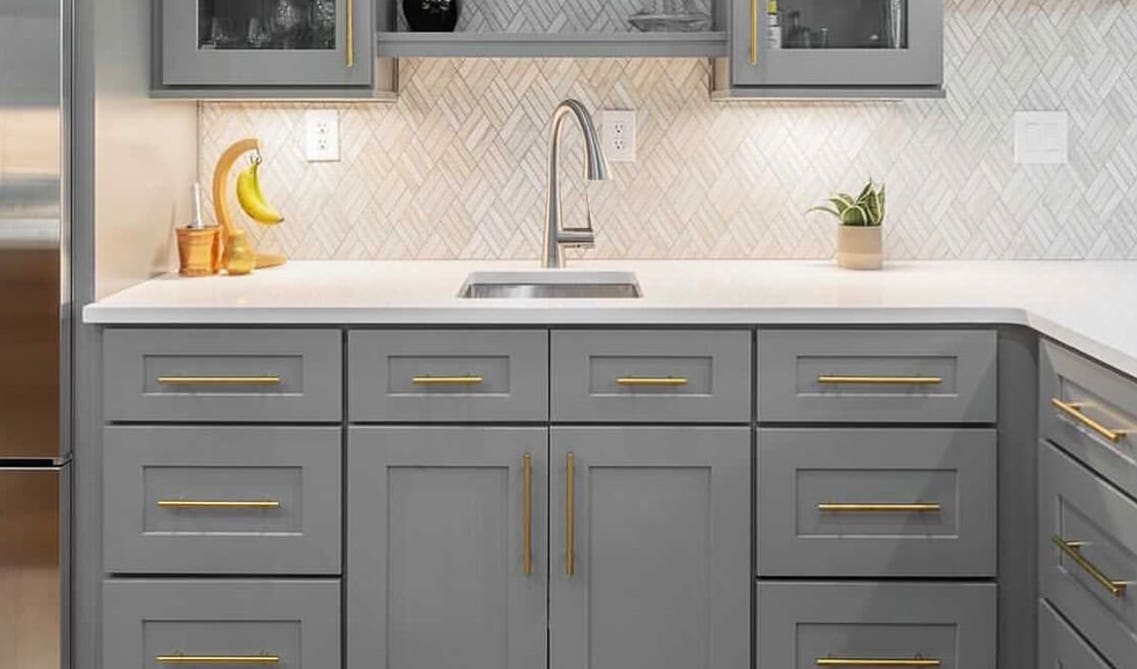 Under-cabinet lighting is one of the most popular kitchen makeover ideas as it adds a touch of elegance and sophistication to your kitchen. Installing under-cabinet lighting requires some basic electrical knowledge, but is not overly difficult. It involves connecting the fixtures to a dimmer switch, so you can adjust the intensity of the light. This allows for dramatic accent lighting or a subtle nightlight for midnight snackers. If you are unfamiliar with electrical wiring, it's best to have an experienced electrician help you with this task. However, if you're feeling confident in your electrical skills, it is possible to do it yourself – just be sure to cut the power at the breaker box first. With the right hardware and a few simple steps, your kitchen will be transformed with the addition of under-cabinet lighting.
Also Read: What's the Best Under-Cabinet Lighting?

6) Paint the inside of your cabinets
One of the most popular kitchen cabinet remodel ideas is to paint the inside of your cabinets. This is a great way to give your cabinets a quick makeover without having to replace them. For best results, use a glossy paint that is easy to clean and maintain. You can even use bold colors such as black or navy to make the interior of your cabinets stand out. If you don't want to go with a glossy finish, you can also opt for a more muted finish that won't reflect too much light. To help make sure your paint job looks great, be sure to thoroughly prep your cabinets beforehand, sanding down any rough edges and removing any old paint. When it comes to the exterior of your cabinets, there are plenty of cabinet door makeover ideas that you can try. From replacing the hardware to adding new door panels, you can make your cabinets look like brand-new in no time. However, if you want a complete transformation, painting the interior of your cabinets is an easy and cost-effective way to achieve it.
7) Add door and drawer inserts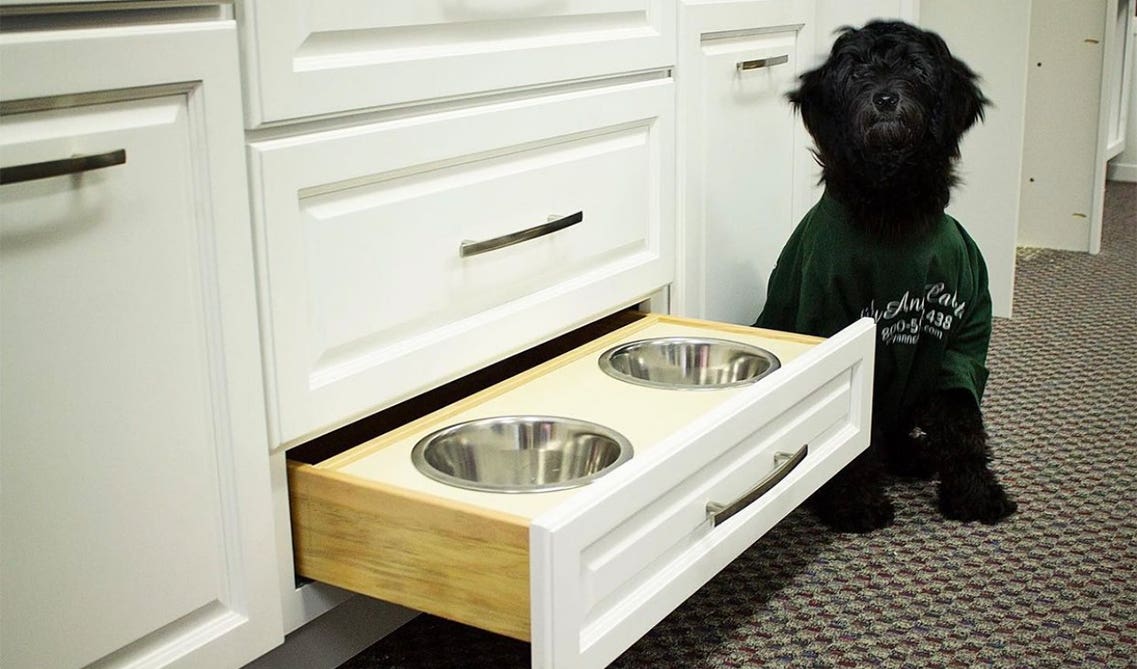 One of the simplest and most effective kitchen makeover ideas is to add door and drawer inserts. This will give your kitchen cabinets a whole new look without having to replace them. With the many different colors, materials, and styles available, you can easily find an insert that fits your kitchen cabinets makeover needs. Installing door and drawer inserts is relatively easy and it doesn't require any professional help. To get started, measure the interior of your cabinets, then buy an insert that matches the measurements. Once you have the insert, you can easily install it yourself with a few basic tools.
Also Read: 9 Space-Enhancing Ideas For Your Galley Kitchen Remodel

8) Add glass doors to some of your cabinets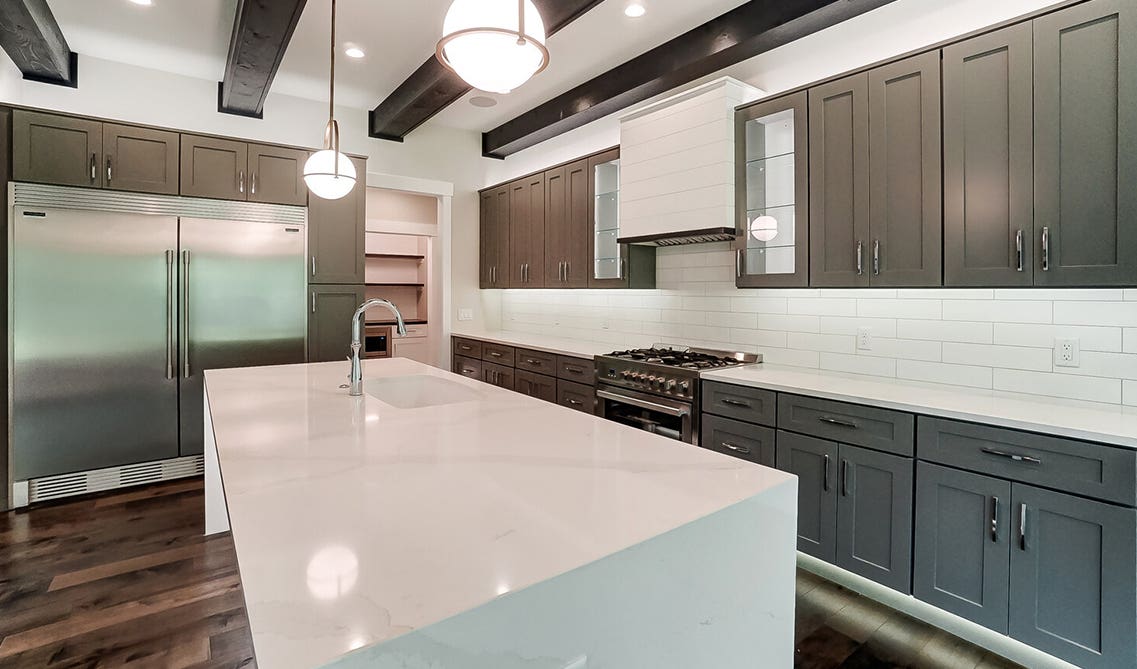 Adding glass doors to some of your kitchen cabinets is one of the simplest and most cost-effective kitchen cabinets makeover ideas you can do. Glass doors add light, color, and visual interest to your kitchen and are a great way to showcase decorative items, plates, or china. You can easily update existing cabinets with glass door inserts that fit into the existing frame or by replacing the entire cabinet door. If you're feeling more ambitious, you can try adding custom glass doors or stained glass inserts to truly make your kitchen stand out. Updating your kitchen cabinets with glass doors is a great way to add beauty and functionality to your kitchen.
FAQ
1. Can I replace cabinet doors only?
Yes! Some cabinet companies offer fronts to cabinets only instead of the entire base. 
2. How often do you upgrade your kitchen cabinets?
Usually, each person upgrades their kitchen cabinets once to twice in their lives. 
3. What is considered a minor kitchen remodel?
Upgrading your hardware, backsplash, or simply even the decor could be considered a minor kitchen remodel.