What is a Galley kitchen?
A galley kitchen is a long, narrow kitchen layout with services on one or both sides. An aisle runs down the center of a galley kitchen. Sometimes, the galley kitchen dead-ends at one end or it can be a pass-through kitchen
In the design world, the galley kitchen (or also known as the U-shaped kitchen) has become one of the most popular layouts in recent years. A galley kitchen maximizes countertop space, which makes it perfect for anyone who loves to cook or entertain! If you're thinking of remodeling your galley kitchen or building a new home, check out these 8 galley kitchen design ideas that will maximize your space and help make cooking in it more enjoyable and efficient!
White Galley Kitchen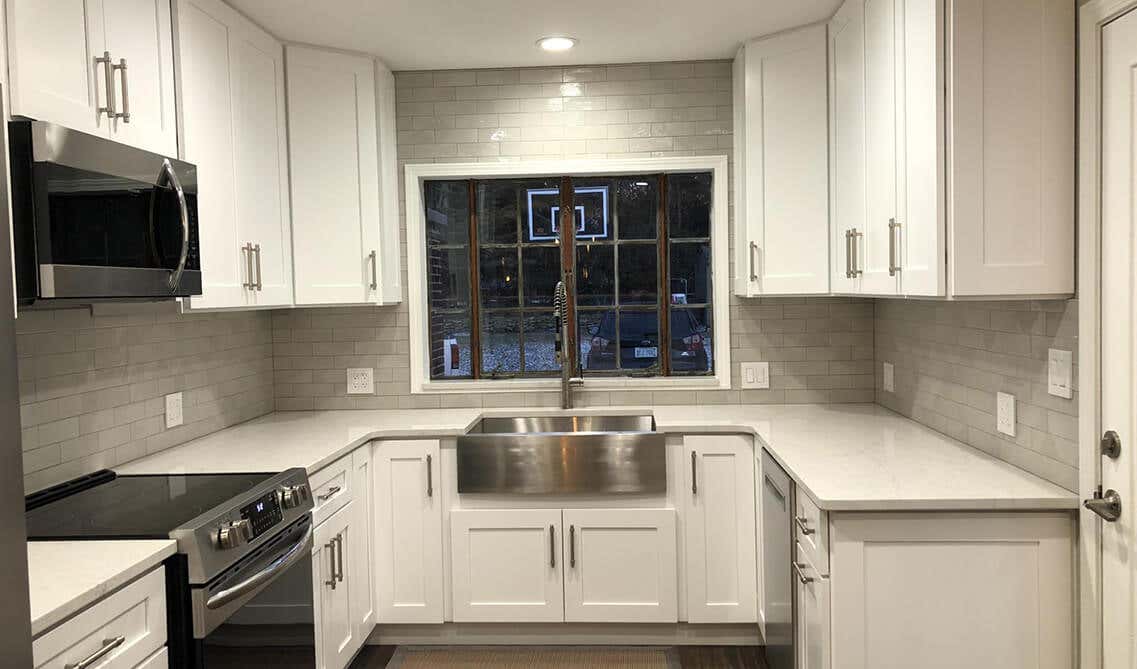 If you live in a small townhome or condo, having a galley kitchen design is the way to go. If you're looking for ideas on colors for your space, white galley kitchen designs are worth checking out. Lily Ann Cabinets will help you make the most of your limited square footage and give you plenty of storage options for everything from dishes to cookware. They will also look fantastic in your space. You can't go wrong with simple white cabinets, they pair well with everything.
Clean, Minimalistic and Modern Approach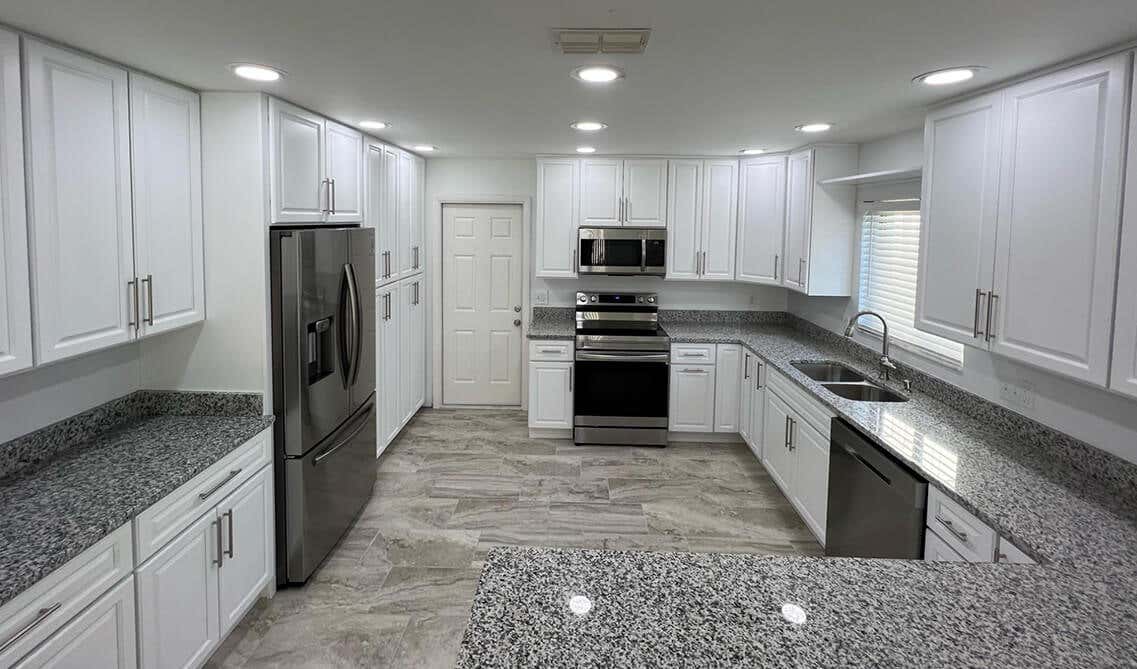 The modern galley kitchen design is a new take on the traditional galley kitchen layout. It takes up less space and creates more flow in your home. In the modern galley kitchen, you will find a long counter that acts as your work surface and is lined with stools or barstools. You can also find a small table or island in the center of the room to use for seating or extra prep space. The sleek, clean lines of this design are perfect for smaller spaces without sacrificing functionality.
Pass-through Kitchen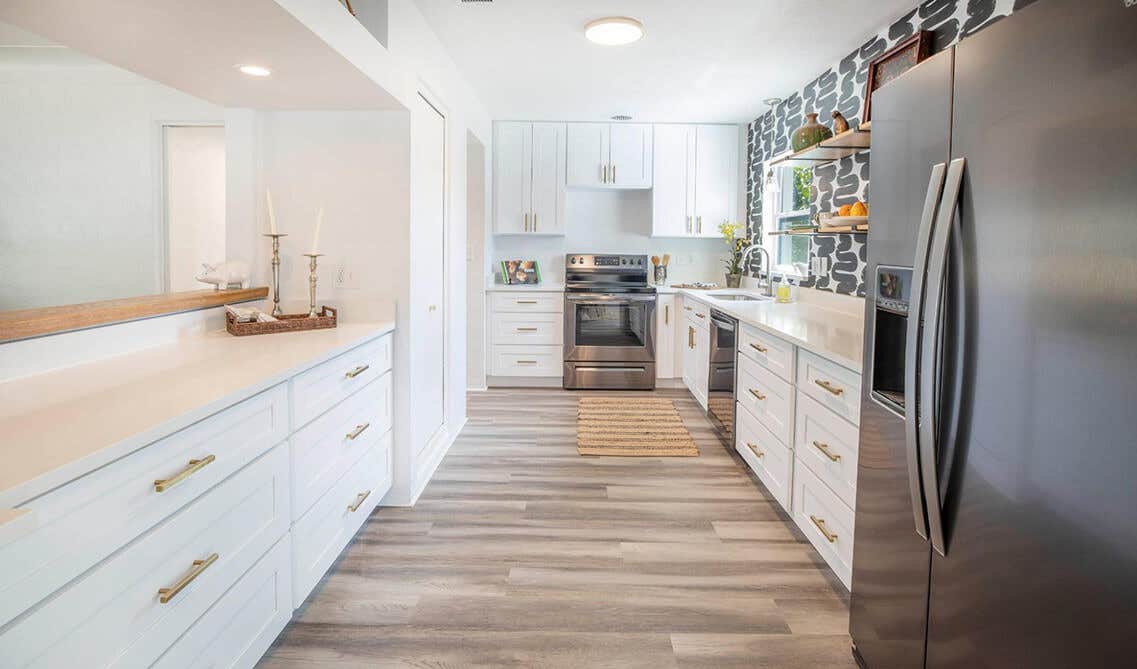 One of the more popular galleys is to put a pass-through window near the stove and counter. This way, you can cook while seeing who is coming through your home. This can also be an especially practical choice for a narrow galley kitchen layout as this will cut down on wasted space. Having a window between the two allows air to pass freely while allowing you to remain in communication with anyone else in the house without opening up the door from your kitchen.
Stack Cabinets up to the Ceiling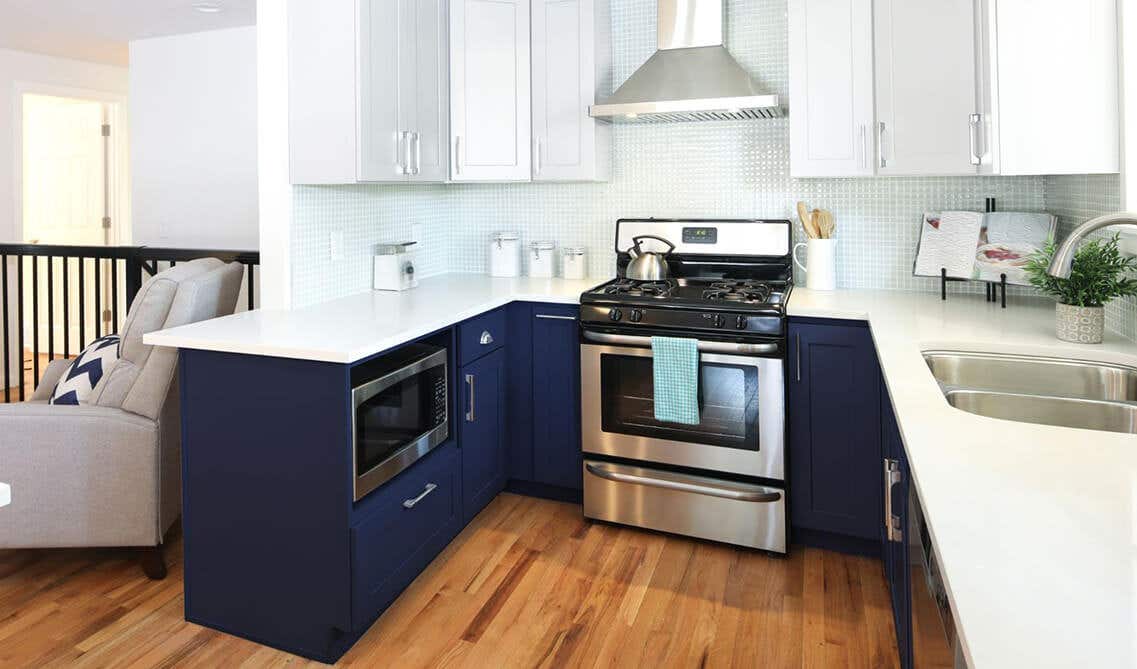 Everyone knows that kitchens with galley layouts tend to have storage problems. One great way to maximize space is to stack cabinets all the way up to the ceiling for extra storage. This will free up valuable counter and cabinet space below and you can use the top of your cabinets as a surface for cooking or food preparation. Adding cabinet inserts and organizers can also help free up lots of space. Check out Lily Ann Cabinets organizers to see the range of options we offer.
Grey Galley Kitchen Cabinets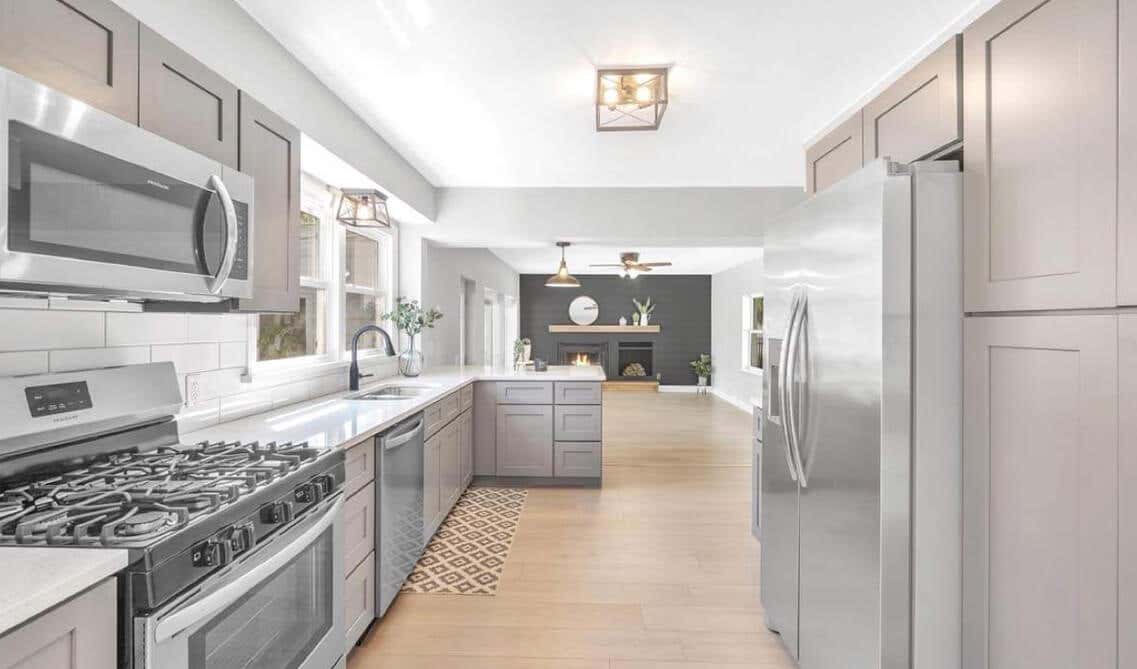 A galley kitchen design can make the layout more accessible and work with your existing layout. It also reduces the space that is being utilized. The key thing to remember when doing a galley kitchen layout is maximizing what space you have while still having enough room for needed appliances, cabinets, and countertops. Another good color to use that looks beautiful is our grey cabinets. Grey goes amazing with everything and will make your kitchen pop.
Design to Maximize Space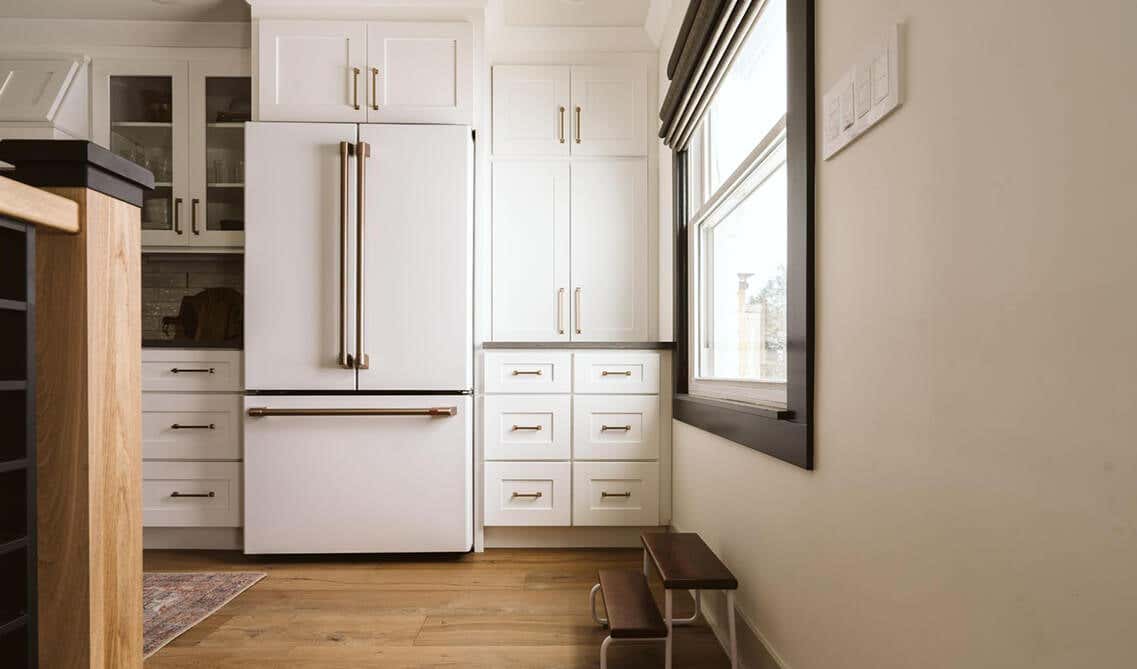 If you have a galley kitchen, maximizing the space with clever design and layout can be done. Easily create a beautiful galley kitchen remodel that maximizes the space and looks great. The goal of these kitchens is to make the most of what little space is available in order to provide an efficient work area. Get a free 3D design from Lily Ann Cabinets' website to visualize what your space would look like.
Boho Galley Kitchen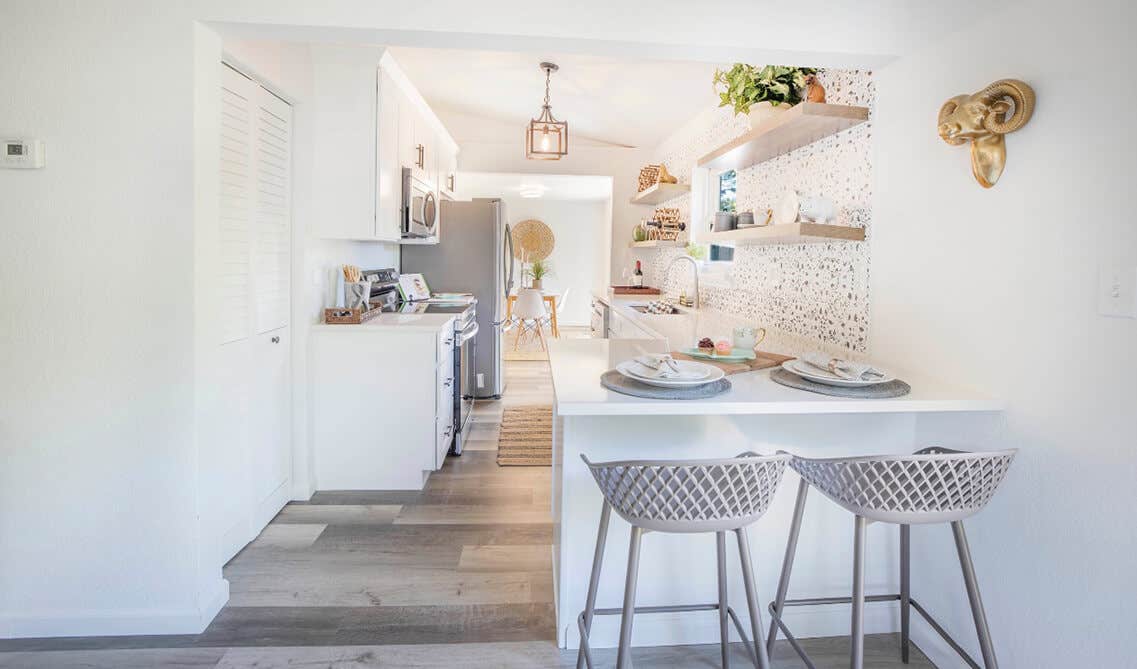 The galley kitchen layout is perfect for small homes, apartments, and condos, but it can be tricky to find a design that fits your needs. Boho kitchens are trending in the design world right now, and you may want to incorporate these ideas into your galley kitchen remodel. Boho galley kitchen design ideas are perfect for inspiration. Adding Lily Ann Cabinets York Linen is a perfect way to achieve a boho look.
Galley Kitchen With Island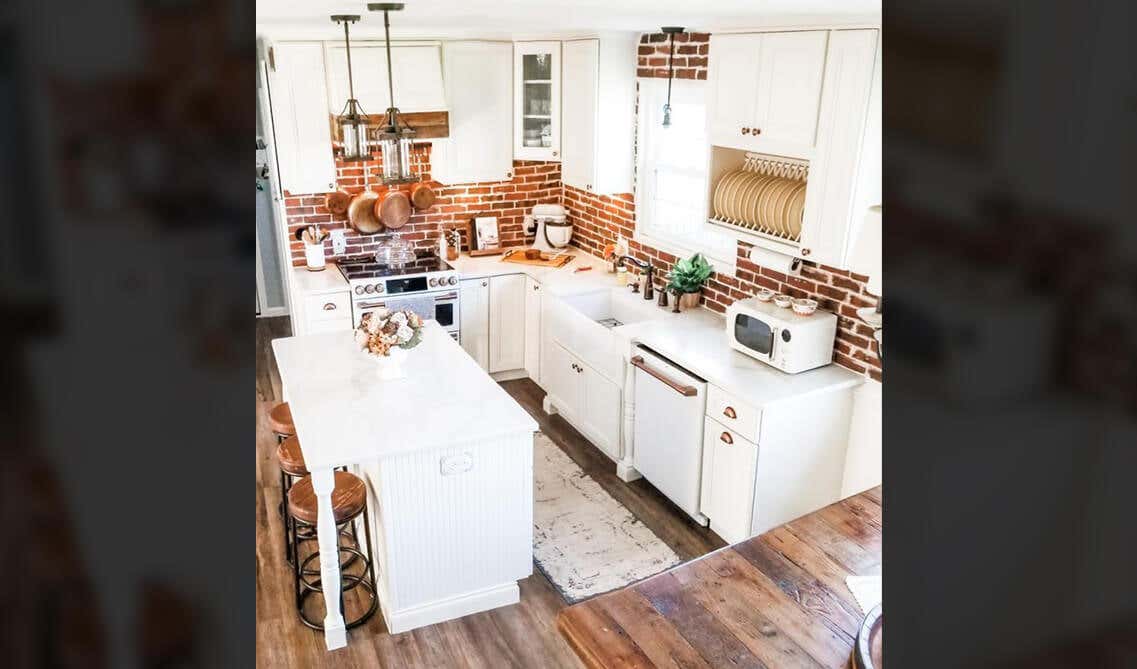 If you're looking for a galley kitchen with an island, the best place to start is by thinking about the layout of your space and what you need from your kitchen. Some kitchens are better suited for a galley than others because it doesn't have any dead space. The types of cabinets, countertops, and appliances also matter when deciding on an island for your galley kitchen design.
FAQ's
1. What is a galley kitchen?
it's a long, narrow kitchen layout with services on one or both sides
2. How much does it cost to remodel a galley kitchen?
Since a Galley kitchen is more narrow it won't cost as much as an average kitchen would, plus with Lily Ann Cabinets you get the best prices.
3. How to make a galley kitchen bigger?
To make a galley kitchen bigger you can make your cabinets go all the way up to the ceiling.
4. How narrow can a galley kitchen be?
It all depends on your kitchen space, you wanna make sure you can comfortably walk through your kitchen.
5. How to add an island to a galley kitchen?
If you want to add a island, you can have one installed or get a portable kitchen islands. They are widely available, and they can be a great option for galley kitchens that are small enough to require a more flexible design.