Lauren Keenan
Powder rooms tend to be one of the tiniest spaces in a home, but that doesn't mean that they can't be stylish. When it comes to powder rooms, you can go in nearly any direction you wish. Going for bold and striking? Simple and minimalistic? Farmhouse? Modern? Any style works in a powder room, and even though it's usually a small space, the right bathroom finishes go a long way!
Recommended: What to Know When Choosing a Bathroom Vanity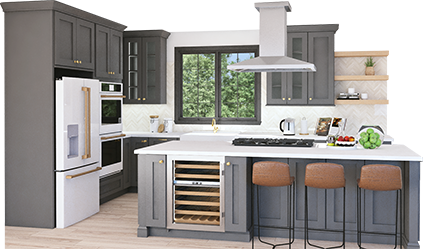 Get your FREE 3D kitchen design today!
Start Now
Use Minimalistic Decor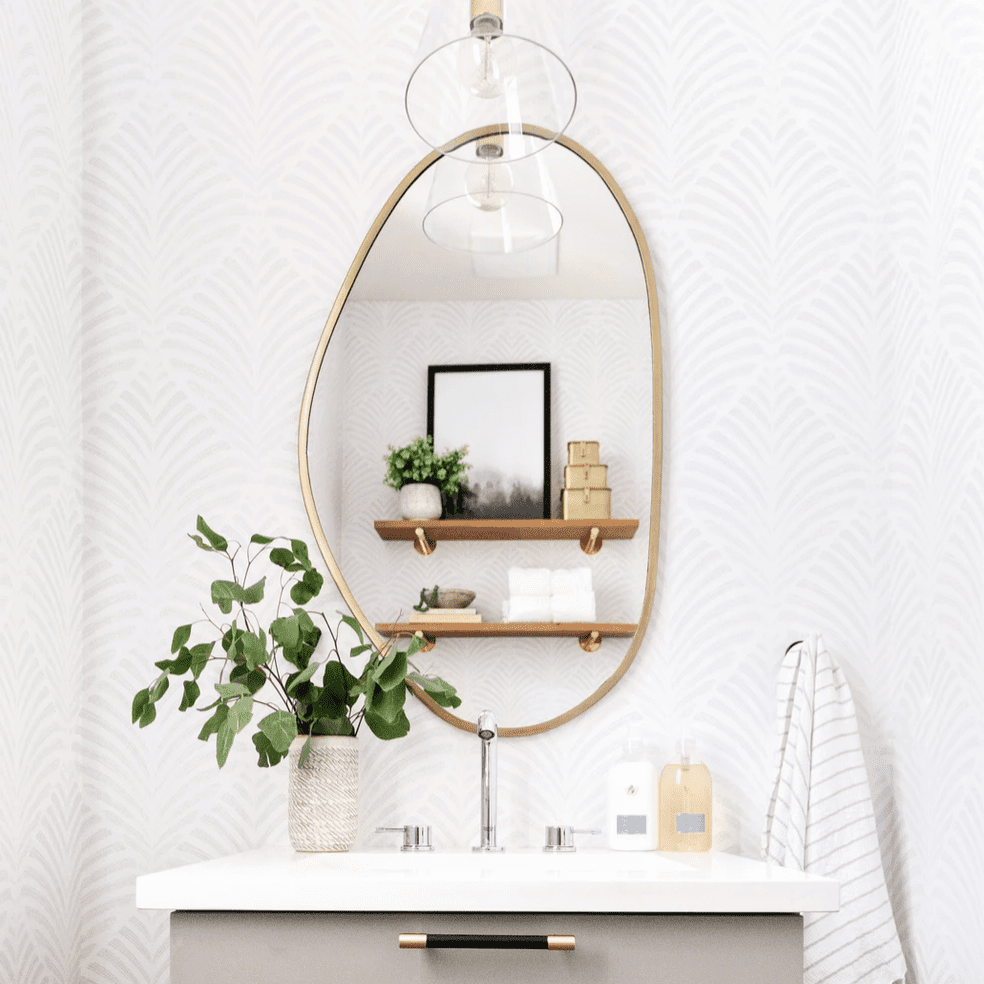 Powder rooms tend to have a small amount of space, so it's important to keep the clutter out and use minimalistic, simple decor. In the powder room pictured above, two floating shelves and a small decorative plant add just the right amount of style - simple yet effective! More ways to incorporate style without adding clutter include incorporating a unique-shaped mirror, bold hardware, and patterned wallpaper.
Recommended for you: white cabinets for your powder room at up to 50% off box store prices!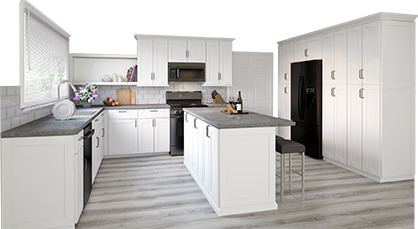 3D Kitchen Visualizer Tool
Bring your dream kitchen to life with our free kitchen visualizer!
Design Now
Incorporate a Unique Vanity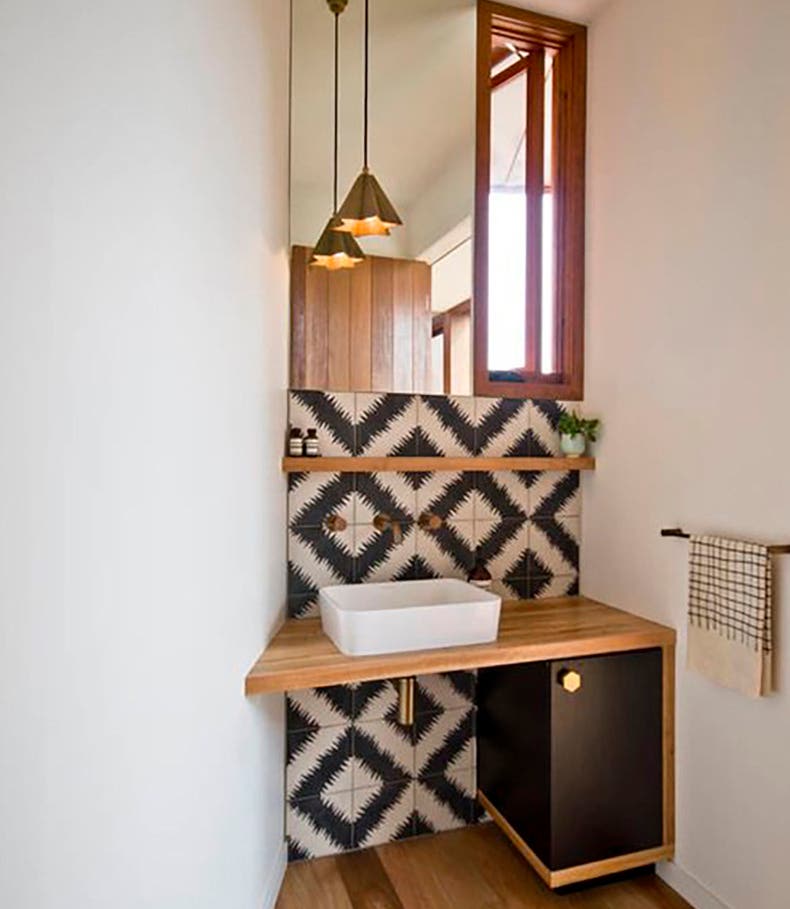 In most powder rooms, the vanity is the biggest piece of furniture in the space, making it one of the most important decorative elements as well. Consider installing a unique vanity in your powder room to completely transform the space! Small bathroom vanities can be found in all shapes, sizes, styles, and colors, therefore the possibilities are endless.
Purchase your bathroom vanity & countertops at Lily Ann Cabinets at great prices! Order a free sample of cabinetry today to see if it will fit the style of your powder room.
Go For Bold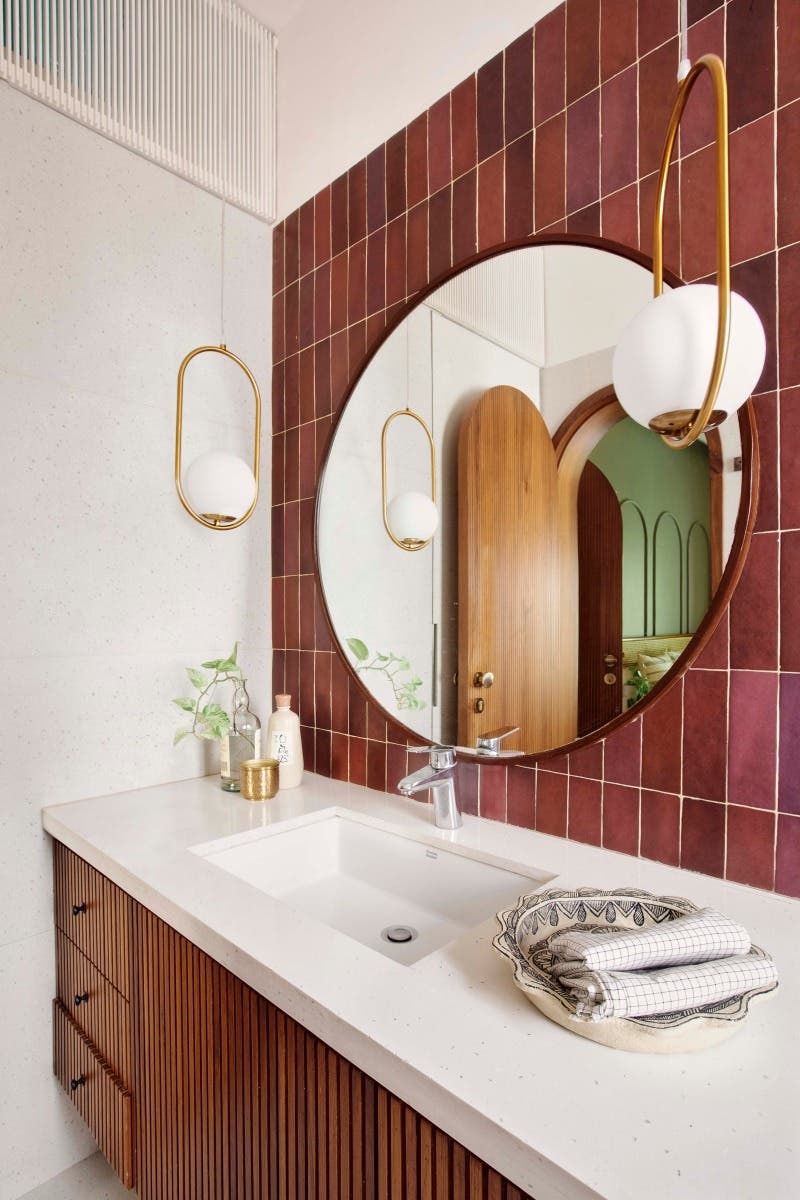 An easy way to make any small space pop and stand out is to add bold color. Whether it's with tile, wallpaper, wall color, or decor, adding bold colors can give a small space more personality. In the powder room pictured above, the designer chose a maroon-colored tile to create not only a pop of color but also serve as a backsplash for the sink. Installing colored tile as a focal point for a powder room is very cost-effective and can even be done as a DIY.
Install Some Wainscoting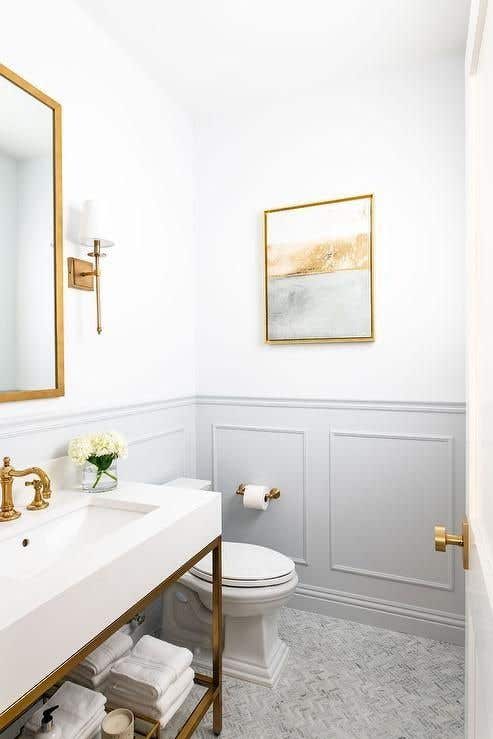 Wainscoting is a form of wall trim that has been around for centuries and for good reason. Before modern advancements in home insulation, wainscoting was used as added insulation. Now, wainscoting is used as an added decorative element in many different styles of homes, creating a sense of elegance and adding visual flair. Wainscoting is a great option for powder rooms because it's an affordable way to add style to the space.
Trying to make your bathroom space more modern? Check out Lily Ann Cabinets' high-quality modern bathroom faucets and luxury shower heads!
Include Board & Batten Siding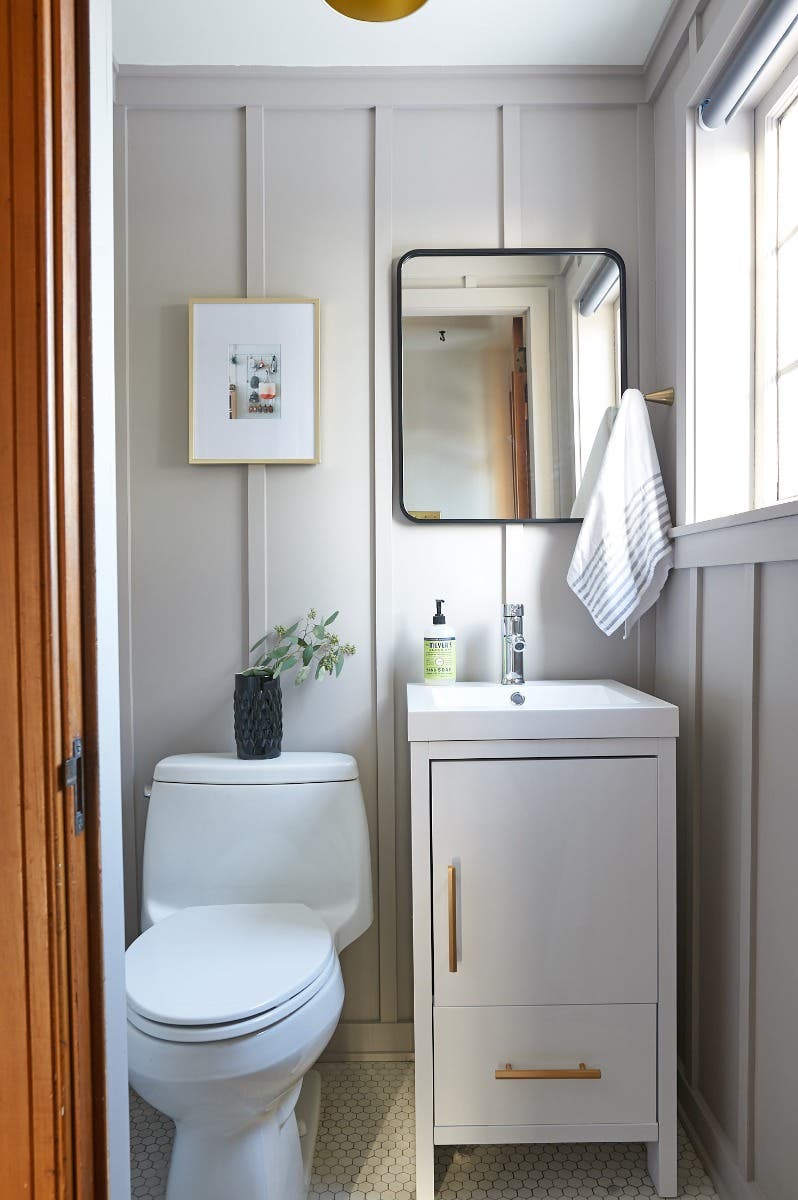 Board and batten siding are lateral strips of wood that go from the floor to the ceiling, creating the illusion of high ceilings. Not only does it make the ceilings appear higher, but it also adds a stunning stylistic element to the space. This can be easily DIY'd with an inexpensive trip to the home improvement store. For a powder room, board and batten siding is also a great option if you are unsure of what decor to put on the walls. Overall, you won't regret incorporating board and batten siding in your bathroom!
Textured Wallpaper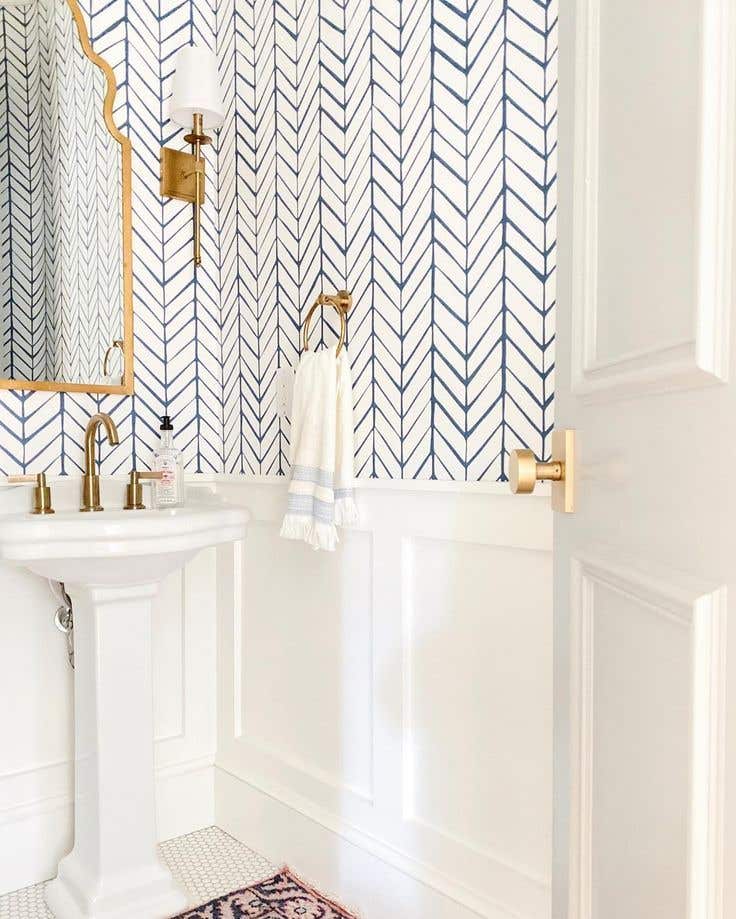 If you are looking to create a seamless, stunning, and elegant powder room space, incorporating textured, single-colored wallpaper will do just the trick. There are hundreds of options when it comes to textured wallpaper, therefore there definitely will be a good option for your powder room space. With textured wallpaper covering all of the walls, there is less of a need for decor. Wallpaper can be DIY'd, making it an inexpensive option to decorate your powder room!
Check out Lily Ann's collection of bathroom hardware here!
Choose a Funky Tile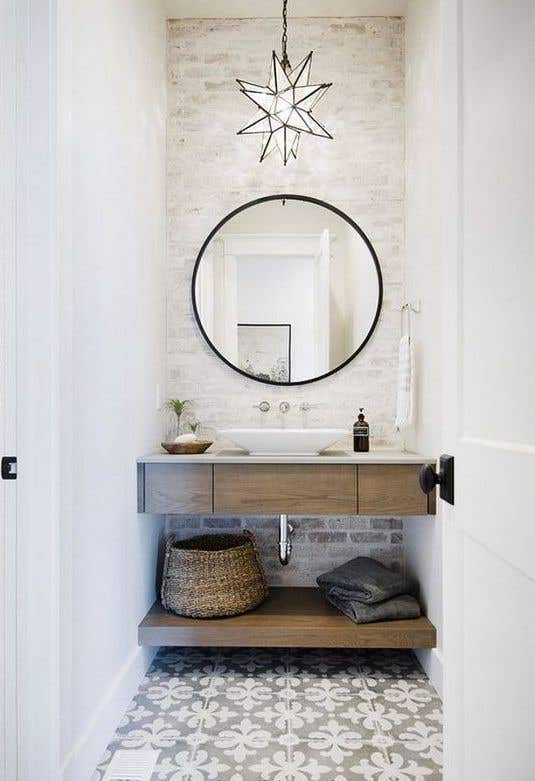 Patterned tile is a great way to either incorporate more color into a small space like a powder room or to also incorporate a patterned aspect. Not only will patterned tile make your powder room look modern and magazine ready, but it's also one of the most durable and inexpensive options for a bathroom floor. If you happen to have a different material as the flooring, patterned tile can also be placed on the wall behind the sink as a backsplash. This type of tile can be DIY'd by buying plain tile or using existing tile, then purchasing a stencil of the pattern you enjoy and painting the pattern onto the tile.
Lily Ann offers great options for tile and wood flooring, check them out here!
Install a Fun Door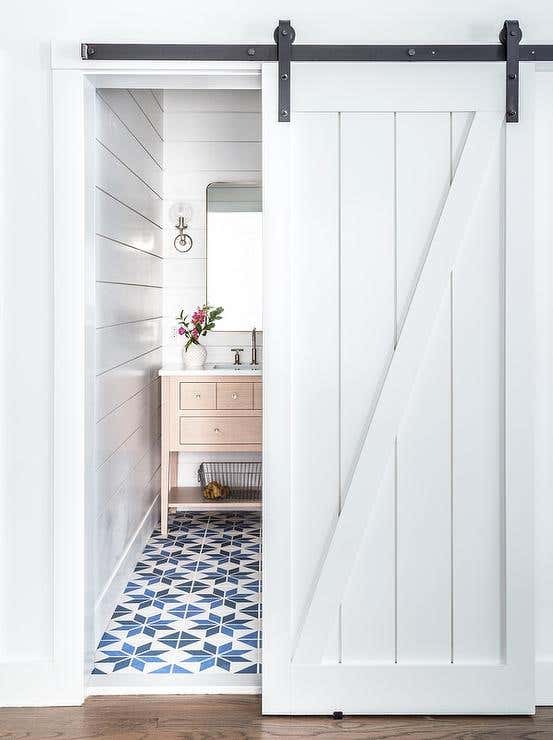 Redesigning a powder room doesn't have to mean redoing everything on the inside. A new door that can serve as a focal point will not only complement the space outside the powder room, but it will also present the element of surprise when you open the mysterious door and see a stunning bathroom inside.
Order a high-quality sliding barn door online at Lily Ann Cabinets!
Create Your Dream Bathroom with Lily Ann Cabinets
Dark or bright, large or small, big or minor renovation, we're here to help you create the bathroom of your dreams. We offer a wide selection of premium cabinetry, hardware, bathroom products, and more to help you create a stunning bathroom that stands the test of time. Our professional designers are on standby to work with you — we offer FREE samples and FREE designs and quotes. Visit our FREE 3D design tool to get started today!
FAQ:
Can you install tile as a DIY?
Tile can be installed as a DIY if you have similar prior experience, or if you can follow instructions efficiently. One mess-up with a tile can lead to uneven flooring or cracks and gaps. Depending on the size of the space, a small-sized room would be inexpensive to hire a professional to do the job.
What's the best way to add color to a powder room?
The best way to add color to a powder room is to either paint the walls or incorporate wallpaper.
How do I make my powder room modern?
You can make a powder room more modern by updating all of the hardware, and the mirrors, and painting the walls for an inexpensive upgrade of the space.
How much is it to renovate a powder room?
A full renovation of a powder room can be anywhere from $1,500 to $7,500 depending on materials used and labor costs if you choose to go that route.
What is the best way to style a powder room?
Since powder rooms are generally one of the smallest spaces in a home, incorporating a bold color is the best way to style a powder room. Whether it's done with wallpaper, wall colors, decor, or tile, any of these options can do the job.