The microwave is one of the most used and most important appliances in the entire kitchen. Whether you are using it to help streamline meal prep or trying to fit a meal into a busy schedule, microwaves are the way to go. With that being said, the placement of your microwave in the kitchen is important. Placing the microwave on the countertop takes up a decent amount of usable countertop space, space that could otherwise be used for additional prepping or storing easy-to-access tools. There are six other placement options for a microwave, creating more valuable space on your countertops and putting your cabinet space to good use!
Let's explore 6 microwave placement options to keep your kitchen space organized and optimized.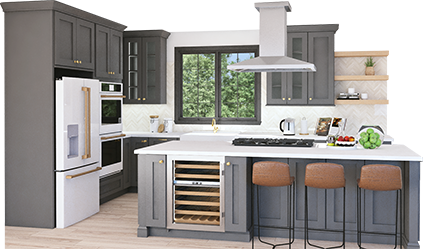 Get your FREE 3D kitchen design today!
Start Now
Looking for the perfect microwave cabinets for your kitchen? Shop RTA built-in microwave cabinetry here!
Microwave Cabinet Built-in on Island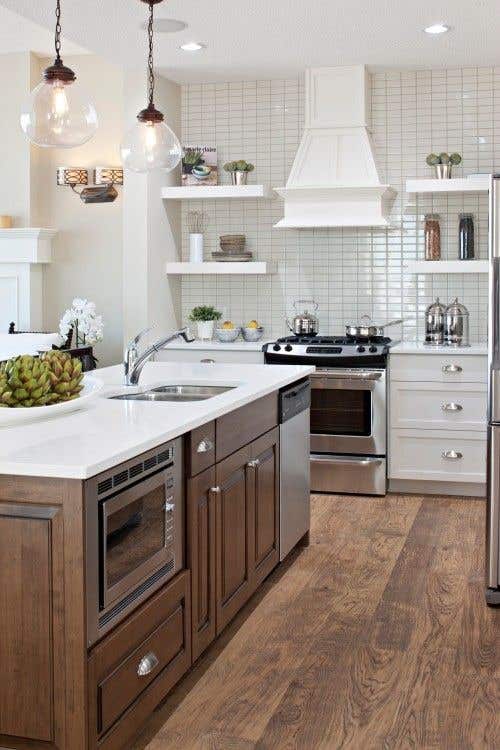 Placing a microwave under the counter on a kitchen island is a great way to establish more of a discrete look. A drawer-style microwave would suit this placement best for easier access, but any type of microwave would do the job. The added trim around the microwave gives the perfect built-in look, adding to the seamless style of the kitchen space.
Looking for brown cabinets with a microwave insert? Shop similar brown microwave cabinets.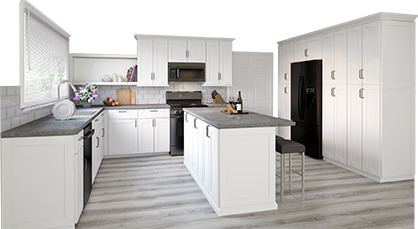 3D Kitchen Visualizer Tool
Bring your dream kitchen to life with our free kitchen visualizer!
Design Now
Under The Counter Microwave Placement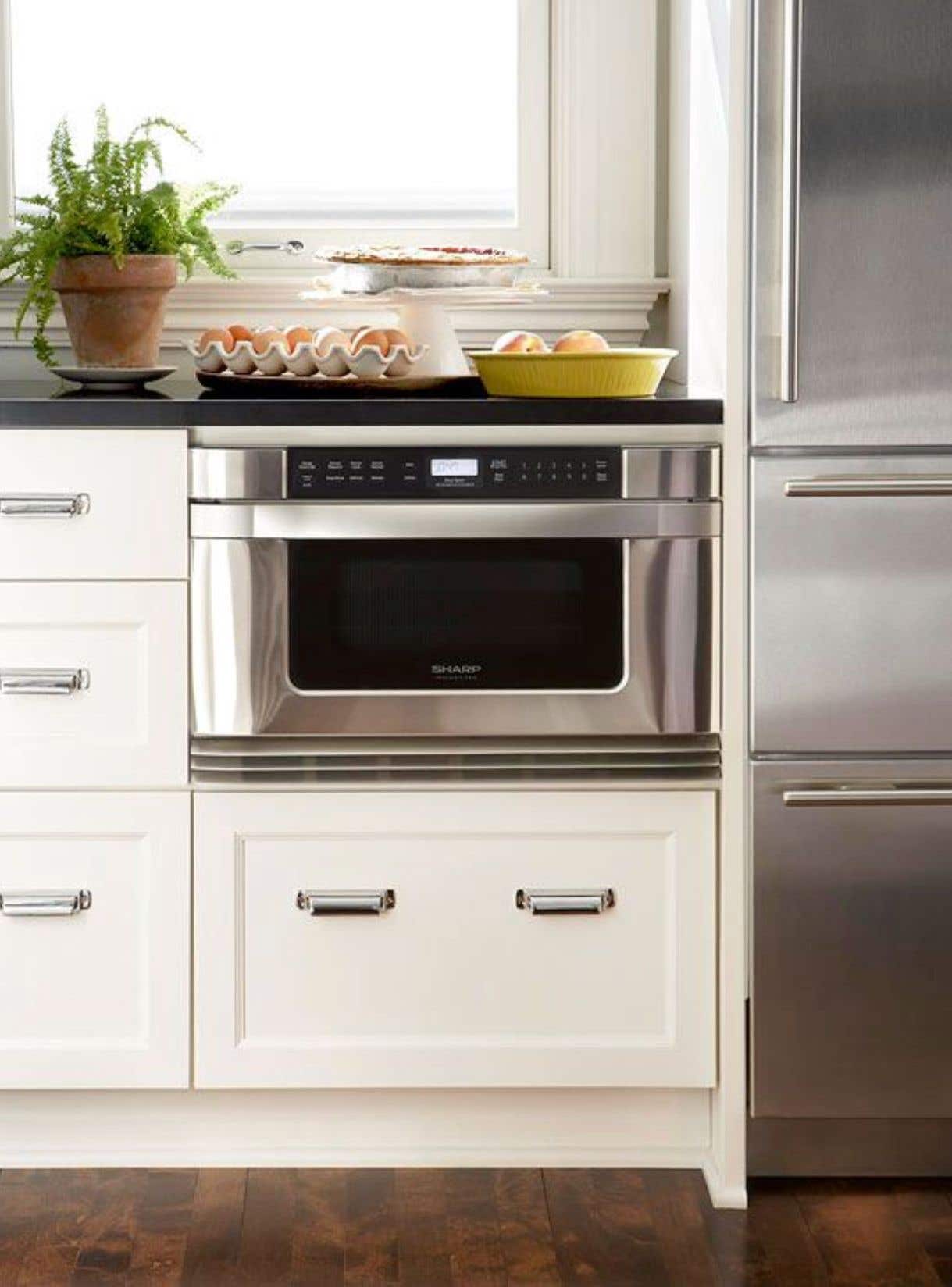 If you don't have a kitchen island, a microwave can be added underneath the main countertops in the kitchen as well. Drawer-style microwaves work best for this type of placement, but any type will still do the job. This microwave placement allows for ample countertop space and presents a clean, organized look. Keep reading for the built-in version of this type of microwave placement!
Check out Lily Ann Cabinets' white shaker cabinets! We offer built-in microwave inserts for any kitchen design style (up to 50% off box store pricing)!
Built-in Microwave Upper Cabinet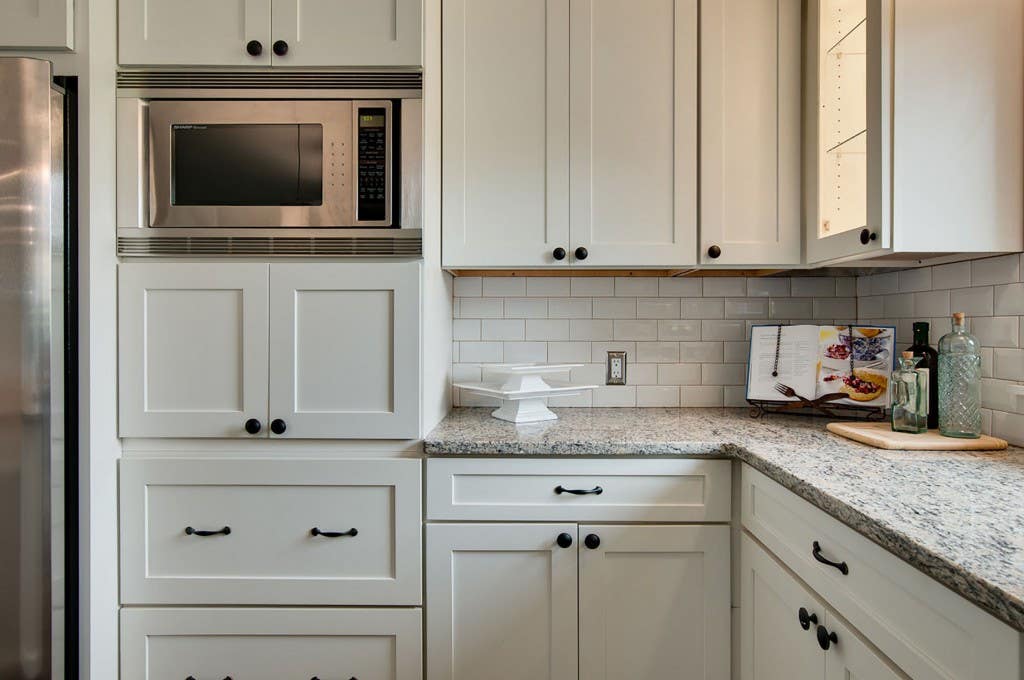 One of the most popular placements for microwaves is inside the upper cabinets. This option frees up countertop space and creates easy access to the microwave without having to bend over. If the exposed look isn't right for your space, you could consider adding a door to conceal it that matches the rest of the cabinets.
Not sure where to place your microwave? Check out our Free 3D Kitchen Design Tool! Our professional designers will help you choose the right microwave cabinet insert for your kitchen - no cost, no obligation.
Built-in Under Counter Microwave Cabinet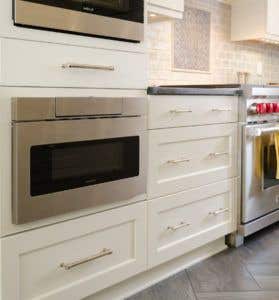 Putting the microwave beneath the countertops not only clears up countertop space but also allows more space for upper cabinets. With a drawer-style microwave, food prepping and baking will be a breeze with the countertop right above it. With added trim, a built-in microwave looks sleek and seamless alongside the rest of the cabinets.
Looking for white shaker cabinets that have the option of a built-in microwave insert? Check out the white shaker cabinets along with the corresponding microwave insert!
Microwave and Oven Built-in Combination
For yet another clean, seamless look, there's always the microwave and oven combination. If cabinet storage is your priority, this is a great way to optimize space and keep cabinets available for storage. Not to mention, the built-in microwave and oven are a great way to add a touch of modernism to your space. This option looks clean, stylish, and chic.
Above Range Microwave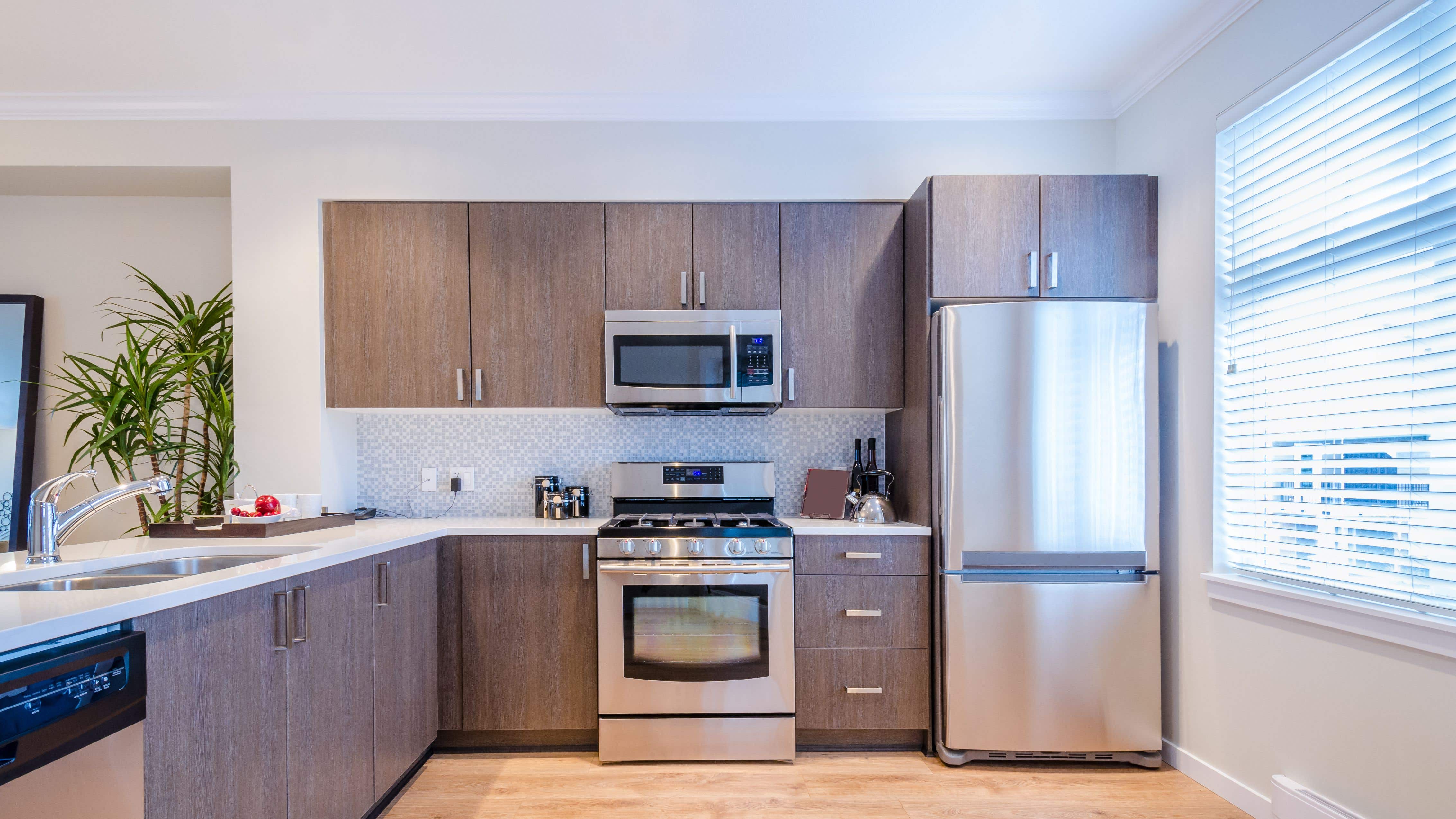 One of the most popular placements for microwaves is an above-range microwave. This placement also allows for ample countertop space and also won't take up too much upper cabinet space. Microwaves that are placed over oven ranges should have a ventilation system built-in for when you cook on the stovetop.
Create Your Dream Kitchen With Lily Ann Cabinets
We offer a wide selection of premium cabinetry, hardware, shelving, and more to help you create a kitchen that stands the test of time. Pick from our large array of kitchen and bathroom cabinetry, including white shaker cabinets that come with soft-close hinges and the option of built-in microwave inserts. Our professional designers are on standby to work with you — we offer FREE samples and FREE designs and quotes. Visit our FREE 3D design tool to get started today!
FAQs:
Where is the best spot to put a microwave?
There is no "perfect" spot to put a microwave, it mostly depends on personal preference and what your kitchen space can allow. In general, placing the microwave below the countertops or on an island are the best spots to put a microwave. That way you have ample countertop and upper cabinet space.
Where should you not put a microwave?
You should not put a microwave inside of a cabinet unless the cabinet has proper ventilation, electrical wiring, and the ability to hold the weight of the microwave. Microwaves also should be placed a safe distance (at least 3 feet) away from sinks to prevent them from shorting out or electrocuting you.
Where do you put a microwave in a small kitchen?
In a small kitchen, the best place to put a microwave would be in a built-in cabinet amongst the upper or lower cabinets. That way you have ample countertop space which is necessary for kitchens of a small size.
What's the best way to conceal a microwave?
The best way to conceal a microwave would be to put it in a pantry or properly-suited (with wires and ventilation) cabinet. Another option is to place the microwave in a built-in under the counter of a kitchen island.
How can I tell where the best spot to put a microwave is in my existing kitchen?
The best way to find the best spot to put a microwave in your existing kitchen would be to use Lily Ann Cabinets' 3D design tool. With measurements and pictures of your kitchen space, Lily Ann's professionals will draft where the best spot to put a microwave in your kitchen is.