Every homeowner wants to get the most out of their kitchen. Regardless of your kitchen's size, design, appliances, and technology, greater functionality is only possible when you maximize your kitchen cabinet storage. You won't be able to fully enjoy your kitchen with cluttered countertops, unorganized cabinets, and wasted space. Of all the space-saving solutions you will discover, maximizing your cabinet storage and organization is the most effective and affordable way to declutter your kitchen. There are thousands of cabinet storage products, ideas, and tips that can help you make the most of your ready-to-assemble (RTA) cabinets. To help you get the most out of your kitchen, we have identified the latest trends in cabinet storage. Here are 5 must-have storage features to get with your RTA kitchen cabinets.
1. Corner Storage Solutions for RTA Cabinets
Some of the most underutilized storage opportunities in your kitchen are corner cabinets. Cabinet corners can be difficult to use effectively because they are awkwardly shaped and limited in space. With a little bit of creativity and some unique storage ideas, however, your kitchen corners can save you a lot of space. For bottom corner cabinets, installing a Lazy Susan can dramatically increase storage capacity and keep your items organized and easily accessible. There is a wide variety of Lazy Susans you can choose from. Consider consulting with our kitchen and cabinet designers to find the Lazy Susan design that will offer the most storage while being compatible with your kitchen cabinetry.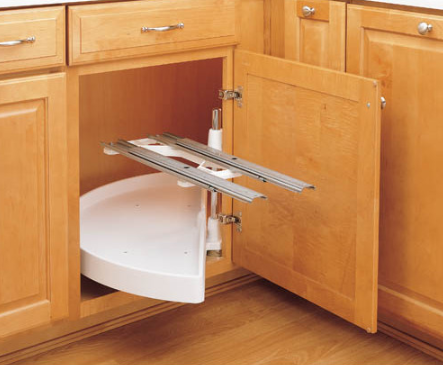 Other than a Lazy Susan, blind corner organizers are another great way to utilize the storage space in the corners of your kitchen. The Blind Corner Organizer floats on a bottom mount, smooth glide track system and eliminates having to reach into your dark corner cabinets blindly. You will have easy access to whatever you store in the corner cabinets of your kitchen, and the soft-close shelf design ensures that the organizer smoothly transitions around the blind corner of the cabinet. Designed for a 15" cabinet opening, the Blind Corner Organizer is available for right and left blind corners in a white finish. Both a Lazy Susan and a blind corner organizer can create a lot of extra storage space in your kitchen by letting you take full advantage of those corner cabinets.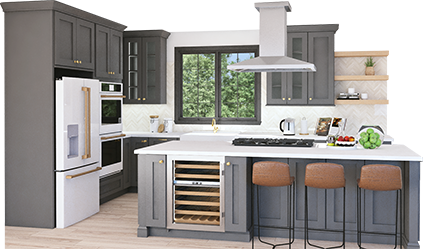 Get your FREE 3D kitchen design today!
Start Now
2. Base Filler Pull-Outs for RTA Cabinets
You may notice that there are a bunch of small gaps of unused space between some of your bottom cabinets or between cabinets, walls and appliances in your kitchen. These gaps may be only a few inches wide, but they all add up to a lot of open space. Too small for a full cabinet, these little gaps are normally hidden with cabinet filler stripes — but they're the perfect place to install slender base filler pull-out pantries.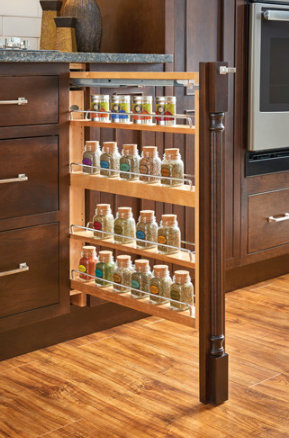 For example, Lily Ann Cabinets offers this base filler pull-out that is three inches wide, twenty-three inches deep, and thirty inches high. Other sizes are also available. With adjustable shelving, these filler pull-out pantries can be used to store stock canned goods, spices, sauce bottles, snacks, cereal, and a wide variety of other items. A filler pull-out storing all your spices and herbs would be perfect next to your stove while another next to your sink could hold dish soap and other cleaning products.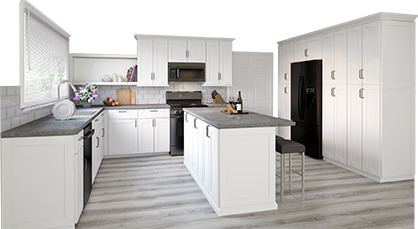 3D Kitchen Visualizer Tool
Bring your dream kitchen to life with our free kitchen visualizer!
Design Now
3. Built-In or Insert Drawer Organizers
Cabinet drawers are often cluttered with kitchen tools, utensils, flatware, and many other unwanted odds and ends. It can be difficult to find what you are looking for in unorganized drawers and the clutter can cause the kitchen drawer to become stuck. Drawer inserts for kitchen cabinets can save space and make your kitchen tools easily accessible.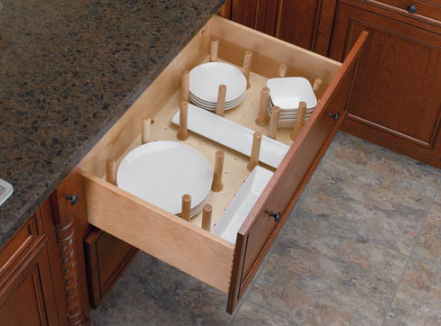 Organizers can be directly built into the drawer, or you can purchase a cabinet drawer insert. Divided utensil drawers and spice drawer organizers are a great way to save space and prevent clutter in your kitchen.
4. Tricks to Store More Around Your Sink
The cabinet below your sink is also a prime area for improving kitchen storage and organization. Much like the corner cabinets in your kitchen, the sink cabinet is typically deep, dark, low to the ground, and cluttered with a variety of cleaning products. As a result, accessing the products you store in your sink cabinet can be frustrating. Fortunately, there are multiple accessories for Lily Ann RTA cabinets that can increase storage space, promote organization, and improve accessibility.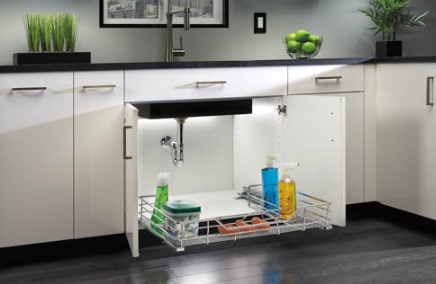 For example, Lily Ann Cabinets offers a U-Shaped Pull-Out Basket that can be installed in the bottom of your sink cabinet. The U-shape design works around the sink plumbing and helps keep your products together and organized. More importantly, the pull-out basket gives you easy access to everything that is stored in the cabinet. You no longer have to get down on your hands and knees to reach that one product in the very back of your cabinet.
5. Storage Behind Your RTA Kitchen Cabinet Door
You may be surprised to learn that the inside surface of your kitchen cabinet doors can be a great place to install extra storage. You can purchase a wide variety of door mounts. Some door mounts are designed to hold cleaning products, plastic wrap, aluminum foil, spices, kitchen tools, towels, cutting boards, and much more.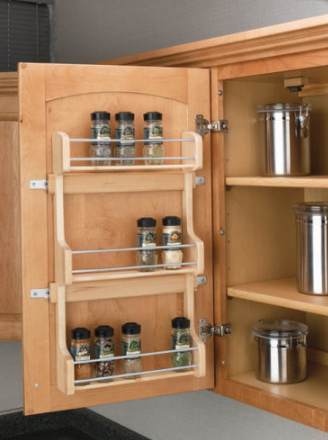 For example, we offer a door mount spice rack that will make your favorite herbs and seasonings instantly accessible while saving storage space in your cabinets for other important things. Equipped with patented door mount brackets with up to 5" of adjustability, our door mount spice rack fits best in 10.5" doors but can work with larger door cabinets.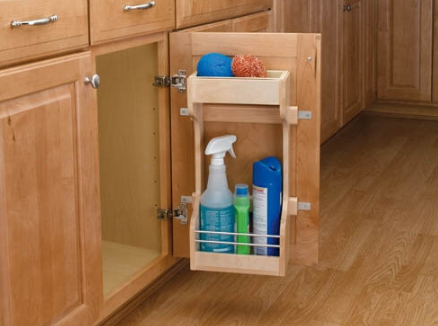 Because the sink cabinet is very open and deep, sink door mounts are another perfect way to increase storage and accessibility. These door mounts provide additional storage that can hold cleaning products, spray cans, soap bottles, sponges, and so much more. Our sink base door storage mount fits best in 14.5" doors, but it can be adjusted to work with larger sink cabinets. Each door mount works with specific RTA cabinet designs so the door can close while the mount is attached to the inside surface. Before purchasing a door mount, make sure it is compatible with your kitchen cabinet design and serves your specific purpose. For more storage ideas available with RTA kitchen cabinets, call or contact Lily Ann Cabinets. Our experts will find the products and solutions that will help you get the most out of your kitchen.