A kitchen with shaker cabinets is a modern-day staple. They're durable, functional, and elegant. The no-frills design of the shaker style doors makes it the perfect style for any kitchen design, from rustic to modern. Available in a variety of colors and stains, the options are endless!
With so many styles on the market, it can be hard to decide which shaker cabinet style is right for you and your home. To help you decide, we're sharing 23 of our favorite shaker cabinet kitchen pictures and design ideas to inspire your kitchen remodel. From hardware to flooring, we've included all the best ideas to guide your design. Read on to get inspired!
1. Matte Black Hardware
Lily Ann Cabinets
Our White Shaker Elite cabinets brighten up this customer's kitchen. These shaker style doors are complemented by matte black hardware and a sleek white subway tile backsplash. The wood floors ground the design with a slightly darker tone, contrasting the rest of the bright finishes.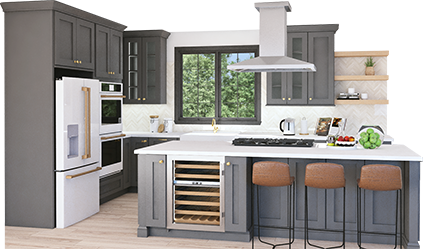 Get your FREE 3D kitchen design today!
Start Now
2. Contrasting Oak Island
This dark oak island offers a gorgeous contrast to bright white shaker cabinets. Contemporary glass globe pendant lights make an artistic statement and integrate the kitchen's colors with a modern black and white design.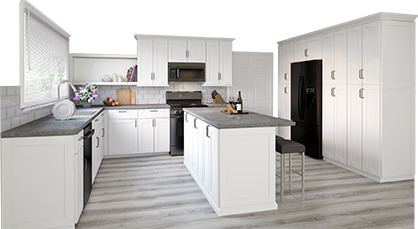 3D Kitchen Visualizer Tool
Bring your dream kitchen to life with our free kitchen visualizer!
Design Now
3. Grey & White
Lily Ann Cabinets
This customer paired Grey Shaker Elite and White Shaker Elite cabinets for a beautiful modern finish. The expansive kitchen is centered by a large island with white quartz countertops. This is the perfect space for friends and family to hang out!
Checkout: Neutral & Noteworthy: 13 Grey and White Kitchen Designs
4. Stained Wood Doors
Natural wood shaker cabinets bring a relaxed rustic vibe to this home. The dark wood finish pops against a simple white subway tile backsplash. To keep the focus on the sleek cabinet doors, this kitchen features simple and understated finishes like a white farmhouse sink and minimalistic hardware.
5. Leather Accents
Lily Ann Cabinets
This customer refreshed their outdated kitchen with a full set of Colorado White Shaker cabinets. They finished off the look with gray countertops and a glossy gray backsplash. Unique red leather bar stools add a touch of modernism to this traditional kitchen.
6. Got The Blues
Shaker kitchen cabinets aren't limited to neutral colors—if you're feeling bold, try out blue! These rich, deep blue shaker style cabinets are the star of the show in this contemporary kitchen. Paired with brass hardware and white quartz countertops, these blue shaker cabinets evoke a unique and vibrant feeling.
Checkout: 8 Striking Navy Blue Kitchen Ideas for a Bold Design
7. White Quartz Countertops
This customer used the White Shaker Elite cabinet line to create an elegant transitional space. The thick white quartz countertops and stone tile backsplash are the perfect complement to the white shaker cabinet style. To keep the kitchen bright and illuminated, glass pendant lighting and interior LED cabinet lights were installed. We love this unique space!
Checkout: Best Quartz Countertops Colors for Your Kitchen
8. Playing With Contrast
When it comes to shaker designs, mixing cabinet colors can have a stunning result. This two toned kitchen by Pelle illustrates the gorgeous result of pairing black and white shaker cabinets. A uniquely patterned wood floor and white tile backsplash contribute to the visual interest of this kitchen design.
9. Elite White Cabinets
Lily Ann Cabinets
Shaker cabinets with glass door inserts are a great way to display your favorite decor and dishware. This coastal kitchen by one of our customers features the White Shaker Elite line, accentuated by a stark white island, white chairs and white countertops.
Checkout: Everything You Need to Know About White Shaker Elite Cabinets
10. Rustic Wood Appeal
Pinterest
Pictures of shaker cabinets with a rustic wood style have an enduring appeal that stands the test of time. Available in a variety of stains and wood grains, this design style is especially popular in rustic kitchen styles. The darker colors look best when combined with dark granite countertops and neutral backsplash colors.
Related: Simple Guide to Choosing The Best Cabinet Wood Type
11. Clean Lines
This sleek white shaker kitchen has no shortage of storage space! These white shaker cabinets are perfect for large families that need a lot of space for food and dishes. With this cabinet design, the eye is immediately drawn to the beautiful paneled doors. Distractions were eliminated in favor of consistency and clean lines.
12. Dark Base Cabinets
Pinterest
Dark shaker cabinets look striking when paired with lighter colors. For example, this interior designer used dark grey shakers for the base cabinets with dark wood floors. Then, to lighten up the upper half of the room used white shakers as upper cabinets as well as a glossy white backsplash and white countertops.
13. Colorado Shaker Showroom
Lily Ann Cabinets
This kitchen from Lily Ann Cabinets' Adrian, Michigan showroom features the Colorado Shaker White cabinet line. Combined with a few dark wood accents and our Driftwood Grey SPC flooring, this bright white shaker kitchen was designed to appeal to a wide range of customer tastes. LED lighting was also added to accent the cabinet design and add functionality.
Checkout: Transform Your Kitchen with the Timeless Elegance of The Colorado Shaker Cabinets
14. Blue & White
This gorgeous flat blue color is a show-stopper in this kitchen. Combined with a glossy white herringbone backsplash, this modern kitchen is the ideal mix of style and function. Sleek silver bar pulls add a nice accent to the shaker style doors, tying them in with the stainless steel appliances.
15. Grey Washed
Gray wash shaker cabinets and white quartz countertops are the perfect pair in this immense chef-style kitchen. The subdued paint color is matched with dark tile floors and stainless steel appliances. Who wouldn't want to cook a meal in this gorgeous kitchen space?
16. Back To Black
Black shaker cabinets look dazzling in this modern kitchen space. A built-in espresso bar, etched cabinet glass doors, and brass hardware give it an elegant custom finish. Although the cabinets are dark, the space still feels light and airy due to the white countertops, backsplash, and wall paint. This kitchen area proves you shouldn't stray away from black cabinets because you feel they will be too overpowering—it's possible to keep your kitchen bright by carefully selecting the surrounding finishes.
Checkout: 16 Striking Kitchen Ideas for Black Kitchen Cabinets
17. Marble Waterfall Countertop
The white and gray marble waterfall countertop is the star of the show in this shaker kitchen design. To match the colors of the countertop, the interior designer chose white shaker cabinets and chrome hardware. A large multi-panel window lets in beautiful natural light, reflecting off the countertops for a dazzling effect.
18. Lush Green Elegance
This kitchen feels like a private modern greenhouse. Large skylights, a selection of indoor plants, and dark green shaker cabinets give the space an earthy, natural feel. Brass hardware complements the warm tones of the wooden countertop on the right. Grey hexagonal tile flooring grounds the space while adding a unique texture.
Checkout: Green Kitchen Cabinets – The Ultimate Guide To The Newest Kitchen Trend
19. Traditional White Kitchen
Lily Ann Cabinets
Pictures of shaker cabinets never disappoint which is proven by this customer photo. This customer opted for Colorado White Shaker cabinets in their contemporary kitchen remodel. Grey and white marble countertops and a patterned backsplash are the focal points of the space. The multi-toned wood floors bring some warmth into the kitchen design. Simple yet stunning!
20. Black & Bright
Pinterest
This is another example of a bright kitchen with black cabinets. The dark shaker cabinets flank three rows of open shelving, giving the room a bit of space to breathe. Whereas the cabinets are midnight black, the wall paint and countertops are bright white. Additionally, the designers opted for a lighter-toned wood for the floating shelves. These design decisions resulted in beautiful contrast that ultimately created a light and airy space.
21. Touch of Grey
Grey shaker cabinets are a great option for those who want to add some subtle contrast to a white kitchen. This thoughtfully-designed space features a floor-to-ceiling wall of grey shaker cabinets for plenty of storage space. To balance out the room, white countertops, a white backsplash, and a white range hood with wood trim were used. To bring the whole design together, brass accents were implemented throughout the kitchen to add a beautiful touch to these shaker style doors.
22. Powdered Pastel
Powder blue shaker cabinets are breathtaking in this simple pastel kitchen. The minimalist design places emphasis on clean lines and complementary colors. White and grey brick tile backsplash was installed from the counters to the ceiling as not to break up the space. The result is a symmetry of design that is both visually pleasing and relaxing.
23. Bold With Brass
The white quartz waterfall island is the center of attention in this radiant kitchen design. Gold globe lights overhead offer an artistic touch, matching the other brass accents like the faucet, hardware, and stove knobs. The white shaker kitchens are complemented by dark wood floors, creating a gorgeous contrast between dark and light tones.
Find Shaker Cabinets for Less
Lily Ann Cabinets offers a selection of premium quality shaker cabinets for up to 50% off box store pricing. Shop today to save big on your kitchen remodel! Plus, get a FREE 3D design to visualize your dream shaker cabinets kitchen. Our professional design team will work with you every step of the way to ensure every detail is just right.
This is a curated post designed to showcase the work of a number of talented designers. If you would like to have an image removed, please let us know!