Out with the old, and in with the new! It's 2021 and we have new trends to look out for when designing your kitchen. From color schemes to countertops, range hoods and backsplashes, 2021 has brought us some unforgettable kitchen trends. Spice your kitchen up with one or all of these trends and it will surely turn out to be a showstopper.
Without further ado, let's explore some of the best 2021 kitchen trends!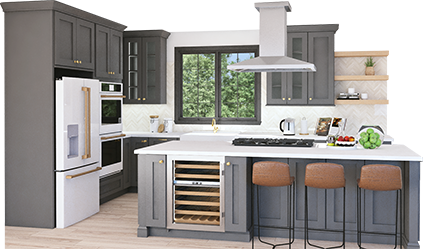 Get your FREE 3D kitchen design today!
Start Now
Cabinets
We are leaving bright and white kitchen cabinets back in 2020 and replacing them with dark and moody cabinets for 2021. This trend was destined to happen at some point, and here it is in 2021. Finally, dark and moody kitchens are now a must-have, and we can see why. Along with this new trend of cabinets comes a few others as well, so let's take a look!
Blue cabinetry is sleek and clean even though they are on the darker side. Styled with lighter countertops and bold, bright finishes, the darker cabinetry does not seem as dark anymore. This look can be achieved with any color of cabinetry that's on the darker side, such as shades of green, greys and blacks, blue, and any other color you think would work best in your space. If you are looking to make your kitchen appear bold and different, this 2021 trend of dark cabinetry will surely do the job!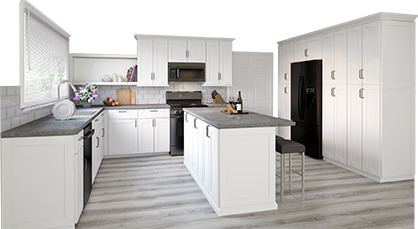 3D Kitchen Visualizer Tool
Bring your dream kitchen to life with our free kitchen visualizer!
Design Now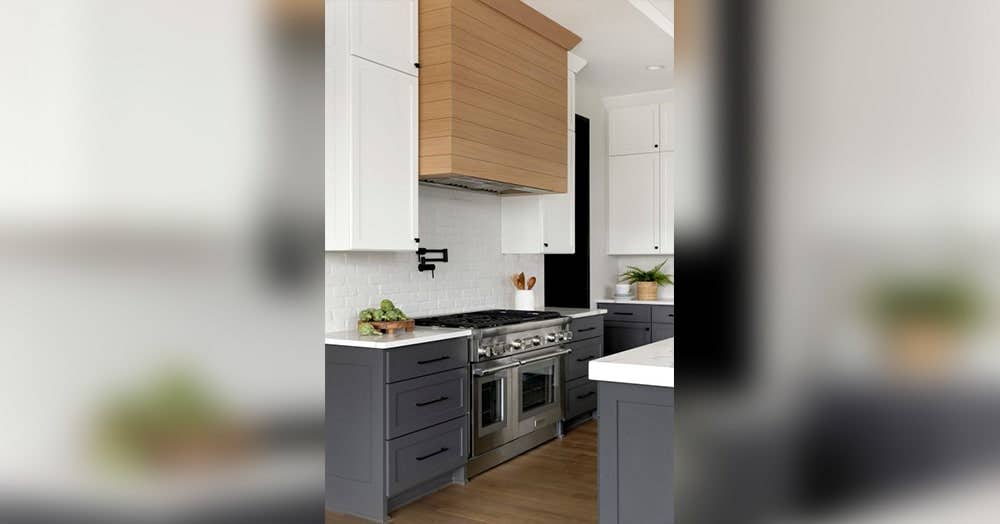 Recommended: Navy Blue Shaker Cabinets
If dark cabinetry similar to the first option was a little too dark, then you can try mixing cabinet colors, hardware, and materials of the kitchen similar to the picture above. They have dark lower cabinets, white upper cabinets, black hardware, a white backsplash and countertops, and added a warm-toned range hood. This look is to die for and easily achievable by balancing out the darker colors with the warmer tones of the space.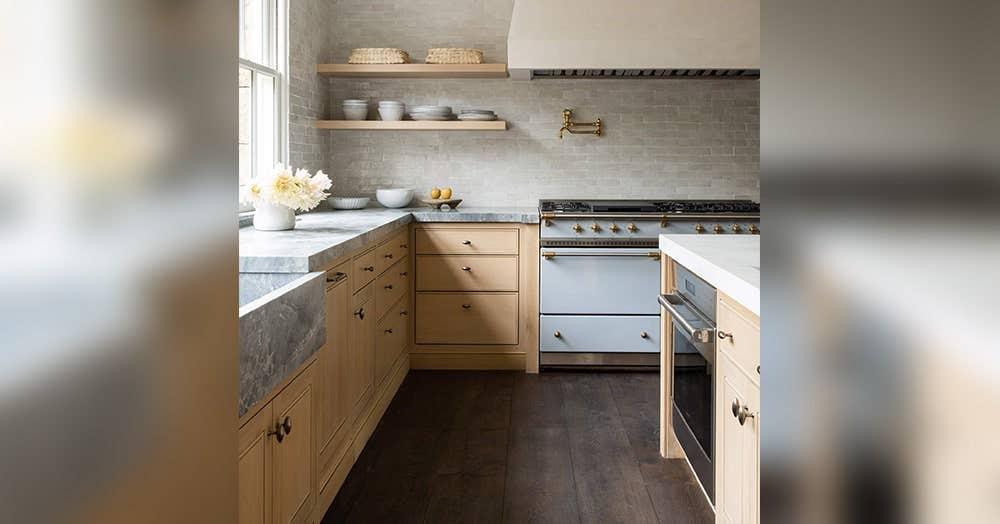 Another great kitchen trend of 2021 is open-shelving. Incorporating open-shelving cabinets to your kitchen design allows for more decorating possibilities. These possibilities can add much more style to your space, even if it's just two small shelves. Many may think normal cabinets are superior to open-shelving, but this form of cabinetry is multi-purposeful and serves as both storage and an added decorative element.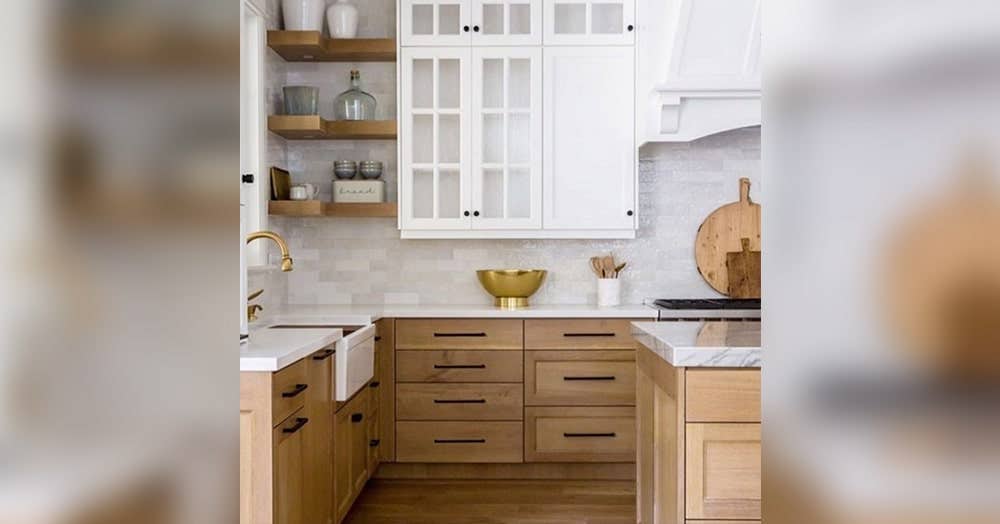 Recommended: Lily Ann Cabinets Floating Shelving
Two-toned cabinetry is next on the list for 2021 kitchen trends. Single-colored cabinetry in a kitchen is a thing of the past now that this interior design trick is starting to be used. Many two-toned kitchens feature a colored lower cabinet and a white upper cabinet combination, or a combination similar to the one above using wood-textured lowers. It's a great way to incorporate more color and texture into your kitchen space, and it's surely a design idea that guests will not forget!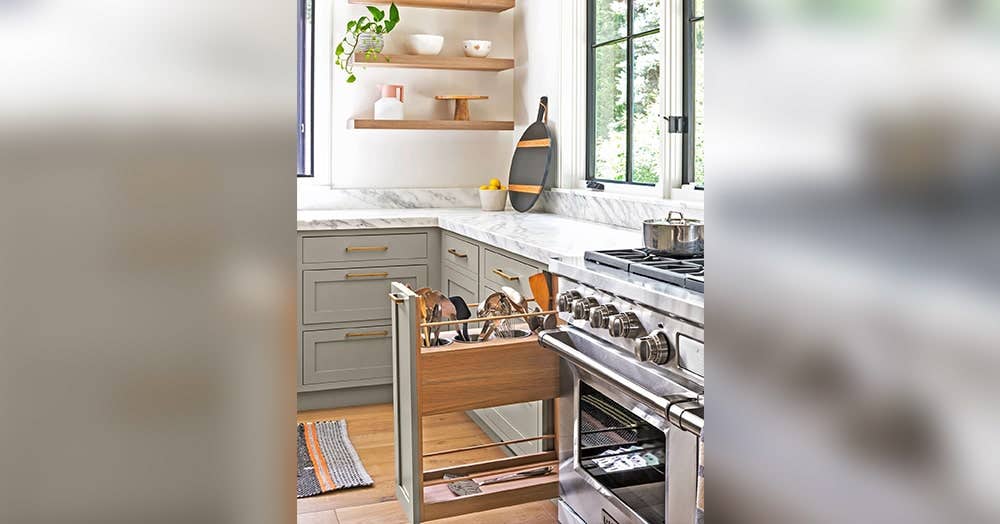 Kitchen trends don't have to be just the style of the space. This trend is hidden from prying eyes, which is exactly the point! Storage solutions and built-ins in the cabinetry are a hot commodity for kitchens lately. Not only do they keep your kitchen items organized, but they also allow your countertop space to appear blank and uncluttered. There are hundreds of cabinet organizer options, such as the one pictured above, mechanisms to hide mixing machines, microwaves, trash cans, food, and more!
Flooring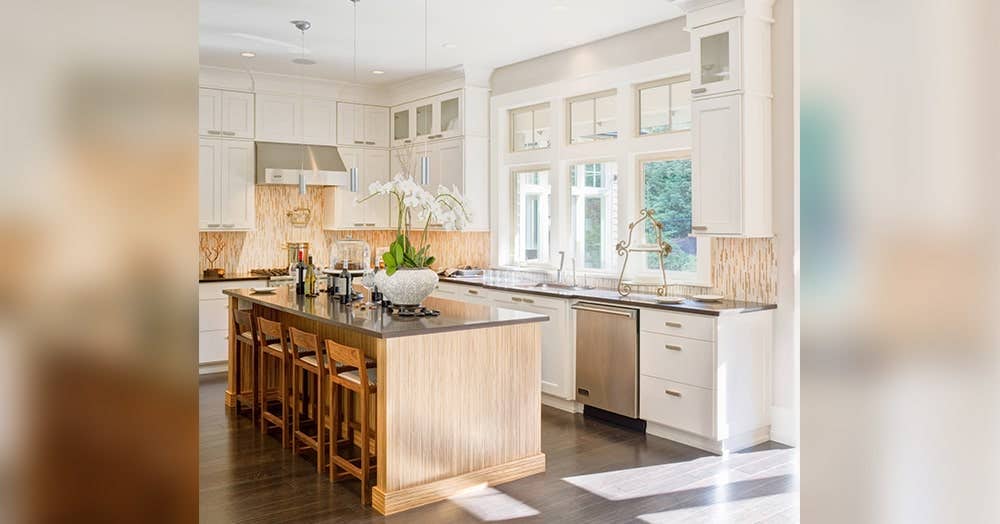 Tile flooring has always been considered a staple for kitchens and bathrooms, and basically any other room in the house where the flooring needs to be durable. Tile manufacturers have kept up with the trends over the years, specifically the hardwood flooring in the kitchen trend. Tile manufacturers can now make tile that looks exactly like hardwood, except it's much more durable and will last longer. Therefore, this 2021 trend of hardwood-look alike tile flooring is something that nobody should be passing on!
Recommended: Discount SPC Flooring
Countertops
Countertops are an important part of a kitchen design. Finding the perfect countertop makes all the difference for the space as a whole. There are a couple of 2021 kitchen trends regarding the style and material of countertops, so let's take a look!
It's now 2021, and quartz countertops will yet again reign over the other countertop materials. It comes in all colors and designs, but the best part about them is that they nearly last forever and are anti-microbial. Quartz countertops are simple to maintain and bring a luxury feel into any kitchen space. Planning your kitchen design? Quartz countertops are definitely a contender to look into!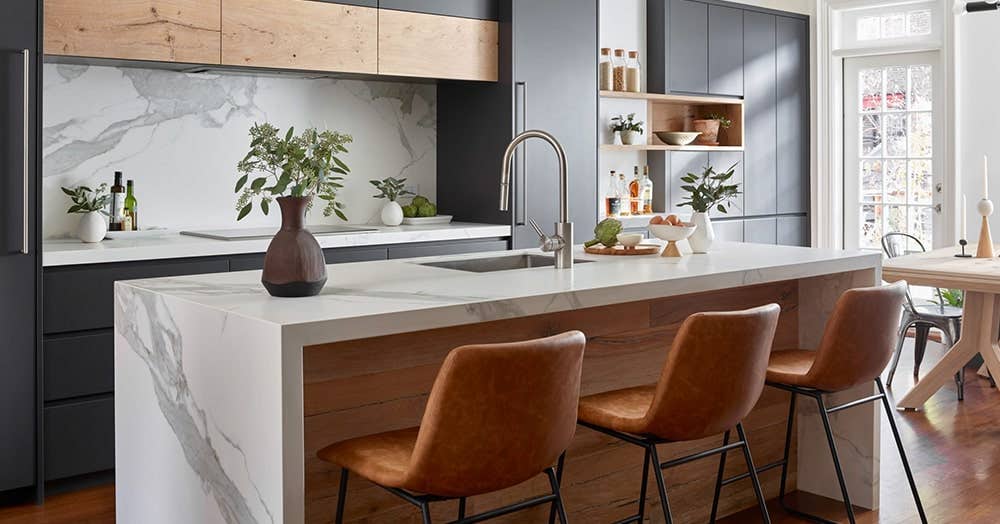 Who doesn't love a dramatic countertop for a kitchen? If this is a look you are trying to achieve, try incorporating this next 2021 kitchen trend: waterfall islands. Waterfall countertops are like the one pictured above, where the countertop does not stop at the end of the island and continues all the way to the floor. This creates a seamless, clean look for your kitchen, while also adding a major dramatic effect to the space. You may have to spend some extra dollars to achieve this look, but it's surely worth it!
Backsplashes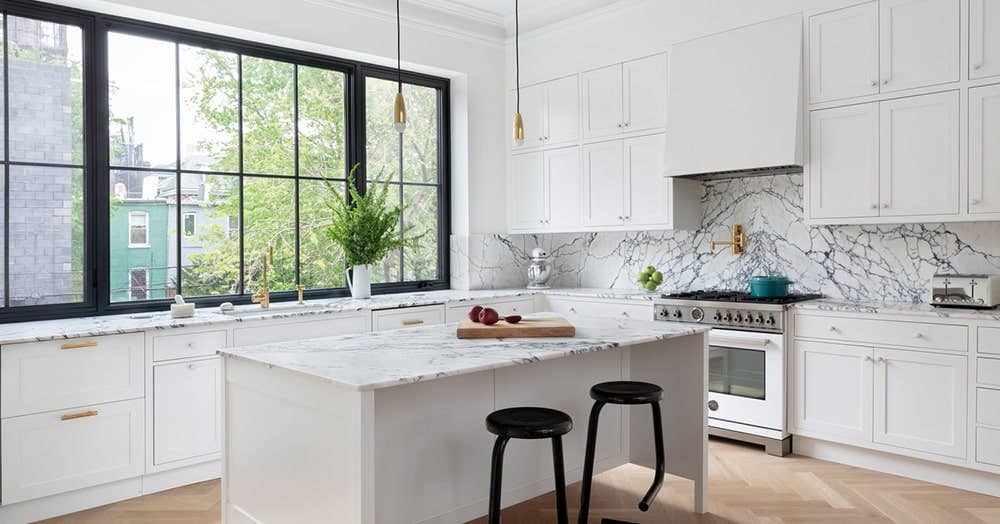 Backsplashes can be a tricky aspect when it comes to designing the perfect kitchen. Sometimes it can be hard to find an option that matches the cabinetry, countertops, and flooring well enough. 2021 has brought us an amazing solution to this issue: backsplashes that are a continuation of the countertops! Marble (or quartz) backsplashes will stand the test of time while also making a beautiful statement for your kitchen. The picture above incorporates the same material used on the backsplash as the countertops, but you don't have to do it like this. Any solid colored countertop would look amazing with a marble or quartz backsplash!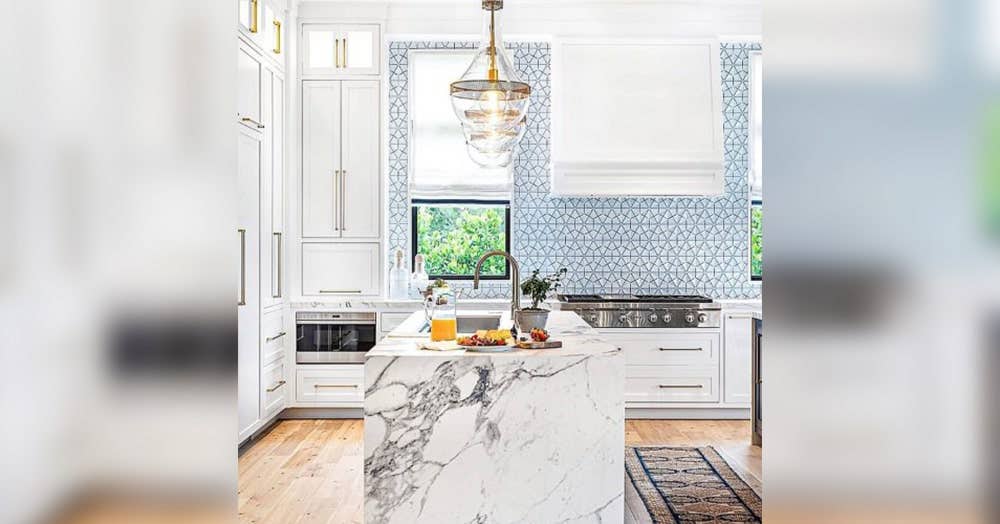 The next kitchen trend of 2021 is blue-hued backsplashes. Blue is often an overlooked color when it comes to kitchens, but this year things are changing. Blue is known to be one of the most relaxing colors out there, and after the hectic events of 2020, everyone deserves a sense of permanent relaxation in their homes for 2021. This color goes great with gold hardware and materials, but it also meshes perfectly with darker hardware finishes. A blue backsplash is destined to take your kitchen to the next level!
Hardware
Gold hardware has been on the rise for at least a couple of years now, but in 2021 there will be a couple of differences than in previous years. There are not many options for hardware trends on a yearly basis, but here are some that are sure to change up your kitchen!
2021 has brought the trend of dark and moody kitchens, as explained previously. The best compliment to a dark and moody kitchen space is gold hardware to brighten it up. For gold hardware in general, another option would be to mix metals. Gold and iron go together perfectly with the right kitchen space, something that has not been done until recently. Mixing metals to the right extent will provide for an interesting and stylish kitchen space!
Recommended: Lily Ann Cabinets Discounted Cabinet Hardware
Mixed Materials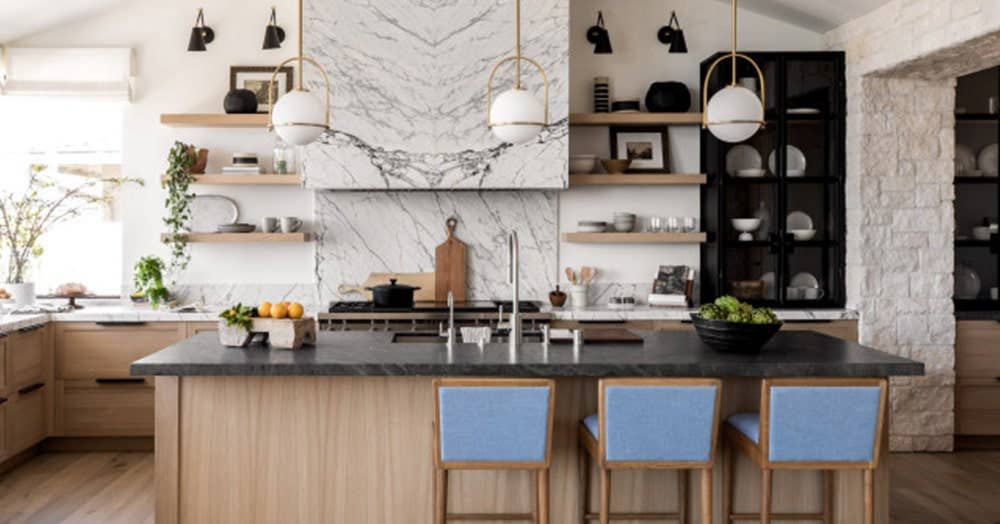 While we are at it with trends for the new year, can we all leave the "less is more" trend back in 2020 too? Mixed materials in a kitchen is on the rise this year, something probably nobody saw coming five years ago. In the kitchen above, you can see the wood elements such as the cabinets, the floors and ceiling beams, the two different colors of marble countertops, gold fixtures, iron fixtures, black China cabinet, and a beautiful limestone block entryway. There is a lot going on, but it all meshes together perfectly. A mixture of materials in your kitchen is sure to draw the attention of eyes and lots of compliments!
Appliances
Don't think that appliances can change too much from year to year, right? Well, in 2021 we have a few trends to look out for when it comes to appliances in the kitchen. These trends are destined to stick around for a long time due to how much they add to a kitchen's style and you won't want to miss out on them!
Also Read: 15 Unique 2022 Kitchen Trends To Incorporate In Your Kitchen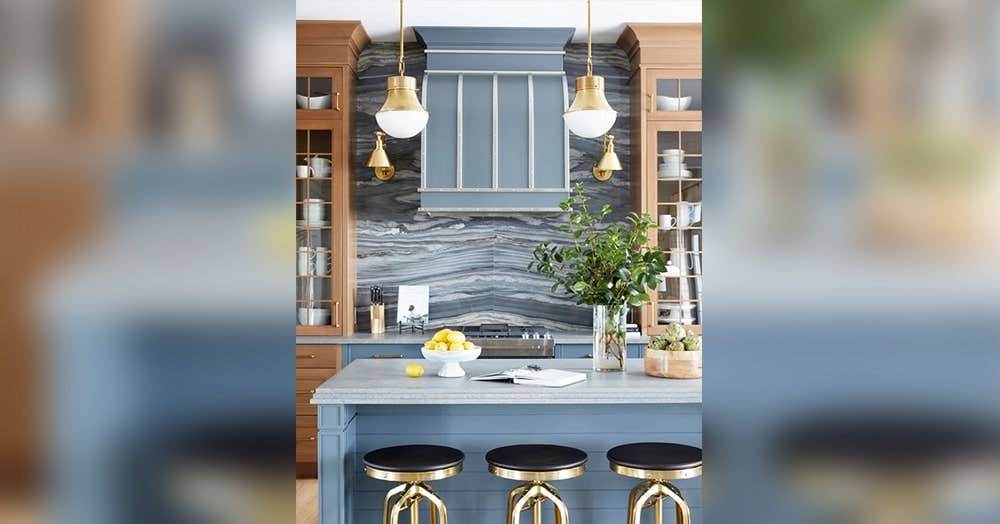 Not only does the kitchen above mix together numerous different kitchen trends we already covered (such as: gold fixtures, quartz/marble backsplash, and two-toned cabinetry) but there is one aspect that really pulls the entire kitchen together. That would be the beautiful decorative vent hood that is just waiting to be complimented by everyone who sees it. A decorative vent hood takes your kitchen to a whole new level and only adds to the aesthetic of the space. Decorative vent hoods can be customized to perfectly match any space, color, or style of your kitchen. This is your sign to fill your kitchen style's void with a dramatic vent hood for 2021!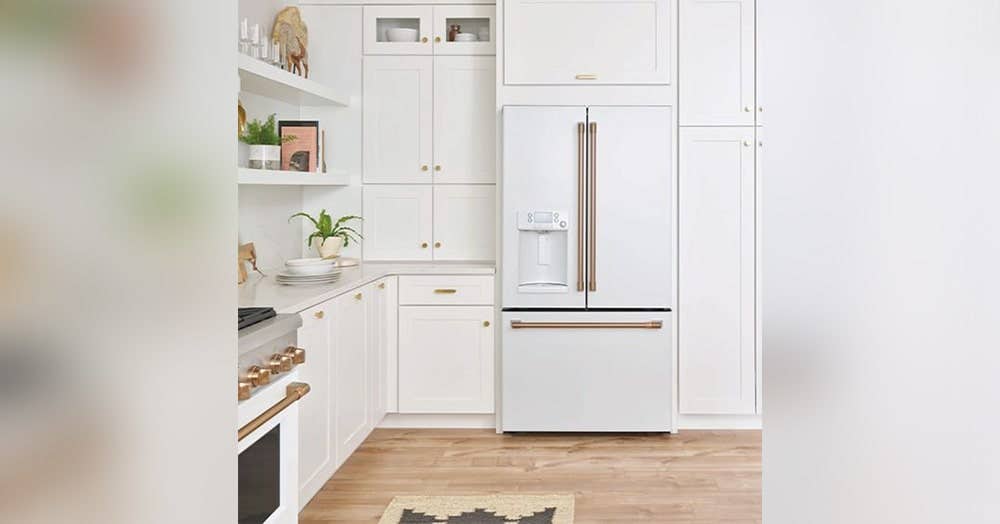 Yes, white appliances are making a comeback in 2021 from the 80s and 90s. Many people are incorporating white appliances into their kitchen designs, except in 2021 there are more options than in the 80s. Like above, white appliances can come with nearly any color hardware and design, giving it a chance to appear seamless in your kitchen design. Who knew white appliances would make a comeback but we're here for it!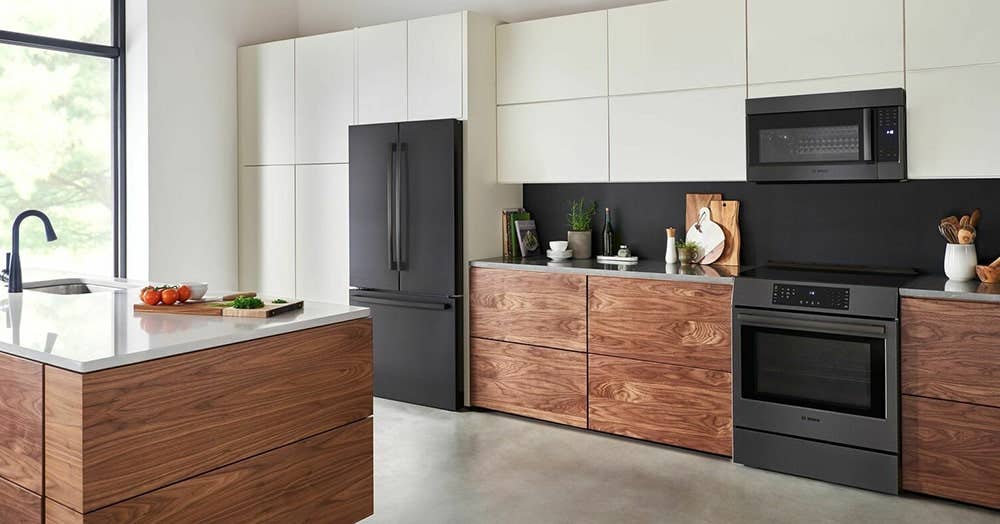 Incorporating bold, statement appliances in your kitchen is the next trend for 2021. Instead of these black appliances sending you straight to a trip through the 90s, they are now appearing as bold design pieces to incorporate in your kitchen. Instead of the shiny, textured black appliances from the 90s, these new lines of appliances are sleek and modern. They are matte black and have a very minimal appearance to them which is perfect for when you want a minimalist-style kitchen design or an industrial-style kitchen. Matte black appliances are a design force to be reckoned with, as they are soon going to be what everyone wants in their kitchens!
Layout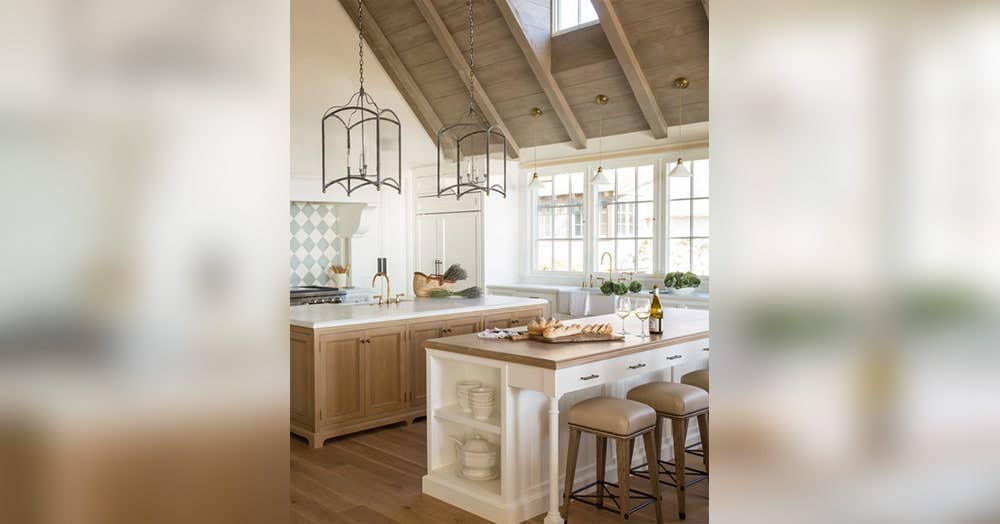 Do you have a large kitchen space? Incorporating two islands in the kitchen is the next trend for 2021. Not only do they eliminate awkward, open space in a room, they also provide more countertop space, cabinet storage, and additional seating. The perks of incorporating double islands in a kitchen are not all functional, they also add a dramatic effect in the space and offer for more design ideas. In the picture above, the double islands perfectly show how you can add additional design into the kitchen. Turn your kitchen into a dream kitchen by adding an additional island!
Also Read: Ultimate Guide To The Hottest Kitchen Trends
Create Your Dream Kitchen with Lily Ann Cabinets
We offer a wide selection of premium cabinetry, hardware, shelving and more to help you create a room that stands the test of time. Our professional designers are on standby to work with you — we offer FREE samples and FREE design and quote. Visit our FREE 3D design tool to get started today!