Small kitchens can be lavish, too. Find inspiration for your remodel with these luxury small (yet lush) kitchen design ideas.
Small kitchens can be perceived in one of two ways: as a nuisance to avoid at all costs, or as a unique opportunity to put your creativity to the test. With the right tools, preparation and attitude, anyone can conquer a small kitchen remodel. Although some small kitchen layouts can feel cramped or stuffy, there are numerous design options available that will maximize space and brighten up the room. That's right—anyone can make a tiny kitchen work in their favor!
Benefits Of A Small Kitchen
Minimalist: What small kitchens lack in counter space and square footage, they make up for in practicality and minimalist charm. Minimalism is a trend that has taken the world by storm in recent years. Essentially, minimalism is the belief that excess "things" lead to more stress. Tiny kitchen layouts lend well to this belief because they force homeowners to get rid of anything that isn't completely essential. In a small kitchen, every food item, appliance and kitchen gadget has a purpose and a place.
Clean: What's more, less space typically means a cleaner kitchen. Limited storage area means you don't have room to stow away random dishes, keys, the kids' stray homework pages, and other random household items. While this may seem like a negative, in the long run, it means you can nix those laborious 2-hour "deep cleans." Instead, simply tidy as you go!
Affordable: A large kitchen remodel means more cabinets, flooring, and countertops. Not only does this increase the remodel budget, it lengthens the overall renovation timeline. Alternatively, a small kitchen remodel requires less material and less time to complete. For those with a tight budget and lack of time, a small kitchen remodel is the obvious solution.
There's no reason to fear a small kitchen. In fact, there are many reasons why you should embrace a tinier kitchen. To prove it, we're sharing 12 of our favorite small kitchen design ideas to inspire your remodel.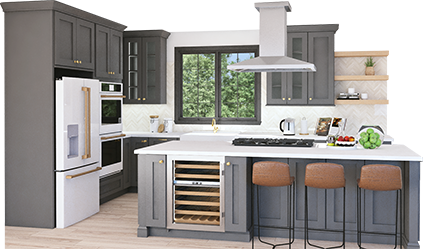 Get your FREE 3D kitchen design today!
Start Now
#1. Rustic Farmhouse Charm
Houzz
This quaint farmhouse kitchen in London maintains some of its original rustic charm with an exposed brick wall. To enhance the flow of the design, only a few white base cabinets were installed. Instead of upper cabinets, a few rows of floating shelves hang above the counter and along the opposite wall. Since there isn't a formal dining room, the wooden countertops were extended in an L-shape to accommodate bar stool seating. The result is a stunning, functional design that feels open and airy.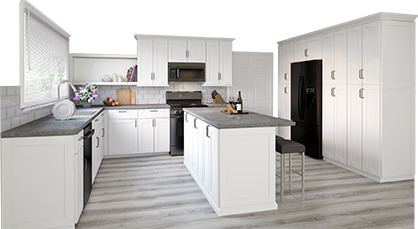 3D Kitchen Visualizer Tool
Bring your dream kitchen to life with our free kitchen visualizer!
Design Now
#2. Bright White Shaker
This kitchen designer made the most of a small space by maximizing important features and eliminating the unnecessary. Large stainless steel appliances and a custom wine organizer take up the bulk of the kitchen, making functionality a priority. For optimal storage, bright white shaker cabinets occupy the rest of the wall space. A white marble waterfall countertop adds a chic modern element to the room, also serving as extra surface space for food prep. Not an inch is wasted in this clever kitchen design!
Related: What Are Shaker Kitchen Cabinets, And Why Are They So Popular?
#3. Australian Outback
Takt
This modern home is located in the Australian outback, nestled into a garden of lush foliage. As not to distract from the natural beauty of the surrounding environment, the interior of the home is kept simple, modern and understated. Featuring clean lines and neutral colors, the small L-shaped kitchen is fitted with simple flat panel cabinets. A wooden dining table separates the kitchen from the living room area. If a small modern kitchen is your goal, this design is the perfect model—beautiful, practical and elegant.
Need help envisioning your small kitchen remodel? Get a FREE 3D kitchen design today!
#4. Rich Espresso
The Woodshop Of Avon
It's commonly said that if you have a small kitchen, you should stay away from dark colors. Admittedly, this advice is fact-based—lighter colors reflect natural light, making the room feel bigger. However, designing with a mix of light and dark colors can create a stunning contrast that brings drama and depth to a space. The rich espresso shaker cabinets in this kitchen are the perfect example. Contrasted by light countertops and grey flooring, the cabinets really pop. Unique glass pendant lights and a mini center island give this kitchen practicality and character.
#5. A New Take on Traditional
Mutschler Kitchens
This traditional kitchen design feels grandiose despite the lack of space. The beautifully detailed cabinets give the room a craftsman's touch. Dark marble countertops and a custom tile backsplash contribute to the elegant feel. Thoughtful finishes like this distract your eye from the layout, instead encouraging you to focus on the intricate details. Whereas most traditional style kitchens are larger in size, this miniature model still feels just as luxe.
#6. Gorgeous Galley
Morris Moreno
Galley kitchens can be tricky, especially if more than one person is trying to cook at the same time. The solution? Intentionally-placed appliances. In this industrial loft's kitchen, the large farmhouse sink, stove and dishwasher form a "work triangle." This allows whoever is cooking to access everything they need within an arm's reach. So, although the floor plan is narrow, the placement of the appliances means whoever is cooking won't have to move more than a step to grab what they need.
#7. Miniature Modern
APE
This conservative modern kitchen takes the word "tiny" to a new level. The L-shaped design maximizes space with flat panel cabinets and a small dining table for one. To brighten up the windowless room, LED lighting was installed behind the upper cabinets. LED cabinet lighting is a smart and inexpensive way to spruce up a kitchen for less. Although this modern kitchen is miniscule in size, it still feels inviting and workable.
#8. Tidy & Bright
Houzz
A small apartment kitchen can quickly start to feel confined and stuffy. The best two solutions to this problem are tidy up and brighten up! With the lack of counter space, clutter looks much worse in small kitchens. Although it can be difficult in apartment kitchens, try to keep kitchen items neatly tucked away when possible. Secondly, implement light, bright colors when possible. This designer used stark white everywhere except the paneled wood floors. As a result, the space feels vivid and refreshing.
#9. Clever Corner Space
Vera Tarlovskaya Interiors
When the kitchen is positioned in the corner of the living room, it can be difficult to ensure the design flows well. Especially when the kitchen is small, it's important to make sure it doesn't stick out like a sore thumb in the corner of the space. To avoid this, use a consistent color palette throughout. This gorgeous home by Vera Tarlovskaya Interiors uses charcoal grey, white and wood accents to tie the two areas together. A small dining area with a table and chairs separates the two rooms without hampering the flow of the design. The resulting design makes the kitchen appear stylish and intentional, instead of awkward and misplaced.
#10. Compact Cabin
Houzz
It's common for cabins to have smaller kitchens, as they are typically used as vacation homes where little to no cooking takes place. However, that doesn't mean the kitchen design isn't important. This tiny cabin kitchen is right in the center of the home, complete with a number of unique finishes. The kitchen island is stacked with chopped wood for the adjacent stove. Paneled wood is used as a backsplash to tie together the other wood accents in the home. The rustic feel of this tiny cabin kitchen is just right for a relaxing mountain getaway.
#11. Calming Coastal
Kinlin Grover Real Estate
This small coastal kitchen feels large and bright due to the open floor plan of the home and tall ceilings. A 10 foot cabinet run lines the back wall, providing just enough storage and cooking area for a coastal vacation home. The center island doubles as a dining table and extra counter space. This kitchen proves that even a 10 foot run can feel luxurious if it is incorporated into an open layout. Especially for vacation homes, a shorter cabinet run can be a functional and affordable design solution.
#12. A Splash Of Turquoise
Jessie Webster
Another small kitchen idea that can distract the eye from the size of the space is to add a pop of color. This galley kitchen by Jessie Webster features beautiful white finishes, an exposed brick wall, and a teal runner rug. The bright color of the rug is what your eye is immediately drawn to—the perfect distraction in a small space. Other ways to add color include glass pendant lights, creative wall decor, bright cabinet hardware, or even a few vibrant house plants.
Save Big On Your Small Kitchen Remodel
Lily Ann Cabinets offers an extensive range of ready-to-assemble (RTA) cabinetry for up to 50% off box store pricing. Shop today and save thousands on your small kitchen remodel. If you need assistance with your layout, get a FREE 3D kitchen design. Our professional team of designers will provide you with detailed specifications and a complete 3D rendering. Get started today!