Turn your home into a winter wonderland with these festive kitchen Christmas decor ideas!
It's official… Christmas is around the corner. Is your kitchen ready for the holidays?
If your kitchen is lacking in the festivity department, don't sweat it. We've hand-picked 11 of our favorite kitchen Christmas decor ideas to get your home looking cozy. From cabinet decorations to mini Christmas trees, there are plenty of creative ways to get your kitchen spruced up for the holidays (without spending an arm and a leg). After all, the kitchen is the heart of the home! These ideas will make your kitchen the go-to spot for Christmas cookies, hot cocoa, and all your favorite holiday festivities this winter season.
Read on to find 11 of our best picks for kitchen Christmas decor.
If your kitchen needs some updates for the winter season, Lily Ann Cabinets has all your remodel needs! Get a free 3D kitchen design today to get started on your holiday remodel.
Idea #1: Simple Pine Garland
It's not necessary to spend hundreds on your kitchen Christmas decor. In fact, often times less is more. This simple pine garland strung above the window adds a touch of modern holiday charm without overdoing it. Besides, who would want to take the attention away from those gorgeous white shaker cabinets?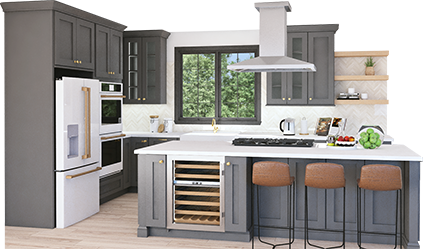 Get your FREE 3D kitchen design today!
Start Now
Idea #2: Mini Cabinet Wreaths
Sometimes your kitchen cabinets need a little something extra during the holiday season. One of our favorite ideas for Christmas cabinet decor is hanging mini wreaths from the tops of upper cabinet doors. This idea is affordable and easy, yet it still transforms the look of the whole kitchen! To create this look, simply purchase a few mini wreaths (we like these from Amazon), attach a red ribbon, and tape to the inside of the cabinet door. If you have dark cabinets, you can purchase white wreaths instead of green to create the same contrasting look.
Does your kitchen need a holiday tune-up? Get a FREE cabinet door sample to compare our cabinets to your kitchen finishes!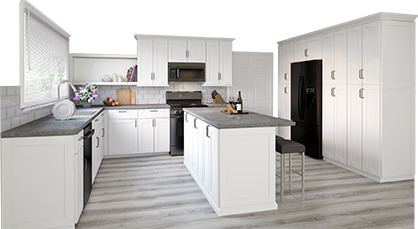 3D Kitchen Visualizer Tool
Bring your dream kitchen to life with our free kitchen visualizer!
Design Now
Idea #3: Santa Shelf Decor
Open shelving is another great way to display Christmas decor during the holidays. This gorgeous farmhouse kitchen by Liz Marie uses open shelves to display a collection of adorable Santa mugs. If you already have holiday mugs laying around that you've accumulated over the years, why not make a cute display out of them? These festive Santa's look especially charming with bright white cabinets.
Idea #4: Christmas Decor For Top Of Kitchen Cabinets
Finding the right Christmas decor for above kitchen cabinets can be a challenge. You don't want it to appear bulky or overdone, but you also don't want the cabinets to look barren. A good middle ground is keeping the existing above-cabinet decor and adding a simple garland or pine branch. For example, this kitchen by Clean and Scentsible features a few pieces of decorative dishware above the cabinets with a snow-frosted garland. This look is easy, simple and affordable.
Idea #5: Chalkboard Christmas Sign
Less Than Perfect Life Of Bliss
Another easy and affordable DIY Christmas decoration is a simple chalkboard sign. It's customizable for every season, and spreads holiday cheer in a fun personalized way. Plus, chalkboard signs are great for kids who want to help decorate the kitchen for Christmas. Combine it with some Christmas kitchen towels and a mini Christmas tree and your kitchen is ready for Santa!
Idea #6: Cheery Chair Decor
Pinterest
Instead of cluttering your kitchen island countertop with Christmas decor, consider adding accessories to the surrounding seating. Tie festive bows around the tops of the chairs, or add mini wreaths like the chairs in this kitchen. This is a great way to keep your countertops clear while still adding a touch of holiday cheer to your kitchen design.
Idea #7: Kitchen Christmas Tree
Min Lilla Veranda
Of course, it's not Christmas without a tree! Add a mini Christmas tree (real or faux) to make your kitchen feel cozy and festive. In this charming farmhouse kitchen by Min Lilla Veranda, a small Christmas tree is planted in a small metal pot, in keeping with the country farmhouse style. The rest of the decor is kept subdued and simple so the Christmas tree is the center of attention.
Idea #8: Kitchen Table Christmas Decor
The kitchen table is where friends and family come to gather and create beautiful memories during the holidays. A few festive decorations will can make your Christmas dinner table the go-to spot for cookie making, games and family bonding. This beautiful farmhouse dining table features a buffalo plaid table runner, a few snow-dusted mini trees, a pillar candle and elegant place settings. Family and guests are sure to love this inviting holiday table during the Christmas season.
Idea #9: Holiday Cocoa Station
Pinterest
When snow is falling outside, the wind is blistering and the fire is roaring, the best way to spend the evening is with a big mug of hot cocoa in hand. This mini hot cocoa station is the perfect way to keep your cocoa ingredients handy during the winter season. Having adult guests over? Add a few bottles of liquor for a festive holiday hot drink station. (Just don't spill on your white cabinets!)
Idea #10: Snowflake Cabinet Stickers
Pinterest
Looking for ultra-simple Christmas kitchen accessories? To save time and money on your kitchen Christmas decor, add a few snowflake stickers to your kitchen cabinets. For white cabinets, use red snowflakes for optimal contrast. If you have darker cabinets, white snowflakes will be just as dazzling. Festive stickers can be a fun way for kids to get involved in Christmas decorating, too.
Idea #11: Dining Room Light Decor
Clean and Scentsible
Another creative idea for your Christmas dining area is to weave a pine garland through the chandelier or pendant lighting. Hang a few ornaments from the garland and it's complete! To tie the look together, add the same materials to a basket in the center of the table. This is a great way to make the kitchen table look festive without cluttering the eating space.
Save Big On Your Holiday Remodel With Lily Ann Cabinets
Get your kitchen or bathroom ready for the holidays with HUGE savings from Lily Ann Cabinets. Shop our extensive range of ready-to-assemble (RTA) cabinets for up to 50% off box store pricing. If you need some help getting your design just right, get a FREE 3D kitchen design and quote. Our professional team of designers will help you find the best materials and layout for your remodel. Get started today!