Is the U-shaped Kitchen Layout right for you? Find out with this comprehensive guide.

U-shaped kitchen design ideas (occasionally known as C-shaped) are popular for homeowners looking to maximize space without sacrificing functionality. Along with plenty of cabinet storage, they offer flexibility in decor and can be integrated into any space, large or small. The term "U-shaped" refers to three connecting walls of cabinets, with an open space in the middle for entry. This layout is handy for cooking connoisseurs because it is easy to create an efficient kitchen work triangle (the distance between the fridge, stove, and sink).
In U-shaped kitchen layouts ideas, the smaller kitchen work triangle means less bumping into the cook when guests enter the kitchen. It also facilitates a smoother workflow for the cook, reducing the time to prepare meals. Plus, the U-shape creates three handy kitchen stations that are set apart from one another. Because there are three separate areas of counter space, two or three people can work at the same time without a problem.
If a U-shaped kitchen sounds like the ideal layout for your Kitchen remodel, read on to learn 10 great ways to optimize U shaped kitchen design ideas in terms of both style and function.
1. Opt For White & Bright
U-shaped kitchens are popular because they lend well to small spaces, making the room feel roomier and easier to navigate. If you're thinking about installing a U-shaped kitchen for your remodel, you may also consider opting for all-white finishes.
Why go for an all-white kitchen? The main benefit is plenty of reflected light, creating the illusion of a larger space. Plus, a white kitchen never fails to feel chic and modern. You won't need to worry about future kitchen updates, as the color white is timeless and well-loved by all home buyers when it comes time for resale. This white U-shaped kitchen features a large white marble peninsula with a waterfall effect for added drama. We love the contrast of the dark wood floors against the surrounding light and bright finishes.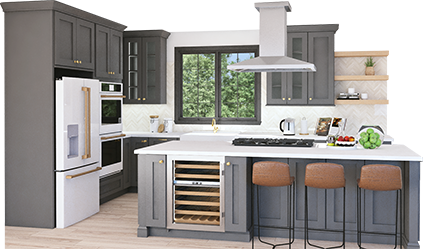 Get your FREE 3D kitchen design today!
Start Now
2. Make Simplicity Your Secret Weapon
In this small U-shaped kitchen, simple finishes and a subdued color palette create a relaxing, no-frills space well-suited for preparing meals. Although this layout is compact, it creates the ultimate kitchen work triangle: the stove and sink are a foot away, and the fridge (out of the picture) is a few steps in the other direction.
To ensure the design doesn't feel too crowded, upper cabinets are only installed on two walls. The back wall is left open with one small open shelf to store a few cooking utensils. This keeps the small U-shaped layout from getting cramped by an overwhelming amount of cabinets.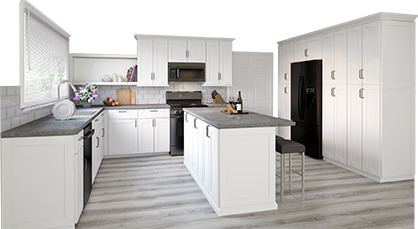 3D Kitchen Visualizer Tool
Bring your dream kitchen to life with our free kitchen visualizer!
Design Now
3. Add Structure To A Larger Space
Sometimes it's necessary to break up different sections of a large room to give it more structure. This is especially so in the kitchen, as it's often nice to separate the formal dining area from the main kitchen workspace. A U-shaped kitchen can be the perfect solution to this design dilemma. By installing cabinets against two walls and extending a peninsula off the other end, you can create a closed-off "dining nook."
The white kitchen design above exemplifies how installing a U-shaped kitchen with a peninsula can turn a large kitchen into a cozier, more functional space.
4. Make Natural Light A Priority
As with most kitchen designs, the U-shaped kitchen layout benefits greatly from natural light. We advise homeowners to ensure there is plenty of natural light in a U-shaped kitchen to prevent it from feeling dark or dull. The more light—especially in smaller spaces—the better.
Large windows are also handy because they reduce the need for artificial lighting. This modern U-shaped kitchen features an oversize horizontal paneless window that casts light onto the counter space and into the rest of the room.
5. Don't Be Afraid Of Darker Colors
Although white looks lovely in a U-shaped kitchen, it is certainly not the only option available. In fact, dark natural wood cabinets look fabulous in even the smallest of U-shaped kitchen designs. As long as there is plenty of natural light in the space and a few contrasting finishes, darker colors like mahogany, jade green, and even black can look stunning in a U-shaped kitchen.
This kitchen designer took this well-lit kitchen to a new level with patterned herringbone flooring, open shelving, and modern finishes. The result is a U-shaped kitchen that in reality is very small, but appears expansive and enticing despite its size.
Checkout: 14 Amazing Color Schemes for Kitchens with Dark Cabinets
6. Choose The Right Cabinet Style
When our team of designers is tasked with finding the right kitchen cabinet style for a U-shape layout, the Shaker cabinet is our go-to. The classic Shaker is a no-fuss style that's as beautiful as it is practical.
Sticking with a simple cabinet door style ensures that a small kitchen doesn't feel too busy or distracting. Instead, the focus is shifted to other elements like the floors, cabinet hardware, and other kitchen finishes. Most commonly, we recommend white shaker or light grey shaker cabinets to keep the space feeling spacious and bright. These white shaker cabinets look gorgeous in combination with hardwood flooring and silver cabinet pulls.
Checkout: How to Combine Cabinet Styles in Your Kitchen
7. Get Creative With Finishes
Although a U-shaped kitchen layout can feel foreign to new home remodelers, that's no excuse to play it safe. Be bold! If you really want to make your new kitchen shine, mix up the finishes and add a healthy dose of creativity to the design.
Make it unique and make it yours. This large U-shaped kitchen is the perfect example of designing outside of the box. In this design, wood paneling covers the peninsula below a white countertop. Bar stools and a hanging lip on the countertop create extra space for seating and entertaining. The glossy black tile backsplash adds contrast to the space, while industrial open shelving ensures the design remains open and uncluttered. Last but not least, bright white shaker cabinets complete the look.
8. Use Bold Contrast To Make A U-Shaped Kitchen POP!
A small U-shaped kitchen can be easily revitalized with a pop of contrast. The more dramatic, the better. With two differentiating color tones dominating the space, the eye is drawn to the contrast rather than the compact size of the layout.
This cleverly designed kitchen features white cabinets and white countertops, with a rear statement wall adding a pop of deep navy to contrast. A few other popular contrasting color combinations are grey and white, dark wood and natural green, and classic white and black.
Checkout: 11 Trending Kitchen Accent Wall Ideas (Tips & Photos!)
9. Go Minimalist With No Hardware
When attempting to make a U-shaped layout feel larger, minimalism is always a good idea. Reduce clutter on the countertops, emphasize clean lines, and consider leaving your cabinet doors bare. Nixing knobs and pulls on your cabinets gives them a cleaner look (not to mention saving you some money). Just make sure you're okay with substituting the convenience of cabinet hardware for visual effects first. As this kitchen by Norsu Interiors demonstrates, leaving out the hardware for a simpler cabinet look has a stunning effect.
10. Add An Island To A U-Shaped Kitchen
For those who can't go without a kitchen island, don't fret—it is possible to add an island to the center of certain U-shaped layouts, given you have enough space.
This expansive white shaker kitchen features a large island with bar stool seating and a sink, centering the design and offering a focal point along with two centered skylight windows. Adding an island creates more work space for food prep as well as an extra entertaining area. If you're interested in adding an island to your U-shaped kitchen, chat with our kitchen designer first to see if it will fit without compromising the layout of the space.
Checkout: 10 Incredible Small Kitchen Island Ideas You'll Want to Copy Immediately
Your Dream U-Shaped Kitchen, For Less
Lily Ann Cabinets has everything you need to save big on your U-shaped kitchen remodel. From discounted cabinets to hardware to flooring, we're your one-stop shop for all things kitchen! If you're ready to see what your new kitchen will look like, visit our FREE 3D design tool. Our professional team of designers will create a 3D mockup of your dream kitchen, for free. Congratulations, you're one step closer to getting the kitchen you've always wanted!
Related Blogs: