Bohemian design style is characterized by bright colors, unique patterns, fun decor, and layered textures. Boho spaces give you the freedom to make a space feel uniquely yours, with plenty of character to go around. With that being said, a bohemian kitchen can range from minimalist, like the design pictured above, to a space with many colors and patterns layered together.
In this blog we will explore 10 different design ideas for a bohemian style kitchen space. Let's get into it!
Recommended for you: 11 Stunning Kitchen Theme Ideas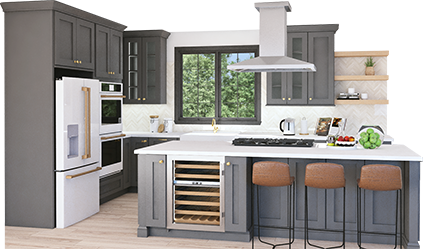 Get your FREE 3D kitchen design today!
Start Now
Boho Kitchen Tile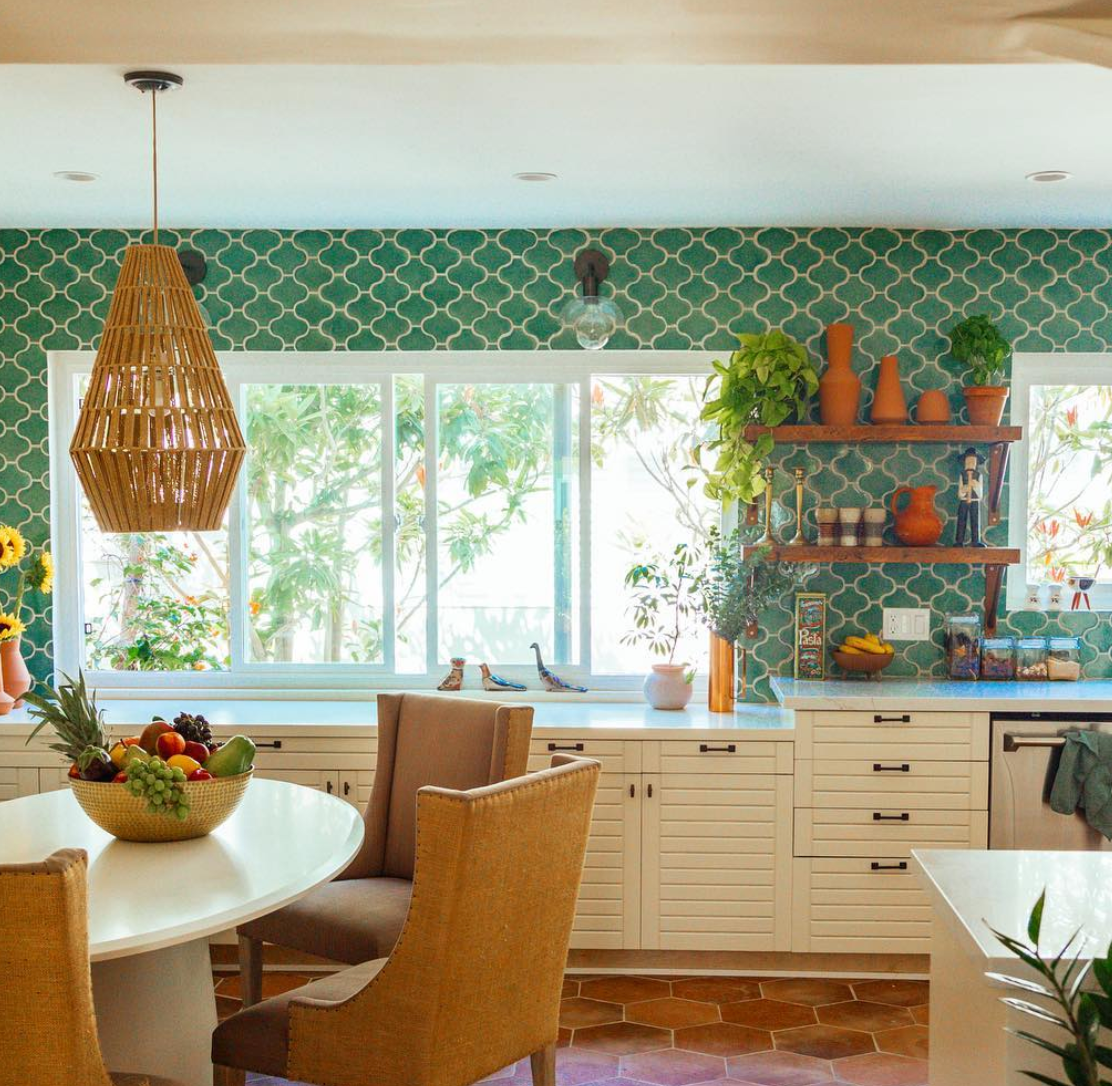 One of the most important elements of any bohemian style kitchen is colorful patterned tile. Tile can be used on the walls or floors, giving you the opportunity to pick which suits your space the best. In the kitchen pictured above, green tile spans the entire wall, with vintage red tile for the flooring. Different colored tiles are a great way to add contrast to a boho kitchen, and can make the room appear larger.
Colorful tile not your style? Check out stone mosaic and subway tile options here!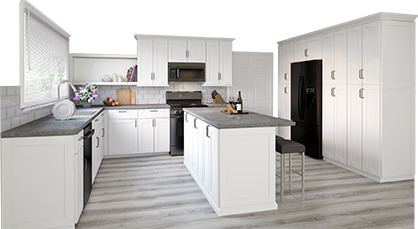 3D Kitchen Visualizer Tool
Bring your dream kitchen to life with our free kitchen visualizer!
Design Now
Boho Kitchen Decor
When it comes to decorating a bohemian style kitchen, three words come to mind: plants, patterns, and color. By mixing up these three elements, your kitchen space will be transformed from bland to bohemian with the snap of your fingers!
Rugs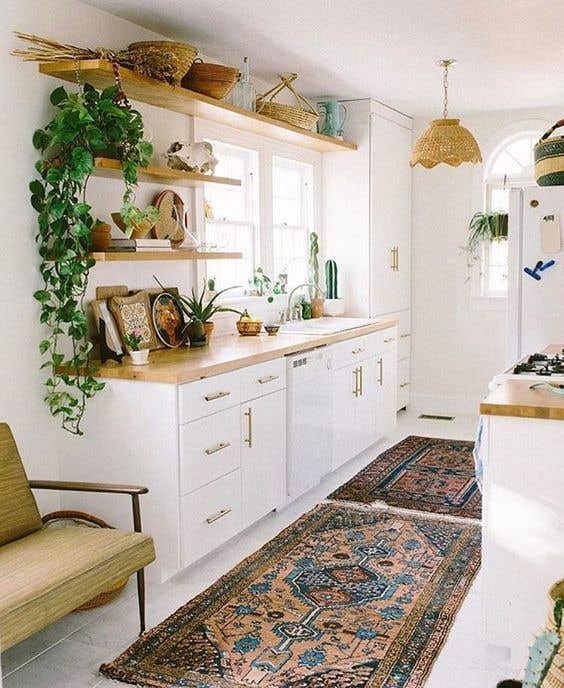 The first step of creating your dream bohemian kitchen is to pick out a colorful, beautiful oriental rug (or two!) to put in the space. This immediately creates a boho feel no matter what style your kitchen is, and also adds color and pattern that could have previously been missing. With the colors in the rug, you will have an easier job of picking the surrounding decor in the space.
Wallpaper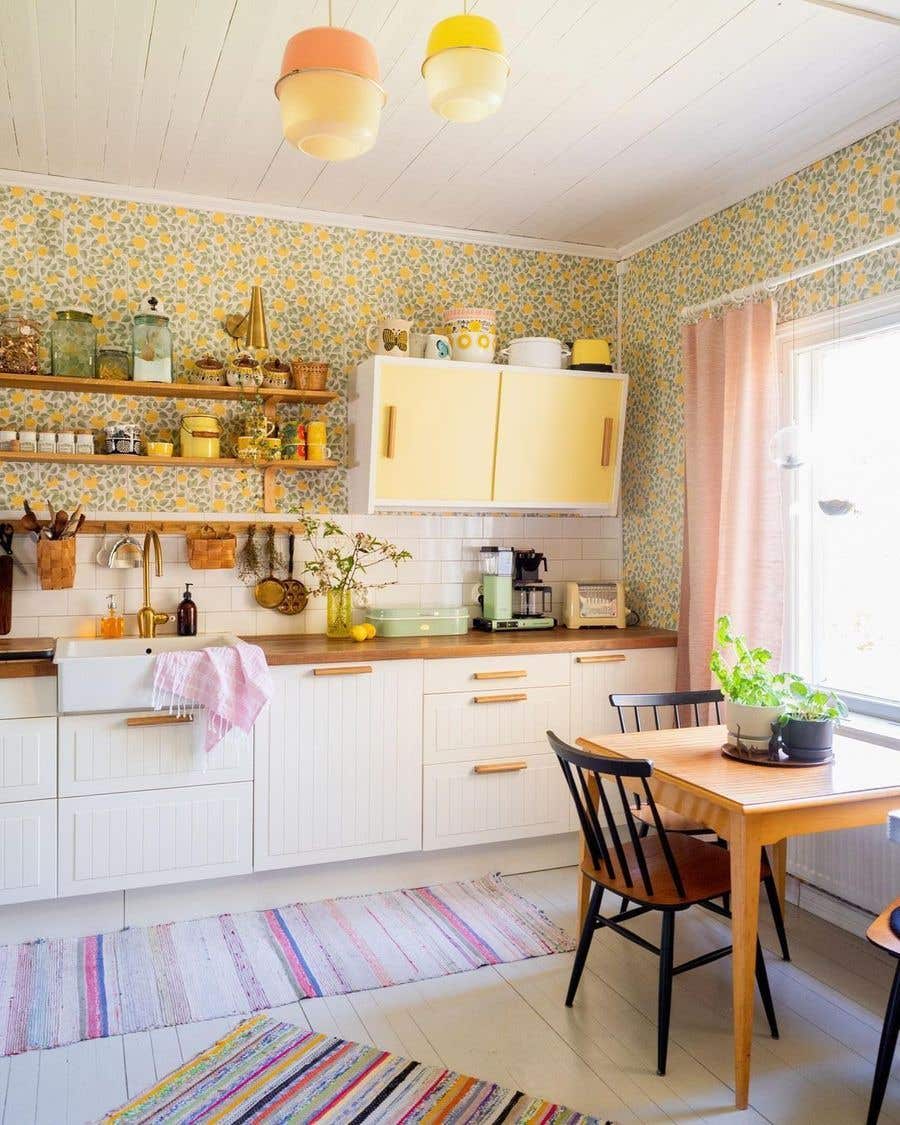 Colorful wallpaper is making its way back into the modern kitchen design scene. Wallpaper comes in all colors and textures, giving you hundreds of thousands of options to pick from. With bohemian style in mind, a bright patterned wallpaper will do just the trick. In the kitchen pictured above, the designers chose a stunning lemon-themed wallpaper, with pops of yellow brightening the entire space. Patterned wallpaper can also be an affordable choice in lieu of tile or backsplash.
Looking for the right cabinets to pair with your eccentric bohemian decor? Check out Lily Ann Cabinets high-quality RTA cabinets here!
Add Plenty of Greenery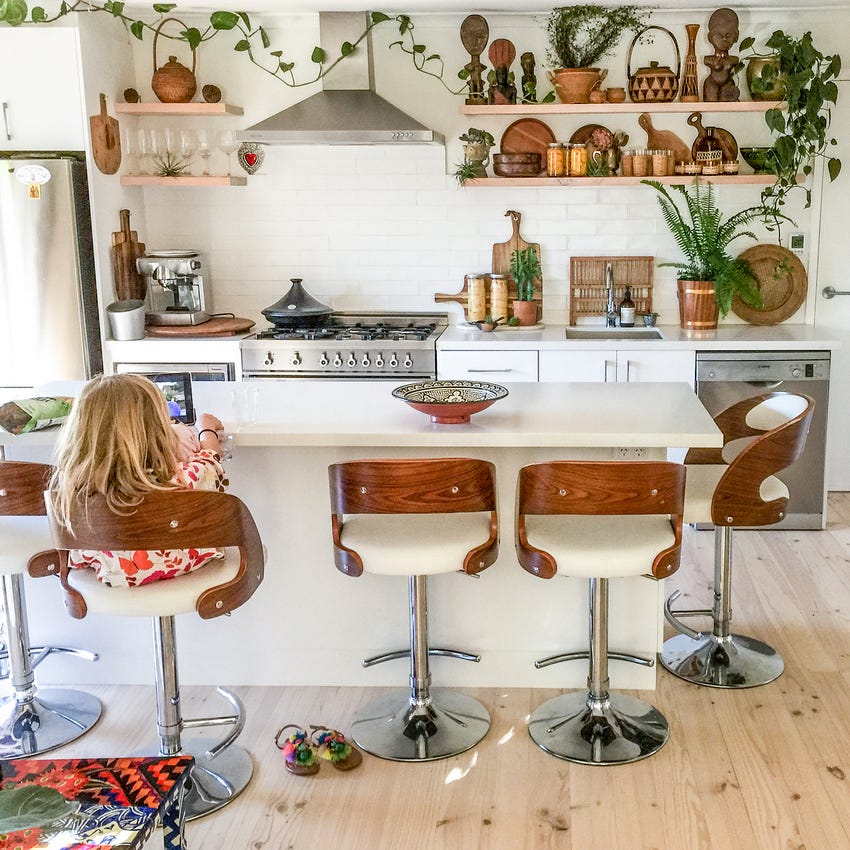 If you search pictures of bohemian kitchens, a recurring theme that you will notice is the use of plants throughout the space. While this is completely optional, adding elements of greenery brings the entire boho look together. Plants also provide the added benefit of purifying the air and promoting relaxation!
Boho Style Lighting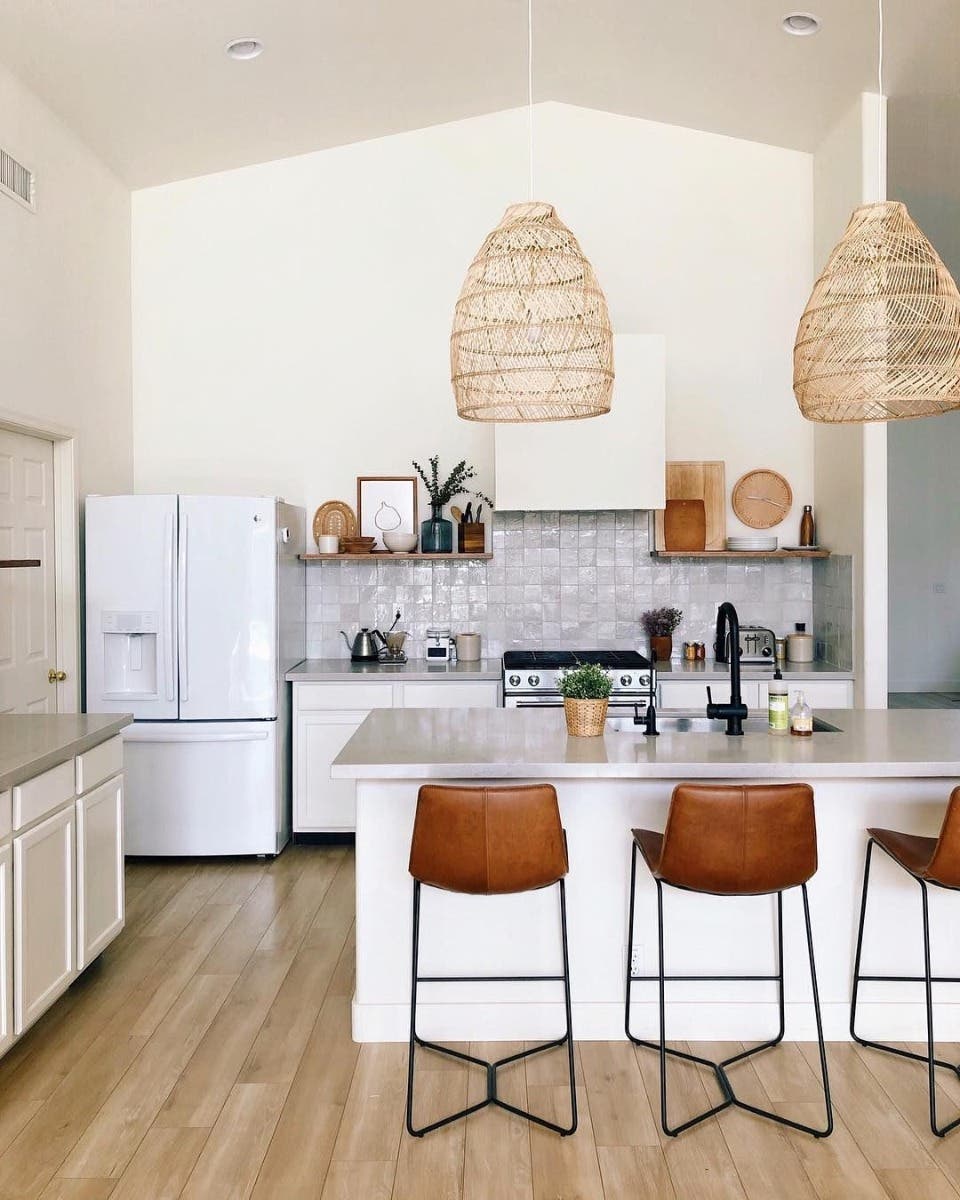 When it comes to bohemian style kitchens, rattan pendant lighting is the perfect option to bring a lived-in feel to the space. With all of the colors and patterns that come with the boho style, rattan pendants tone down the vibrancy but also serve as a stunning focal point.
White shaker cabinets pair amazingly with the vibrant colors of a bohemian style space, check them out here (Up to 50% off box store pricing!)
Boho Kitchen Cabinets
If you are in the market for a full kitchen remodel and wondering what kitchen cabinets fit the bohemian theme best, you are in the right place! With a vibrant and eccentric space, it's important to tone it down when it comes to cabinets.
Natural Wood Cabinets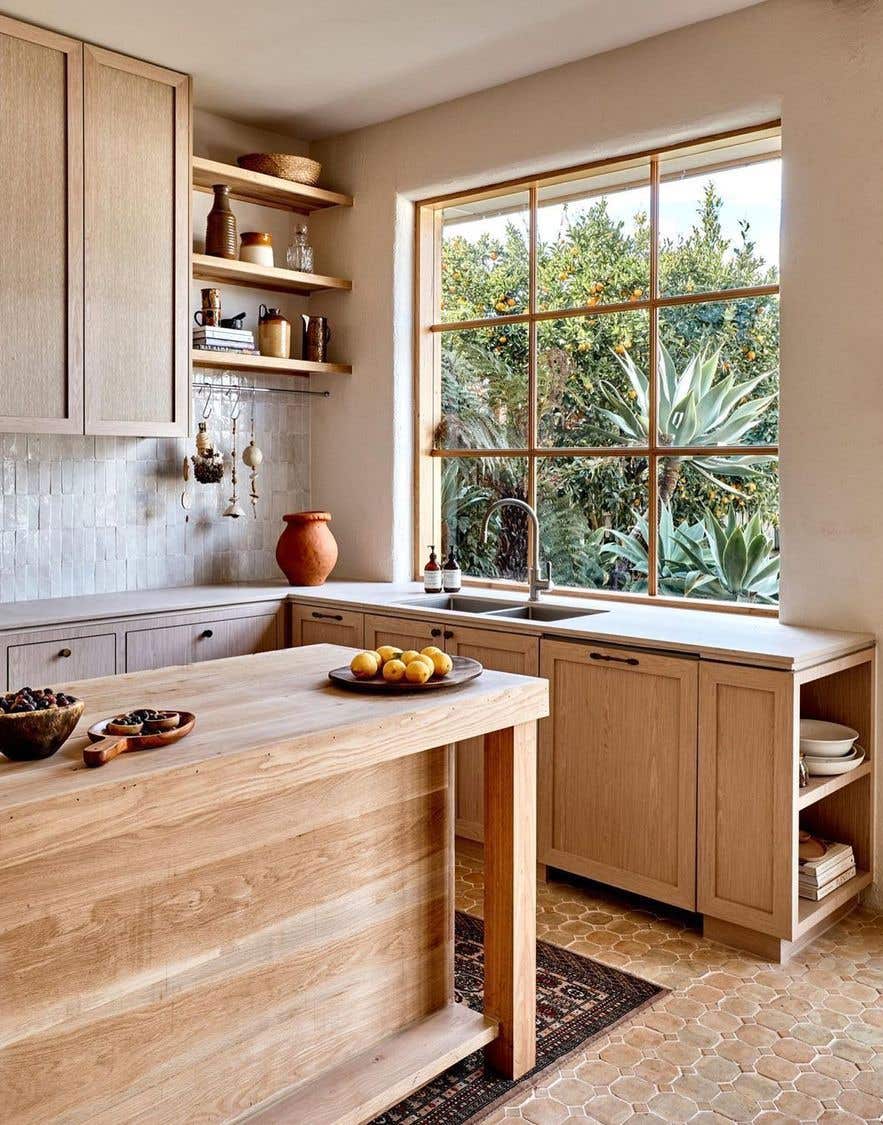 Natural wood cabinets look stunning in any style of kitchen, and fits the look perfectly for bohemian style spaces. The kitchen cabinets pictured above present a modern, sophisticated bohemian design. With natural wood cabinets, you have the opportunity to switch styles within your space whenever you want, because these cabinets mesh well with any style you choose!
Open Shelving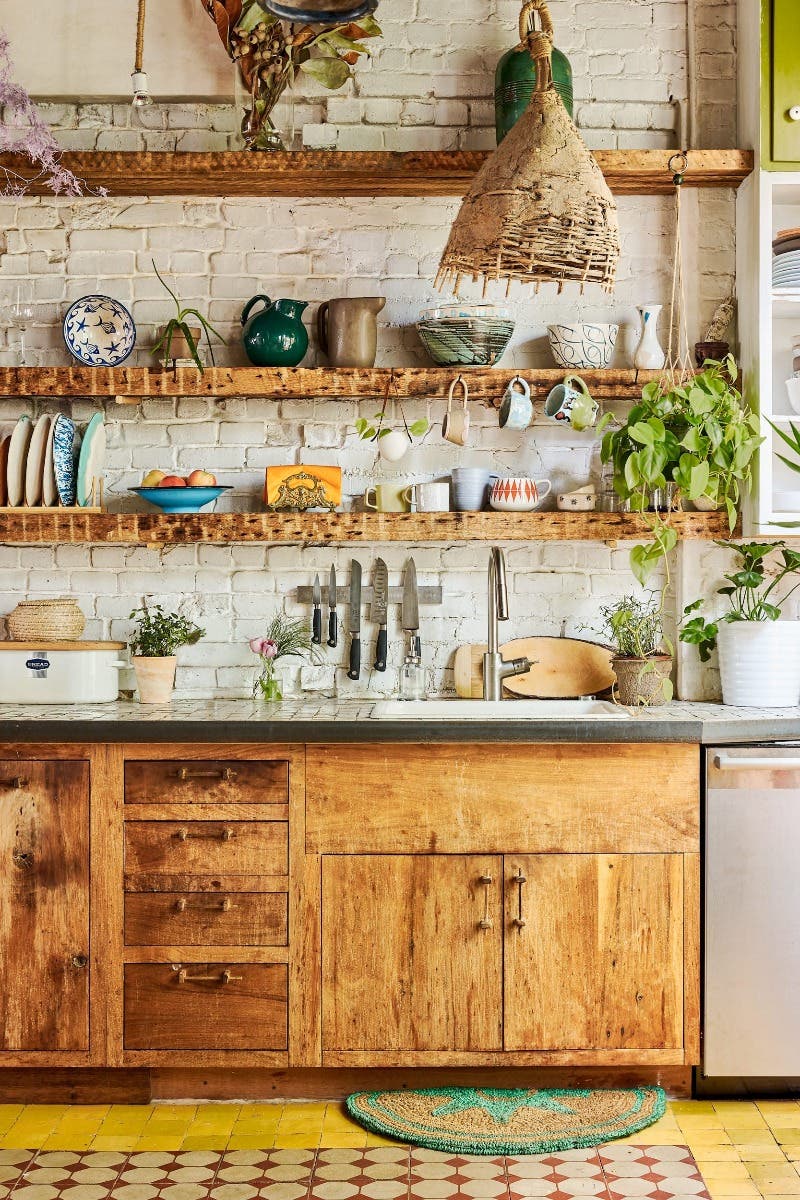 Another popular cabinet design for a bohemian style kitchen is the use of open shelving instead of upper cabinets. This makes decorating a boho style space much easier, giving you the opportunity to include much more decor and other bohemian elements.
Check this article out for more ideas on different cabinet door styles!
Painted Cabinets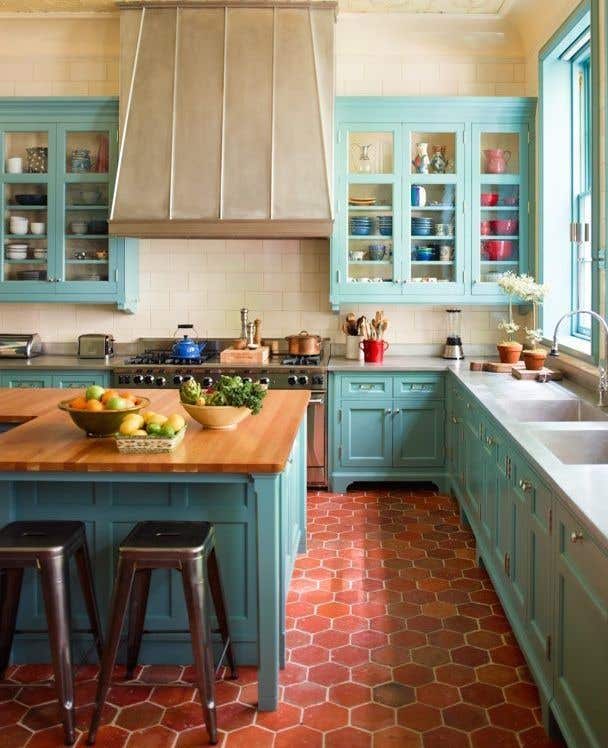 Looking for a cabinet that just screams bohemian? Painted, colorful cabinets are exactly what you have been looking for. This can easily be done just by painting your original kitchen cabinets a vibrant color like the stunning teal color that is pictured above. An affordable option here is purchasing discount white shaker cabinetry and painting it yourself.
Boho Style Meets Mid Century Modern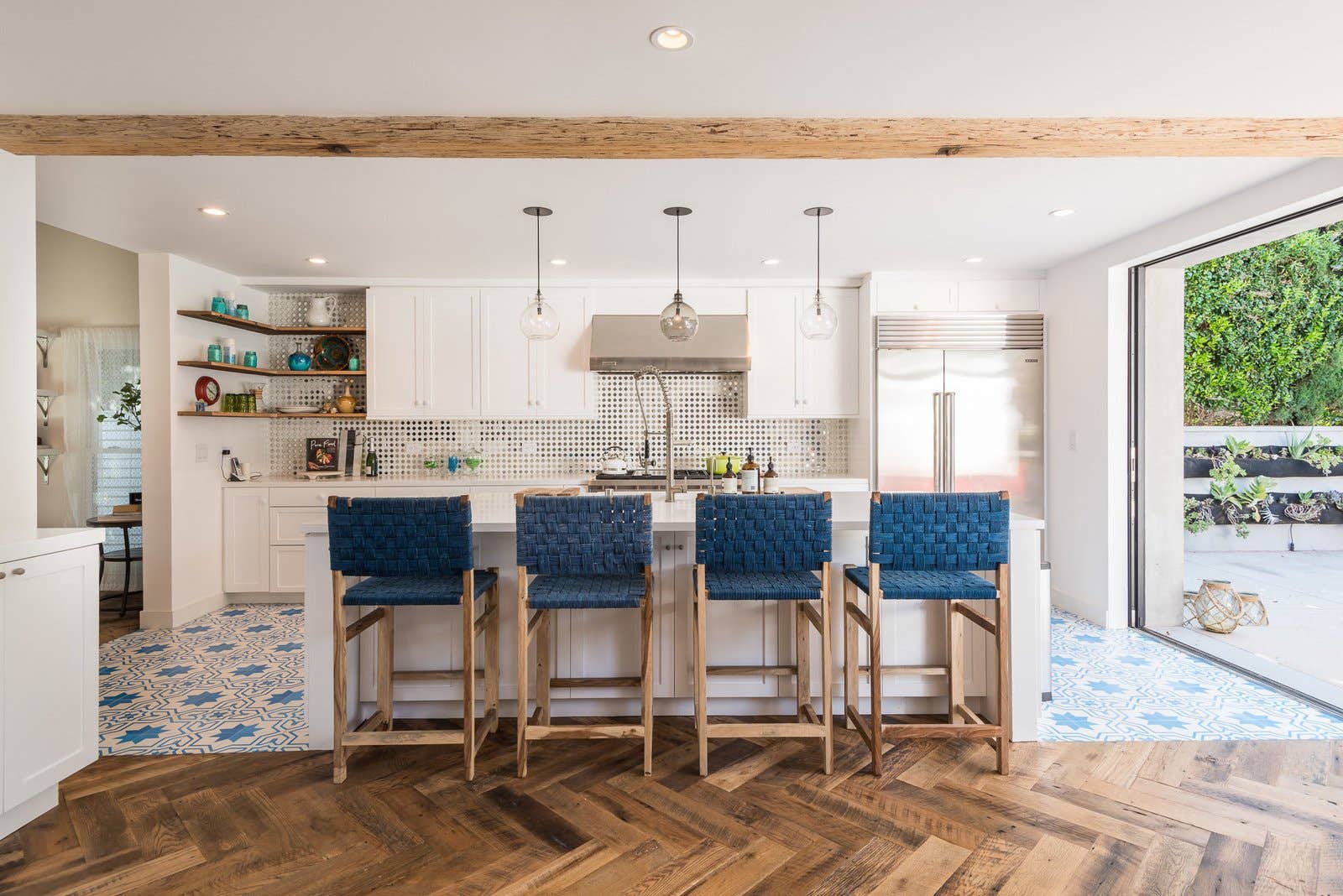 If the full-on, eccentric bohemian look isn't right for your space, the option to mix bohemian with mid century modern will give you the perfect in between style. With the natural wood elements, pops of vibrant colors and bright patterned floor, the bohemian elements of the space are toned down by the modern elements like the appliances, white shaker cabinets, and backsplash.
Looking for affordable, high-quality kitchen cabinets? Check out an array of cabinet style options here!
Modern Bohemian Style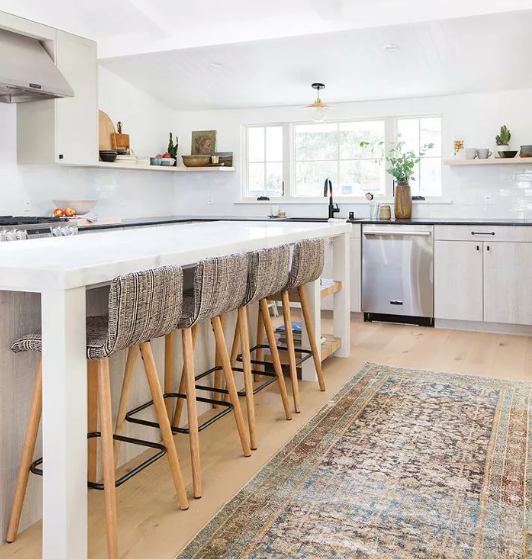 If the full bohemian look isn't your style, mixing it with more modern elements rather than bohemian may be the right decision for you. This can be done by simply adding just a few boho elements of decor, similar to the kitchen pictured above. By incorporating a boho style rug, barstools, and greenery, and a few colorful pieces into a modern kitchen, you can create the perfect modern bohemian space.
Looking for modern kitchen cabinets? Lily Ann Cabinets white shaker elite cabinets will do just the trick, at up to 50% off box store pricing!
Create Your Dream Kitchen With Lily Ann Cabinets
We offer a wide selection of premium cabinetry, hardware, shelving and more to help you create a room that stands the test of time. Pick from our large array of kitchen and bathroom cabinetry, including white shaker cabinets that come with soft-close hinges. Our professional designers are on standby to work with you — we offer FREE samples and FREE design and quote. Visit our FREE 3D design tool to get started today!
FAQs
What is the bohemian style?
Neutral fabrics, retro 70s elements, patterns, warm tones, texture, and lots of color. Bohemian allows you to put your own personal flair into the space without it standing out too much!
How do I make my kitchen look bohemian?
To make a kitchen look boho, think about what the definition of bohemian style is. Incorporate numerous colors, textures like beadboard and rattan, plants, gold hardware, and a few retro elements.
How do I get a modern bohemian style in the kitchen?
To make a kitchen look boho, think about what the definition of bohemian style is. Incorporate numerous colors, textures like beadboard and rattan, plants, gold hardware, and a few retro elements. Read through this blog for inspirational pictures and information!
What are some bohemian kitchen decor options?
Bohemian kitchen decor options include plants/greenery, oriental rugs, woven decor, colorful elements (could be pictures, vases, the cabinets, anything!), and 70s retro elements.
Can I mix & match bohemian with other interior design styles?
Mixing bohemian with another interior design style is a great way to get the boho look without the colors and everything being too overwhelmingly bohemian. Mixing boho with modern elements or midcentury modern elements are both great mixtures!