Bristol Antique White Bath Vanities
Wood Species:

Birch

Door Style:

Full Overlay, Raised Panel with Glaze (Full Engineered Door)

Box Construction:

1/2" Solid Plywood (Birch/Poplar)

Drawer Glide:

Full Extension, Soft Close Under-Mount

Drawer Head:

5-Piece, Full Engineered Drawer Head (Matches Door)

Drawer Construction:

5/8" Solid Wood, Dovetail Construction

Hinge:

Soft Close Adjustable

Cabinet Interior:

Natural UV Coated

Cabinet Exterior:

Matching Door Finish

Assembly Method:

Dovetail

Delivery:

1-21 Business Days
Bristol Antique White Bath Vanities
Nothing says luxury like Bristol Antique White vanities. The ultra-popular antique white finish helps brighten your bathroom, and the caramel glaze adds a muted ambience of sophistication. The raised trim accents on the doors and drawers, which are a hallmark of Bristol ready-to-assemble (RTA) cabinets, further elevate the level of distinction and showcase Lily Ann's attention to detail.
Make your bathroom your sanctuary.
Our Bristol Antique White RTA vanities make it possible to create a dream bathroom on a budget. We make everything we sell, instead of marking up cabinets we buy from someone else. As a result, we can sell high-end bathroom vanities at about half the price of RTA vanities you'd buy at a "big box" store.
Furthermore, we are family-owned, so our name is on the line, and we hold ourselves to a higher standard of quality. For example, we developed a unique method of assembly that allows you to put our Bristol Antique White vanities together faster and easier. The components fit together like puzzle pieces, making your vanity stronger. This process also eliminates the need for unsightly clips. The only two you will need are not visible.
Master crafters.
Your bathroom is one of the most important rooms in your house. You can trust Lily Ann Cabinets to provide the workmanship that will hold up to constant use, year after year. The cabinet box is constructed of ½-inch solid plywood, with the rails and stiles of Grade A birch.
The full-overlay five-piece mitered doors lavishly display raised panels surrounded by finely crafted raised trim. The soft-closing six-way adjustable hinges give the flexibility you need during assembly for the best possible fit.
The five-piece mitered drawer head complements the door. The 5/8-inch solid wood drawers also feature dovetail construction, with finger joints that snugly connect the sides to the front. This design makes assembly easier and the drawers more durable. They are fully extendable, rolling in and out smoothly on under mount glides that close drawers quietly. If you're still not sure if these cabinets are right for you, check out our bathroom vanity buying guide.
Grand finish.
All this expert workmanship is fittingly topped with seven layers of hand-applied antique white paint and creamy caramel glaze. Even the sides are finished; no need to buy them separately.This painstaking process helps make Bristol Antique White RTA vanities better able to withstand the moisture and steam of a bathroom.
We are here to make sure you finish your DYI project in grand style as well. If you have any questions, don't hesitate to contact our friendly staff by calling 800-551-1438.
Watch & Learn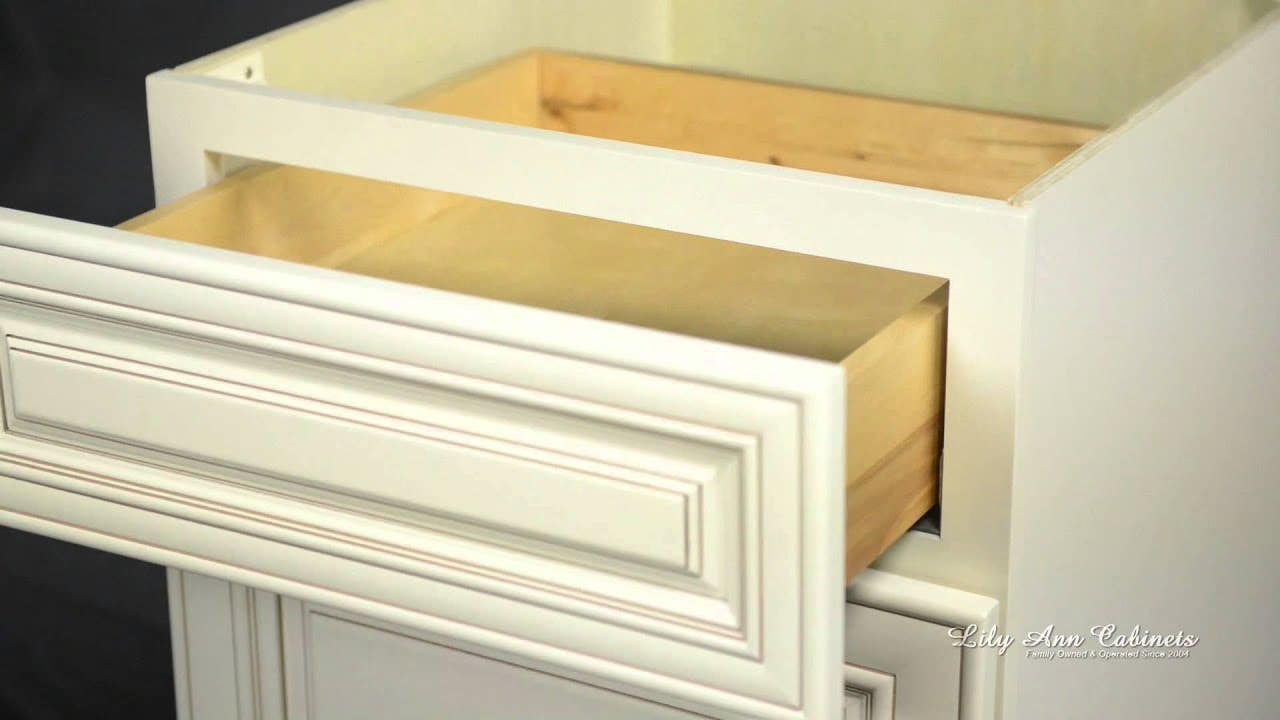 Bristol Antique White Cabinet Features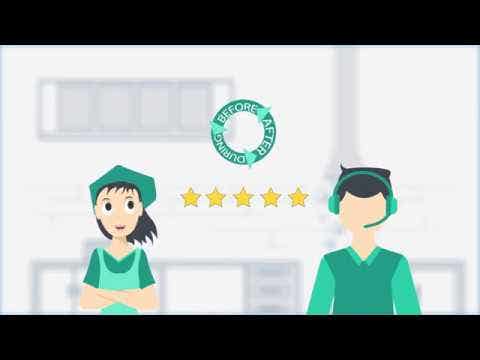 How It Works
FREE Sample - Bristol Antique White
$0.00
$9.71
You save:
$9.71 (100% off)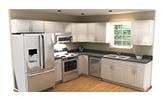 10 Foot Run

You Save:
$2,343.99
(75 %)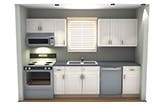 10X10 Kitchen

You Save:
$5,106.00
(75 %)
Factory Direct

Lorem ipsum dolor sit amet, consectetur adipiscing elit

Soft Closing Hardware

In venenatis, nulla ut fermentum viverra, lorem libero fringilla dolor

High-end Finishes

Cras vitae purus felis. Vestibulum ut commodo justo
Bristol Antique White Vanities Collection
8 products found
Vanity Sink Base Cabinet (24"W X 34 1/2"H X 21"D)
2 doors, 1 false drawer

$207.44

$829.76

You save:

$663.81

(80% off)

Vanity Sink Base Cabinet (30"W X 34 1/2"H X 21"D)
2 doors, 1 false drawer

$239.73

$958.92

You save:

$767.13

(80% off)

Vanity Sink Base Drawer Left Cabinet (36"W X 34 1/2"H X 21"D)
2 doors, 2 drawers, 1 false drawer

$349.25

$1,397.00

You save:

$1,117.60

(80% off)

Vanity Drawer Base Cabinet (12"W X 34 1/2"H X 21"D)
3 drawers

$264.65

$1,058.60

You save:

$846.88

(80% off)

Vanity Drawer Base Cabinet (15"W X 34 1/2"H X 21"D)
3 drawers

$285.01

$1,140.04

You save:

$912.03

(80% off)

Vanity Drawer Base Cabinet (18"W X 34 1/2"H X 21"D)
3 drawers

$306.42

$1,225.68

You save:

$980.54

(80% off)

Vanity Linen Utility Cabinet (18"W X 80"H X 21"D)
1 door, 3 shelves

$383.64

$1,534.56

You save:

$1,227.65

(80% off)

Final Sale

Sample Base Front - 15"W x 30"H x 1-1/2"D
1 door, 1 false drawer
Sample product only - hardware not included

$54.00

$216.00

You save:

$172.80

(80% off)

Clearance items not eligible for refunds or replacements